Built to perfection, Pagani Automobili combines beauty and attention to detail with the best racing technology.
At first, an unusual feeling of quietude rests on the racetrack, but this temporary peace is just asking to be disturbed. Leaning against the railing, you hold your breath as if bracing for a surging frenzy that will shatter every ounce of serenity and calmness in the air.
In the next moment, your heart marks a pause, perceiving the sound of an engine roaring in the distance. As its rumble intensifies and the car approaches, shifting gears in a staccato pattern, petrol is now pumping through your veins. Your senses are all dialed up to an intense level. On a wind that keeps blowing ever stronger, here it comes – beautiful, elegant, and timeless. This car knows no limits.
Professional 3D Scanning Equipment & Services
Combining a strong aesthetic sense and attention to detail with the highest level of automotive engineering and technical refinement, this Pagani Hypercar tearing down the racetrack wants and gets your full attention. It's a pure work of art, with a perfect style and timeless appeal that are the visual expression of Pagani Automobili's technological developments; the car is a celebration of passion with the sole aim of offering unbeatable performance.
Pagani's Hypercars are built to perfection with the help of cutting-edge technologies, providing their drivers with a unique and supreme driving experience. Thanks to the recent introduction of the MetraSCAN 3D and HandyPROBE, the Mechanical Design team has optimized the department's manufacturing "times and methods". As a result, engineers witnessed impressive outcomes in carrying out quality controls throughout the parts' prototyping and industrialization processes. This post summarizes Pagani's main activities and achievements made possible by their strategic partnership with Creaform. In short, craftsmen can now "spend their working time in the best way" thanks to Creaform's innovative 3D scanning solutions.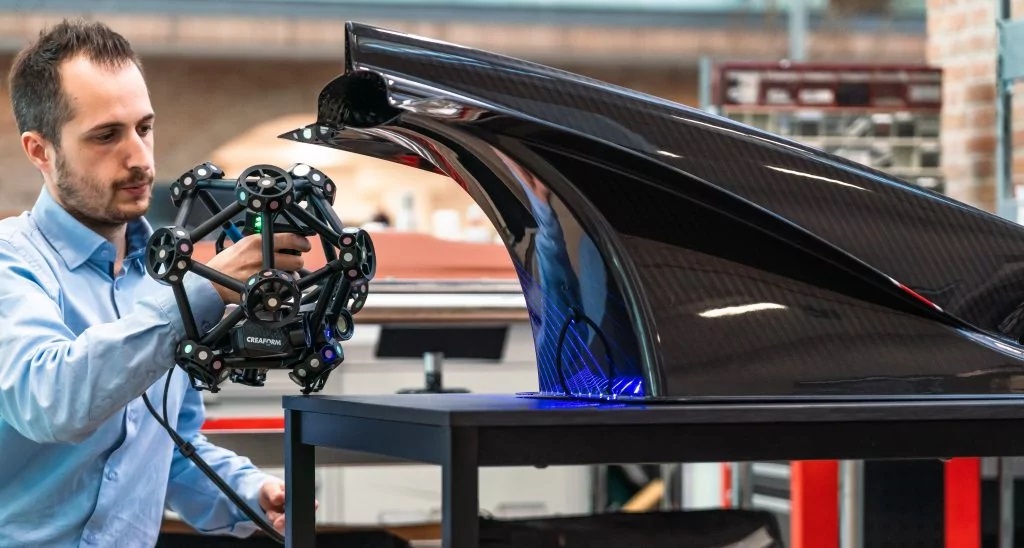 Since Pagani Automobili's exciting debut in 1998, the company has always been committed to designing cars so emotionally captivating that customers want to buy them without even thinking. Because of their development path that merges style and aestheticism with technology, Pagani's Hypercars are the ultimate expression of speed and engineering, taking their inspiration from the cars of LeMans in the late 80s and early 90s or sport-prototype cars from the 60s and 70s.
As the company needs a high level of expertise to create what will become the object of their customers' desire, the degree of craftsmanship and specialization required from all of their collaborators is inevitably extreme. New technology is chosen and integrated based on its ability to facilitate, improve, or speed up the development and quality control processes within the company, though it must also respect the core principles for which the brand has always been recognized.
This is how Creaform's 3D scanning solutions stood out from the competition.
The MetraSCAN 3D takes dimensional measurement speed, accuracy, and versatility to a whole new level, giving engineers at Pagani the ability to accelerate the processes that were already operating in-house. Now, with the help of this valuable technology, engineers and designers can effectively control every step of the vehicle manufacturing process, which gives them the space and time to complete more tasks, fine-tune aspects of the process, or just reduce the lead times drastically.
"So reducing control time meant being able to have our people devote themselves to higher value-added activities."
-Francesco Perini, Head of Concept, Composites & Mechanical Design at Pagani
As of now, the metrology-grade laser-based 3D scanner has been used both in research and development and in quality control. Its unique versatility was its stand-out feature when scanning high reflective surfaces, such as painted and polished mirror caps. The scanner's adaptive scanning area and extendable measurement volume make it possible to measure any part – regardless of size, shape, surface finish, and complexity. Thus, MetraSCAN 3D has enabled Pagani's Mechanical Design Engineers to scan any type of object without requiring surface preparation.
The complex and meticulous process of designing and assembling a car by hand clearly mandates that Pagani maintains full control over the traceability of their processes. After all, each component within the manufacturing process might undergo variations along the way; this includes composites, which are integral parts of the company's signature. Therefore, inspecting the dimensions of each individual part and controlling the quality of every aspect of the fully hand-assembled vehicle enables Pagani to ensure the quality of the final result and guarantee the car's overall conformity.
Pagani can inspect and improve its unique parts throughout the manufacturing process in order to build vehicles that stand out for both their technological and aesthetic qualities. The added value provided by Creaform has, by now, proven to be the winning choice.
MORE AUTOMOTIVE APPLICATIONS
3D Scanning and Rapid Surfacing for Aftermarket Product Development
3D Scanning Enhances Production Rate for Aftermarket & OEM
Classic Cars – 3D Scanning and Production of New or Outdated Parts

Ask us about 3D scanning services and equipment!