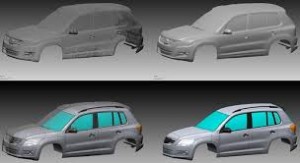 The term reverse engineering is well-known and understood mostly to those whose daily duties include interacting with laser scanners or 3D printers. Let's take some time and find out what the meaning of these words are and exactly what the process involves.
Reverse engineering is the method in which scan data points are measured and taken from a physical object. This data is used to create a 3D CAD model. Once the CAD model has been formatted, it gives the opportunity to improve, modify, and update the original part.
Wide varieties of businesses need the assistance of 3D scanning companies in order to get expert help. The need for reverse engineering arises when parts and products' original CAD has been lost or do not exist anymore.
Reverse engineering is a great way to vastly improve existing parts and effectively improve products further; it can also speed up the rate businesses are able to manufacture products.
Multiple companies contact NeoMetrix Technologies to reverse engineer parts, due to the original CAD being lost or parts not being available anymore. They have over twenty years of experience and have gained a wealth of knowledge in the industry by taking on various projects and completing them with professionalism and ease.
With the advantage of many years of experience behind them and using 3d scanners and having reverse engineered multiple parts and products shows why they are one of the leaders in their industry. With a professionally trained team of engineers available that can offer a fast and flexible reverse engineering service means that NeoMetrix can meet all their customers' needs and requirements.
Reverse engineering is essential in product development and improvement. It is a service that if carried out professionally can vastly improve the quality of your existing part or product.