3D Scanning Solutions for Classic Cars
Capture 100% of surface geometry of your object or part with the solution of 3D Scanning!
THE PROBLEM
CH Motorcars LLC has a 1967 Fiat 850 Spider that they are planning to make some major modifications to. A few of them being a complete chassis redesign. Because of these planned changes, they needed accurate data of the current body dimensions and shape. This would allow them to know how any changes they need to incorporate into the new design, will affect the original design and allow them to make modifications in CAD before making forms or patterns and understand the process digitally before physically producing changes with the body
TRADITIONAL METHOD
Normally this would involve taking many hand measurements of key possible interference points along with paper and wooden patterns or plaster and resin molds. This would require checking and double checking during the design and production process of the new chassis and other components and add more valuable man hours than necessary.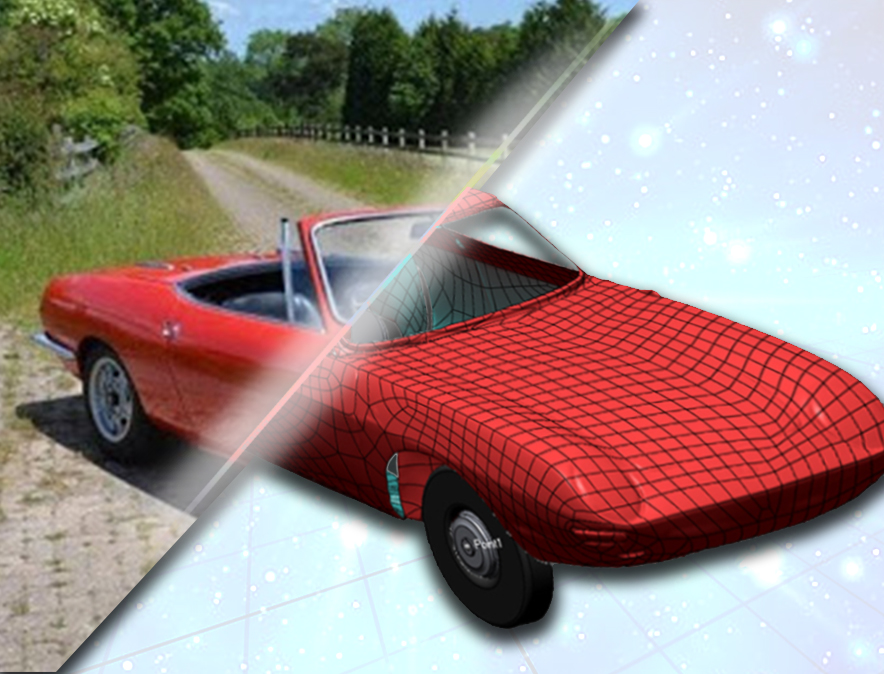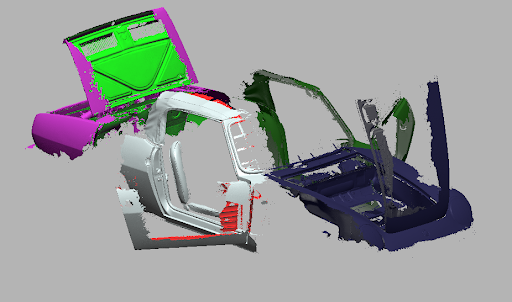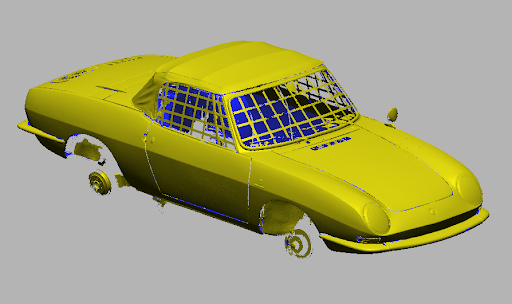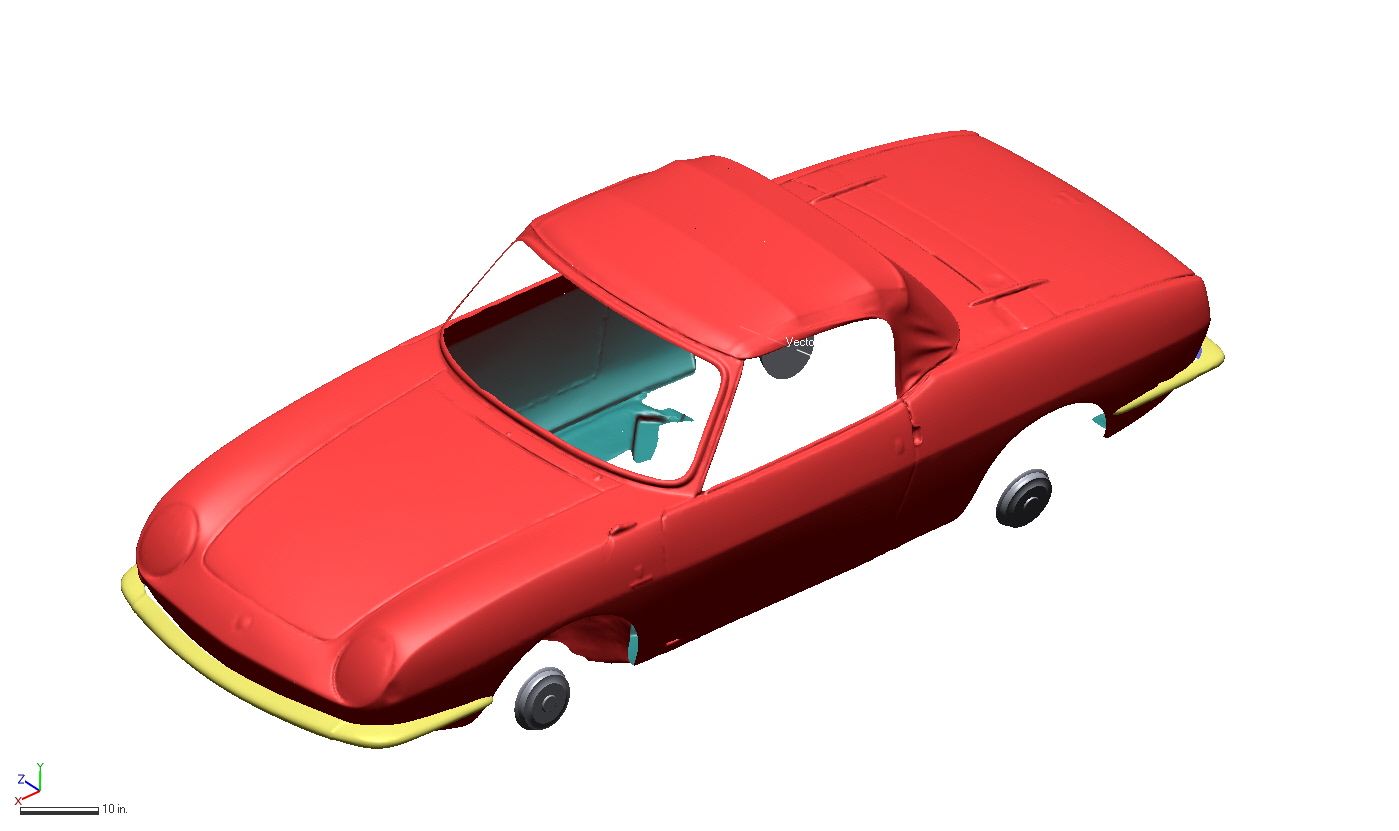 Using the Creaform Metrascan, we were able to capture the entirety of the body in high detail and accuracy. Additionally, the inside of the hood, trunk and doorframes was captured and aligned to the main data set. This will allow CH Motorcars LLC to extract any measurements they want from the millions of captured data-points.
After capturing all the data, it was converted to a hybrid surface model. Using rapid surfacing techniques, the scan data is split into a network of surface patches. This allows for easier use in traditional CAD programs such as Solidworks.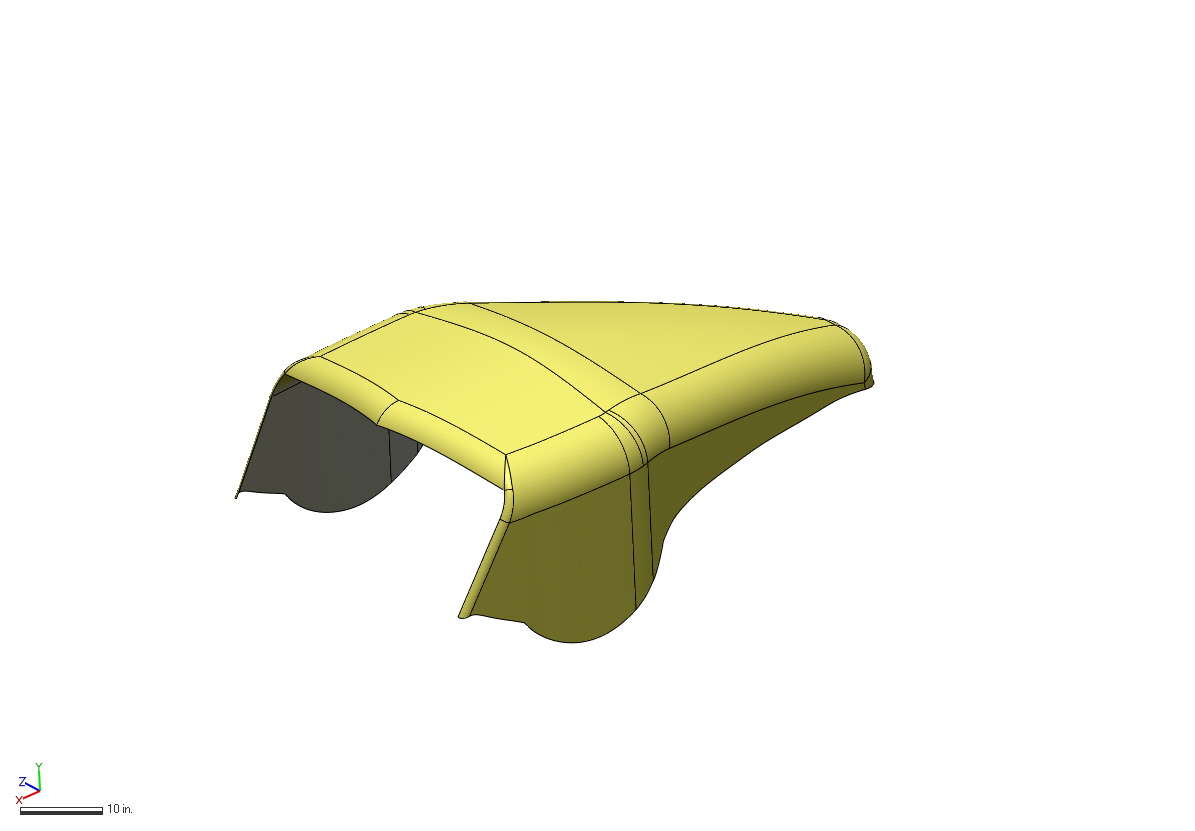 This removable hard-top for a Bentley car model was lost after the 1950s, is now able to be redesigned using 3D Scanning
THE PROBLEM
CH Motorcars owns a Bentley which ran at Le Mans in 1950 and finished 8th overall.  However the car originally had a removable hard-top which was bolted on but taken off sometime after 1950 and lost.  The rest of the car is very original. The goal was to restore the car to its original appearance for display.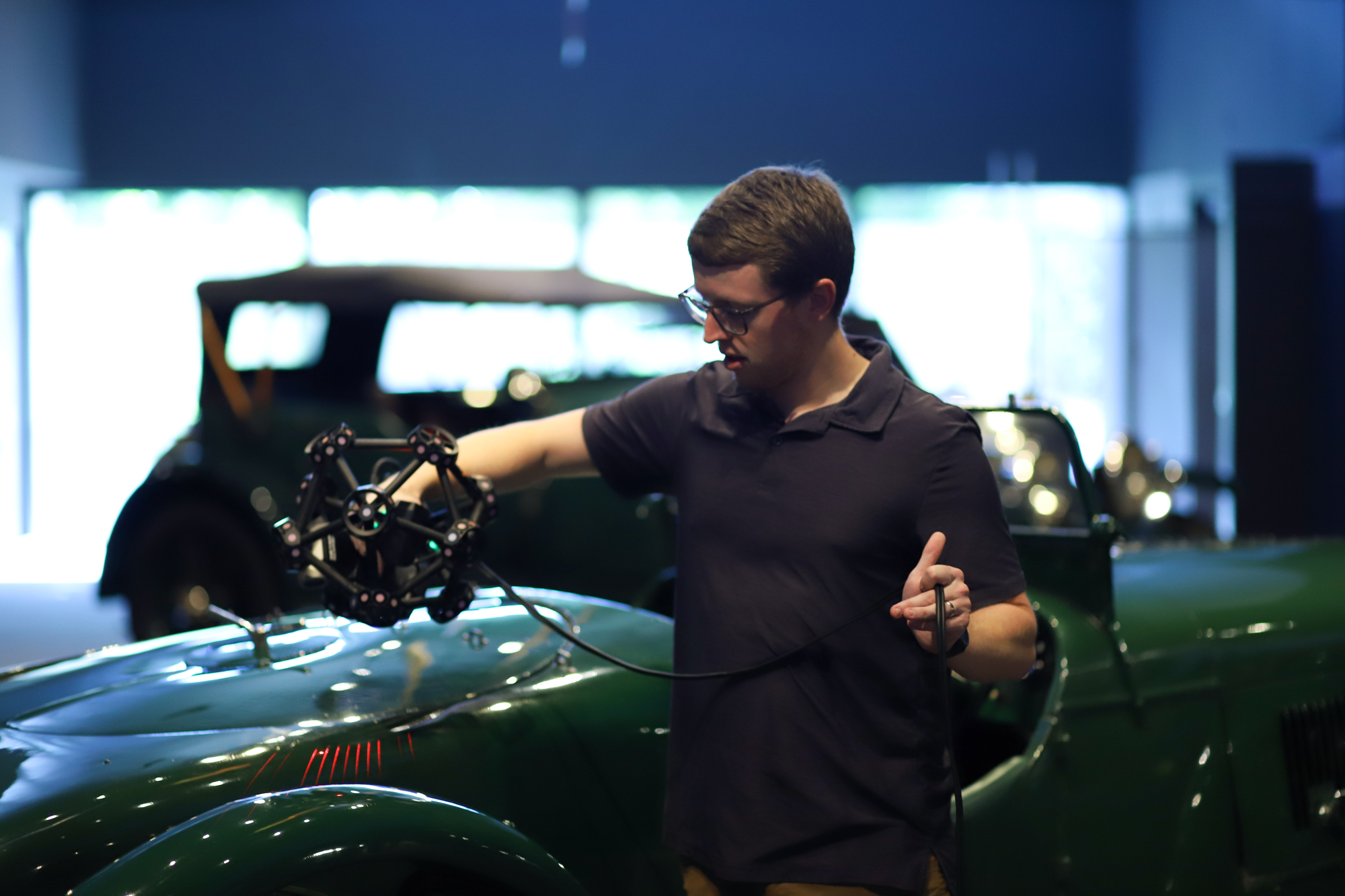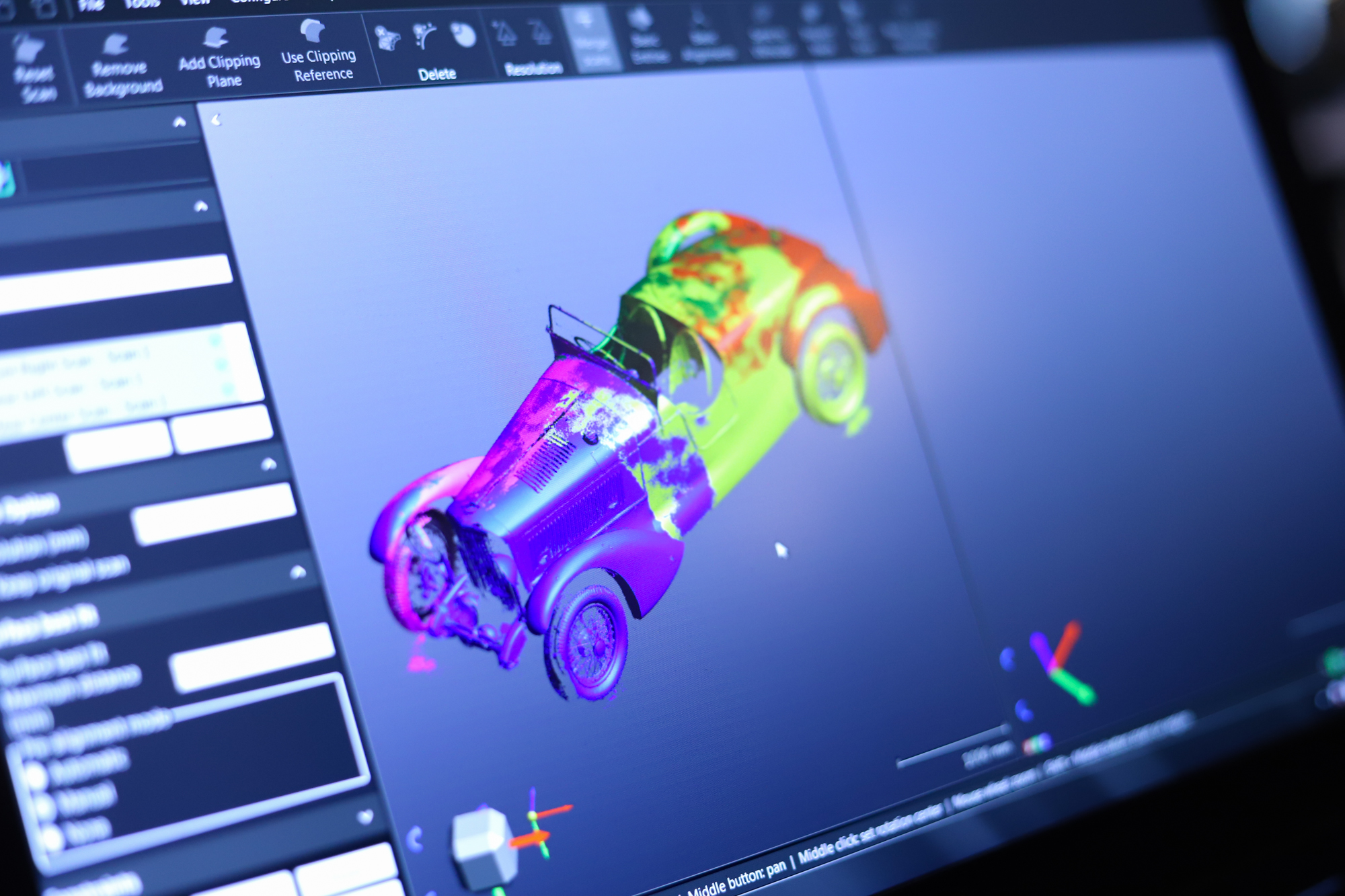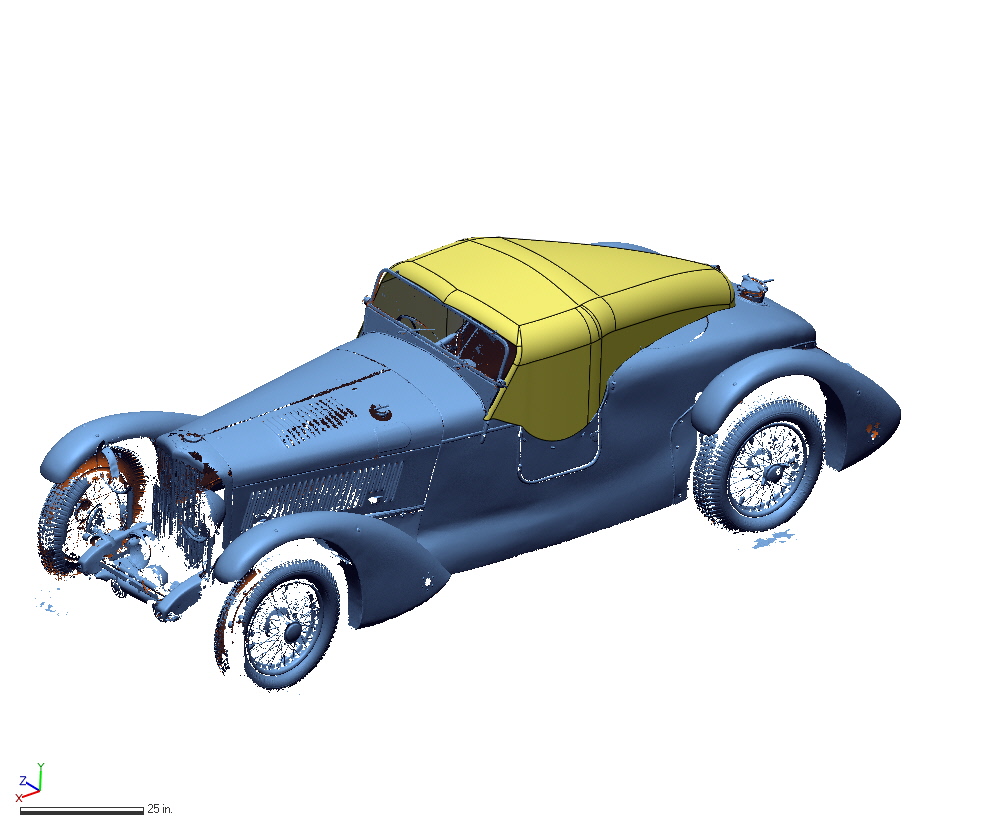 TRADITIONAL METHOD
The traditional method has been to use photographs of the car and hand measurements to develop the tooling required to fabricate a new top.  This is very difficult with complex shapes, and photographs which were not necessarily taken in an orientation that facilitated this design process.  These inaccuracies would result in a lot of rework in order to get a final part that fit correctly and looked authentic.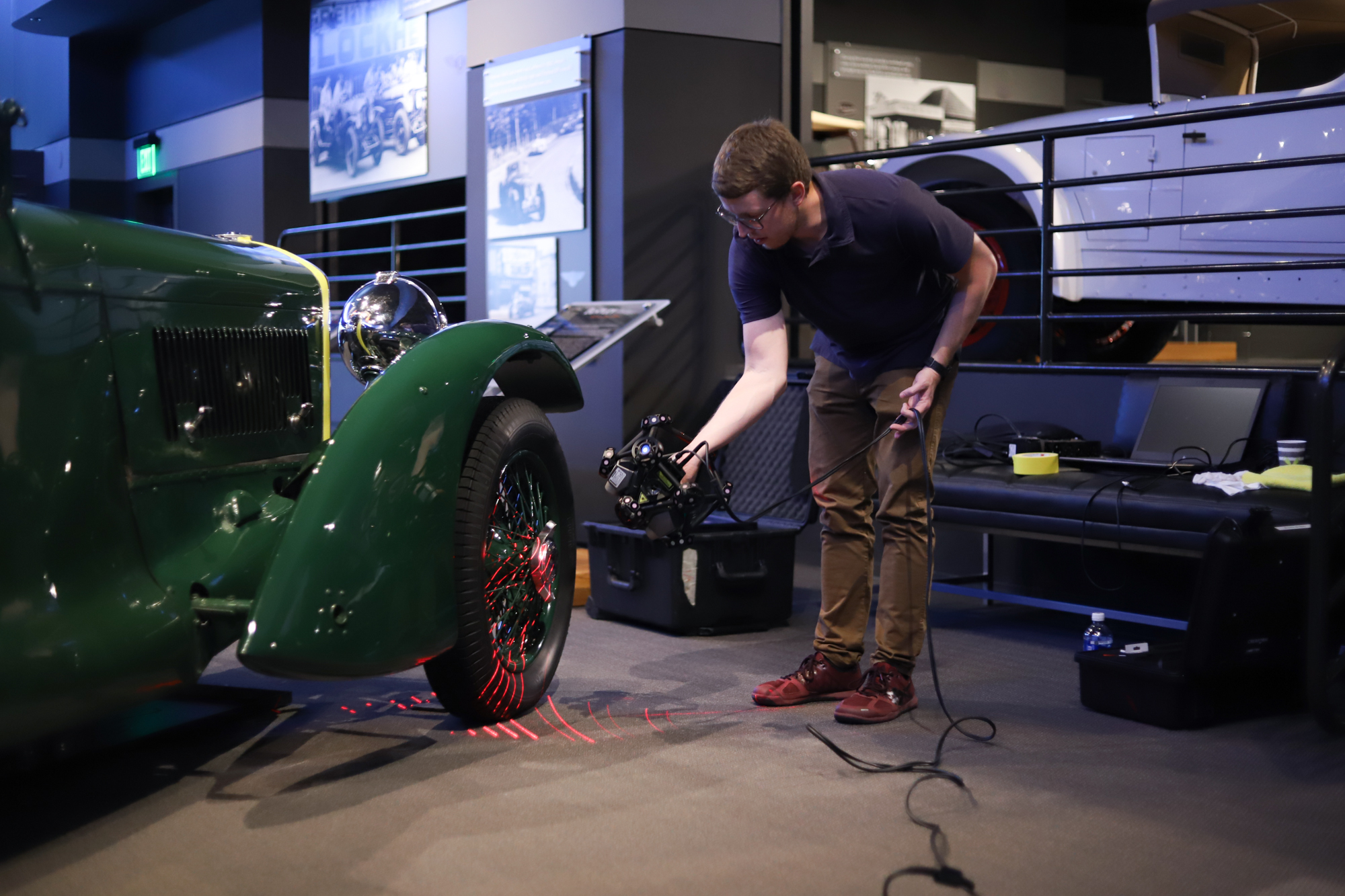 NEOMETRIX SOLUTION
The NeoMetrix method again employs the use of 3D scanning technology such as the Creaform Metrascan, which is used to accurately capture all the relevant geometry to begin the design of the replacement top.  Photos of the original top are still used to ensure the correct look of the design, but all the mounting locations and adjacent surface geometry are extracted from the scanned data.
THE PROBLEM
CH Motorcars LLC had a cast magnesium bracket to a 1960's era Porsche racing engine. Due to the rarity of the engine and bracket, it was essentially one of a kind. It can't just be bought online or from a catalogue.
TRADITIONAL METHOD
The bracket CH Motorcars LLC has is from an original 1964 Elva Porsche racing engine from their sports racing car and they needed to copy this generator and distributor housing bracket to create a new cast magnesium part for a spare engine of the same configuration, that was missing this important part. With a complex bracket like this, taking hand measurements for replication is both time consuming and introduces many possibilities for errors and deviations. A new bracket will be made after a pattern is digitally milled from this scan and a new magnesium part will be cast and final machined from the combination of precise scanning and measurements taken from the original part.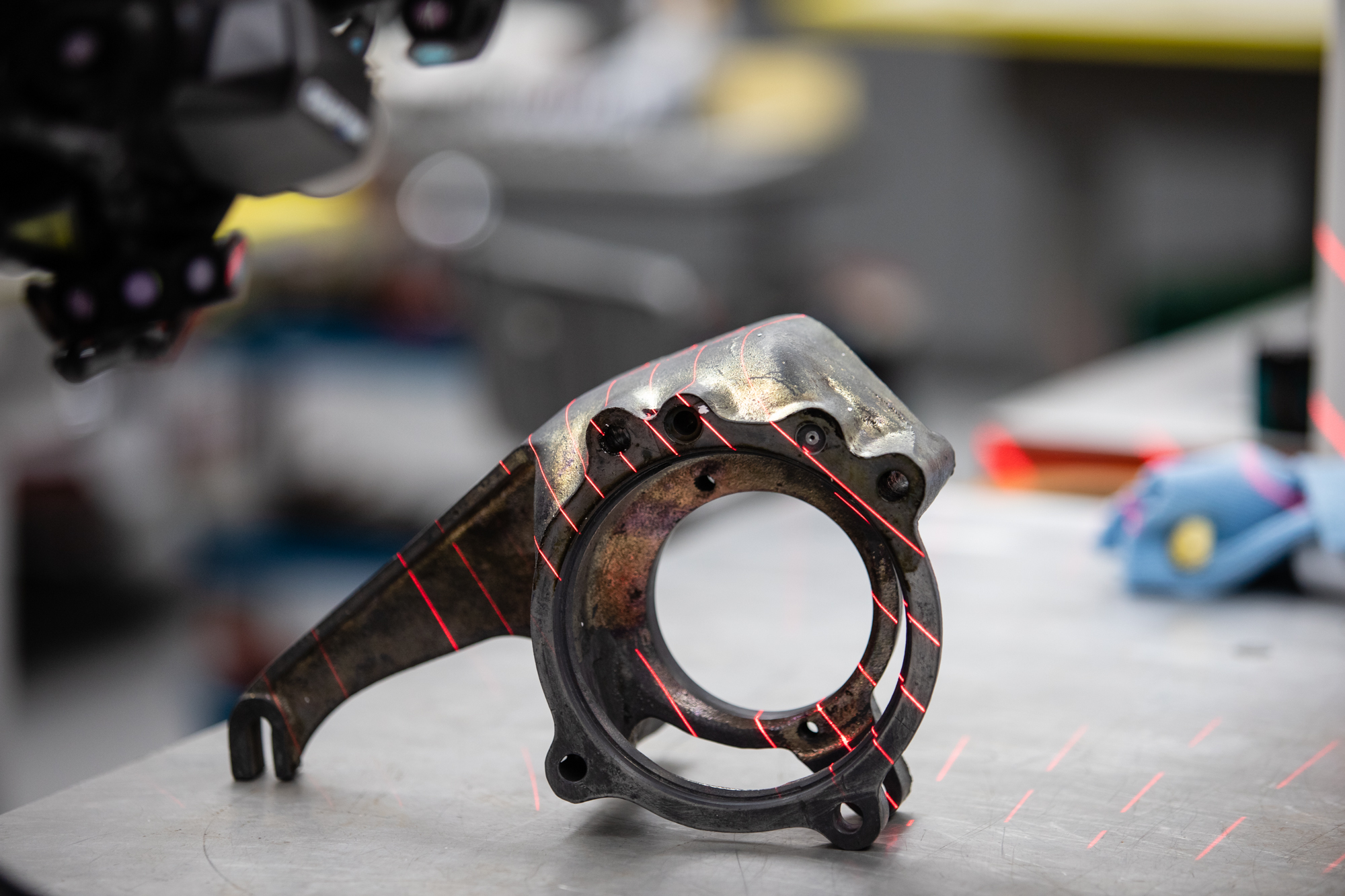 With 3D scanning and reverse engineering, we were able to create a very accurate model. The bracket was scanned with the Creaform Handyscan Black Elite. This scanner has extremely high accuracy and resolution, allowing all details to be captured. The scan data was then taken into Geomagic DesignX for reverse engineering. From the scan data, a complete CAD model was generated using both traditional, and new modeling techniques.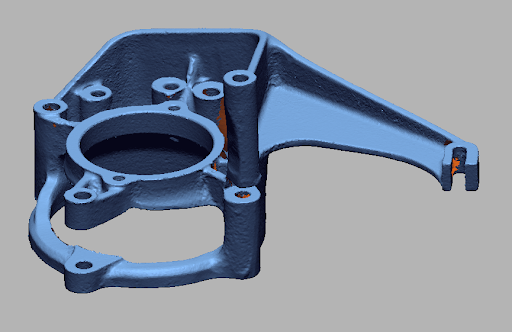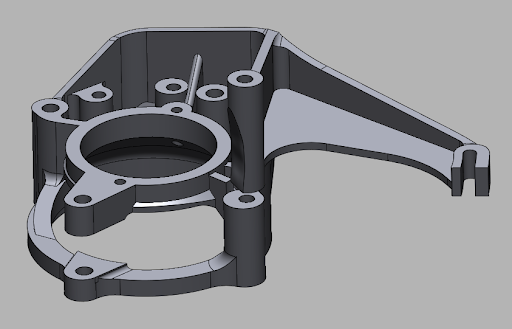 NEOMETRIX ADVANTAGE
The advantage of using scanned data is the creation of an accurate CAD design in the first iteration, which yields a better fitting part, with less rework.  This also cuts down development time, reduces development time, and eliminates frustration.
Want to Learn More About 3D Scanning Solutions?