Integrating Modern Manufacturing Solutions
3D scanning is a hot technology that's being adopted by many industries. It can be important to work with an experienced company who offers accurate 3-dimensional scan data in a timely and cost effective way, so make sure you find the right fit for your needs!
Hiring a 3D scanning company for service is an important decision. The best technicians will know how to position things correctly based on what you need the data for, and they should be experienced in capturing detailed scans of parts in just about any industry today.
We have a team of skilled engineers who use 3D Scanning technology on a daily basis.  Our technical expertise is in house so that when you need help with your equipment or software problem – we are here to help.
Capture High-Accuracy Surface Data
The resolution of a 3D scanner impacts how accurate it is. Through our partner Creaform, we have access some of most precise & portable industrial grade metrology systems on the market. 3D Scan simple objects or complex geometry with ease in minimal amounts of time. We're able to accelerate product development projects everyday!
Simplifed Manufacturing Process
Don't waste time utilizing multiple pieces of machinery during your development process. With 3D Scanning and Reverse Engineering software, we can go from an existing part, to a 3d scan, to a perfectly meshed CAD model very quickly. Once scanned or completing the design of a CAD model, clients can view the model's every dimension for approval before making any final changes to the design of your product!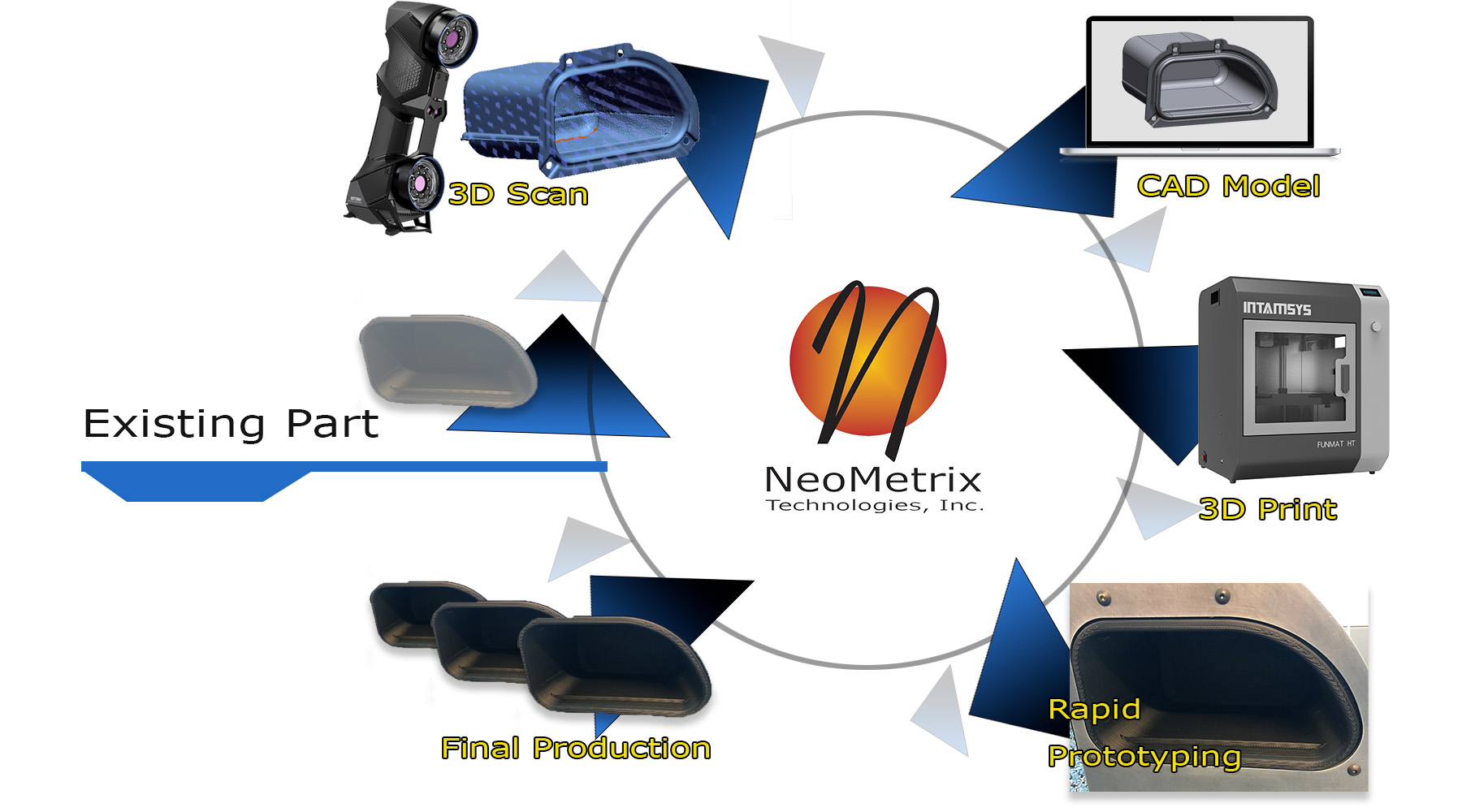 3D Scanning Process Expertise
At our facility we have professionals who understand these issues at every step of the process. Through our 20+ years of experience, we have made a positive impact in a variety of industries, so we are sure that we can be of assistance to many companies– small and large.
Complete Optical CMM Process
Creaform's 3D Scanners provide a high-quality experience for engineers, designers, and companies to be able to aid in manufacuturing processes across the world. When investing in a 3D Scanning system or partnering with a professional company, innovation and productivity skyrockets and in result, helps drive profit and create amazing product for clients.
To tie the loop together, we specialize in Reverse Engineering Software like Geomagic Design X with the ability to create precise CAD models including  fixes or modifications to the originally scanned mesh.
 Through this technology and process we have been able to prototype new parts, recreate outdated parts, and ensure industrial accuracy across every manufacutring project.
Go!SCAN Spark
HandySCAN Black Elite
MetraSCAN Black
For more information about 3D Printing solutions: