Creaform Cube-R
3D Scanning Coordinate Measuring Machine (CMM)
R-Series Automated Inspection Solution
The CUBE-R™ extends the capabilities of the MetraSCAN 3D-R™ for the dimensional measurement of parts ranging from 1 m to 3 m with metrology-grade volumetric accuracy under real-life shop-floor conditions. Unlike conventional systems, the CUBE-R™ delivers both speed and volumetric accuracy, consequently insuring a significant increase in productivity.
CUBE-R is a fast, reliable, and efficient complete turnkey solution for automated quality control applications. It features the MetraSCAN-R™, a powerful robot-mounted optical 3D scanner that can be integrated into factory automation systems without compromising on accuracy. It is the perfect alternative to solve any productivity issues caused by bottlenecks at the traditional coordinate measuring machine (CMM). Our 3D scanning CMM enables manufacturing companies to harness the power of optical 3D measurement and industrial automation. It optimizes the production cycle and throughput resulting in better product quality.
Benefits
High productivity: inspect countless parts everyday – regardless of surface

Scans any type of material, even black, multicolored and shiny surfaces

Complete Solution: Shop-floor ready, fully-enclosed & no integration needed
Metrology-grade Measurements: Up to .030 mm (.0012 in.) accuracy & up to .050 mm (.0020 in.) resolution

Volumetric Accuracy: Up to .064 mm (.0025 in.)

Part Size Range: Measure parts up to 3 meters
Minimal Footprint: 4.1 m x 4.1 m x 3.1 m

3 m parts can rotate (360o) freely at any time during measurement

Versatile: Optimizes the production cycle and throughput by offering a simultaneous operation of data acquisition and analysis to generate a continuous and uninterrupted measurement flow
Automatic field calibration procedure: No accuracy drift over time and continuous operation
Minimum operator training: Easy-to-use and short learning curve to keep up with fast production pace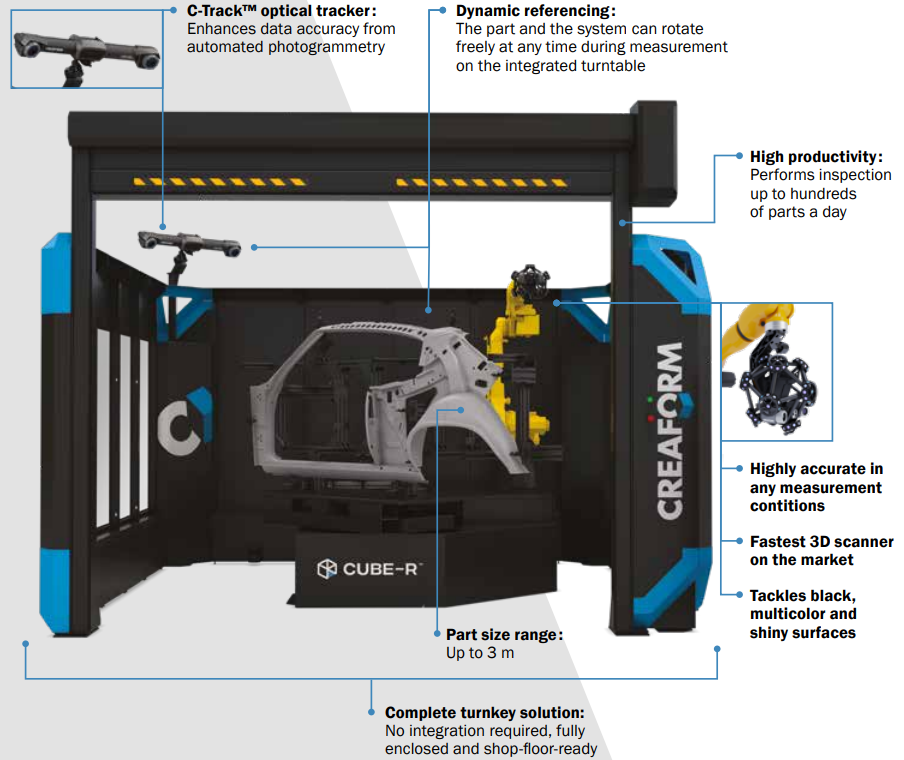 Quality Control/Inspection Applications
At-line inspections in mass production, up to a few hundred parts/day
At-line inspections of parts ranging up to 3 m
Stamping parts (car body panel, car door, front end, etc.)
Large parts inspection
Body in white (BIW)
Quality control inspections of supplier parts
Conformity assessments of 3D models against original parts or production tooling
Conformity assessments of manufactured parts against originals
Software & Additional Accessories
VXelements: Creaform's 3D platform/application suite.

Real-time visualization gives users a simple & efficient 3D scanning experience
Contains all the necessary tools for highly accurate data acquisition

R-Series Productivity Station: Addresses applications with high productivity requirements
R-Series Industrial Computers: Rackmount computer without a screen and keyboard.
R-Series Mounting Plate: Removable tray designed for long-term fixture installations. Essential for customers with a variety of part sizes and/or type.
User-Friendly, Easy to Operate Software
Integrating Metrologic Group's Silma X4 i-Robot and Metrolog X4 i-Robot, the CUBE-R delivers an array of benefits: The software calculates the most efficient positioning of the sensor and the best collision-free trajectories for the robot. The same software manages the optical 3D measurements, simultaneously provides advanced analysis of the results –even when computing huge point clouds–, and edits personalized, easy-to-understand reports. In short, Metrolog and Silma X4 i-Robot turn the CUBE-R™into a simple automated measurement solution, easily operated by a non-specialist operator.
"Metrologic Group is dedicated to developing the automated 3D metrology market through its X4 i-Robot platform, says Stéphane Auclair, Division Vice-President, Marketing & Product Management at Creaform-AMETEK. In addition to being recognized as world leader of dimensional metrology software, Metrologic Group is the only independent software partner to integrate robot path planning and simulation with other automation-type functionalities. Partnering with them for the commercialization of the CUBE-R was an obvious choice for us."

"The CUBE-R™ is yet another illustration of the ability of the Metrolog and Silma X4 i-Robot software suite to control singly the most advanced 3D measuring solutions," says Bertrand Gili, President of Metrologic Group. "Combined with the CUBE-R™, our software suite brings advanced 3D inspection technology to the shop-floor and offers easy to program, easy to operate quality control routines for complex robotized inspection scenarios. It definitely sets a new standard in all-in-one laser line scanning robotized 3D inspection."