Unsettled maritime conditions not only cultivate seasoned sailors but also spur ingenious engineers to devise innovative solutions. This reality holds particular significance in the aviation sector, where helicopters frequently undertake ship-based operations in diverse weather scenarios.
Following the cessation of helicopter flight operations, these aircraft are either stationed on the flight deck or stored within the ship's hangar. To facilitate smooth embarkation, an automatic folding system is employed, akin to the folding motion of a bumblebee's wings. However, ensuring optimal stability remains a crucial concern. This is effectively addressed through the utilization of a main rotor blade restraint cradle.
Gary Wilson, the head of Technical Sales at SFM's AeroAdditive division, explains:
"When a helicopter is aboard a ship, it has the ability to fold back its rotor blades. Nevertheless, even at sea, gusty winds persist, which may cause the blades to flap. Thus, it is imperative to restrain these blades to prevent undesirable flapping."
Large-scale Additive Manufacturing
3D PRINTING PROVIDES THE SOLUTION
More Versatility and Stronger Parts
Leonardo, a prominent aerospace and defense conglomerate commissioned by the Ministry of Defence to supply AgustaWestland AW101s to the Royal Navy, discovered that their existing main rotor blade restraint cradles failed to meet the desired standards. Consequently, they turned to SFM Technology's AeroAdditive department for a solution, resulting in the creation of the first 3D-printed main rotor blade restraint cradle. This cradle, measuring 900 x 230 x 160mm, was produced using advanced additive manufacturing techniques. Gary Wilson provides insight into the development process of this cradle and expresses his belief that this is just the beginning of additive manufacturing's potential within the aerospace industry.
The manufacturing process of the cradle involves the removal of support material followed by surface smoothing using sandpaper. Subsequently, fixed or removable cylindrical tubes known as bushes are inserted into the hinges, while threaded helicoil inserts are utilized for necessary fastening. Once the cradle is customized according to the customer's specifications through painting, additional hardware is embedded along with protective foam on the interior to prevent any abrasion on the blade surface. With the successful implementation of the main rotor blade restraint cradles, Mr. Wilson highlights the transformative capabilities of 3D printing in the aerospace industry and predicts its eventual widespread adoption. SFM Technology utilizes the BigRep PRO as a large-scale 3D printer, enabling efficient batch production and delivering enhanced outcomes across various aspects. This trend aligns with an increasing number of aerospace designers recognizing the advantages of 3D printing and gradually incorporating it into their workflows.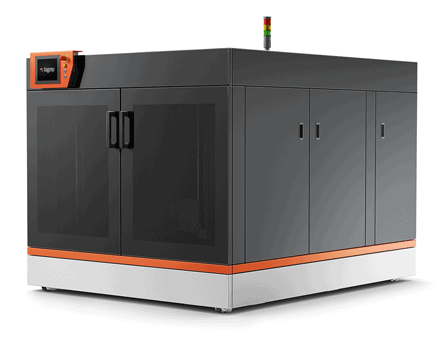 High-strength thermoplastic with excellent heat resistance, surface finish, and chemical resistance.
Bio-Plastics: PRO-HT, PETG
Engineering Grade: ASA, PA6/66
Fiber Reinforced: HI-TEMP CF
Support: Water Soluble (BVOH)
3rd Party Material Compatibility
Large Build Volume: 945 x 970 x 985 mm
Check Out Our Available 3D Printing Equipment