Aaron Westbrook, founder and CEO of Form5, is using 3D printing to make eco-friendly arms and hands.
Technology has been blooming year after year. It is now becoming a task of humanity to find a way to utilize it to improve and simplify everyday life.
3D printing, or additive manufacturing, is becoming an essential tool in many areas. It is quickly revolutionizing how entire industries operate and create useful products.
Aaron Westbrook was born without a right hand. It is now his mission to provide quality and eco-friendly prosthetics for others like him in the limb-different community. His non-profit organization, Form5 Prosthetics, uses 3D printing to repurpose plastic waste into empowering and life-changing creations: new arms and hands.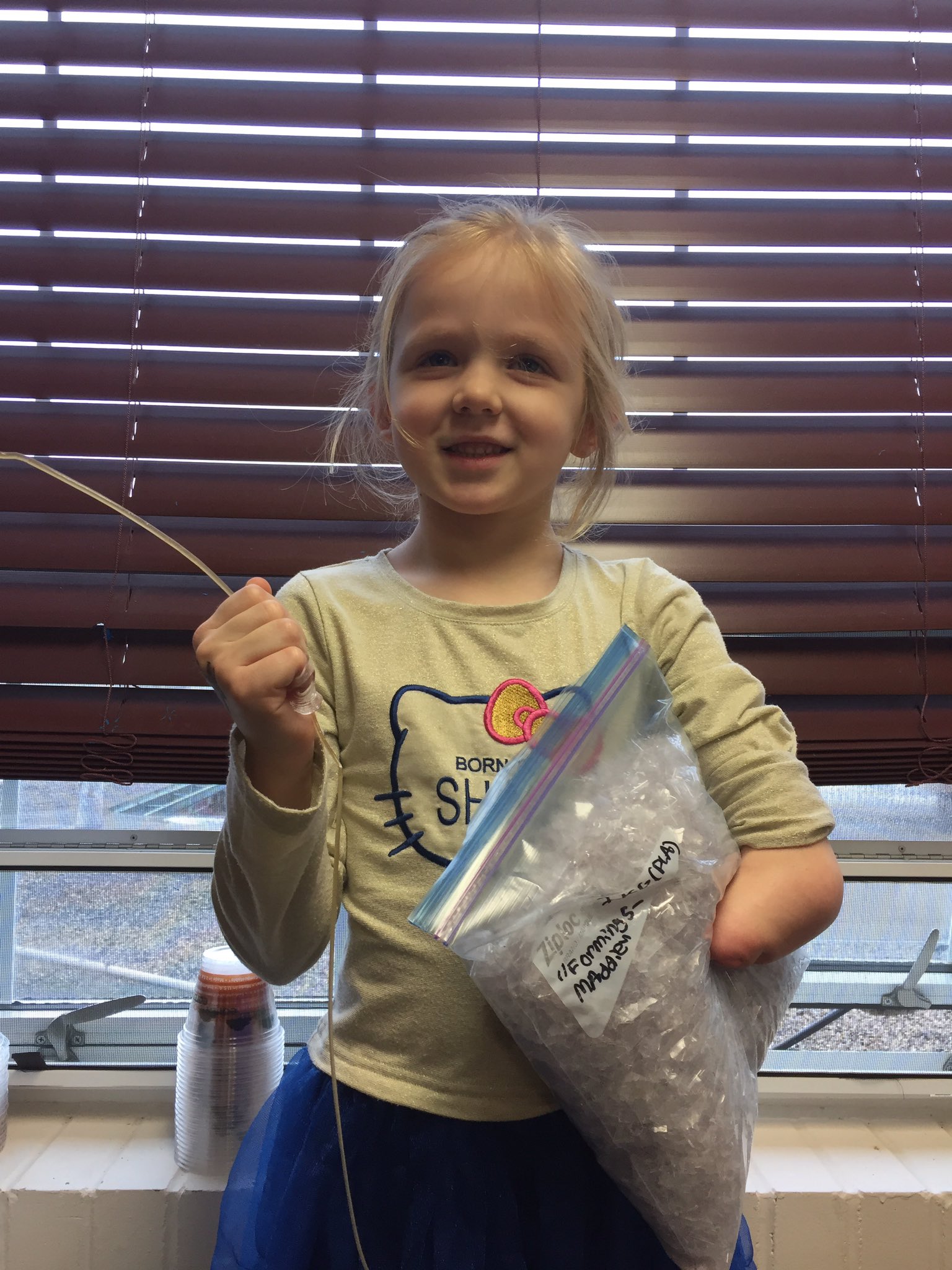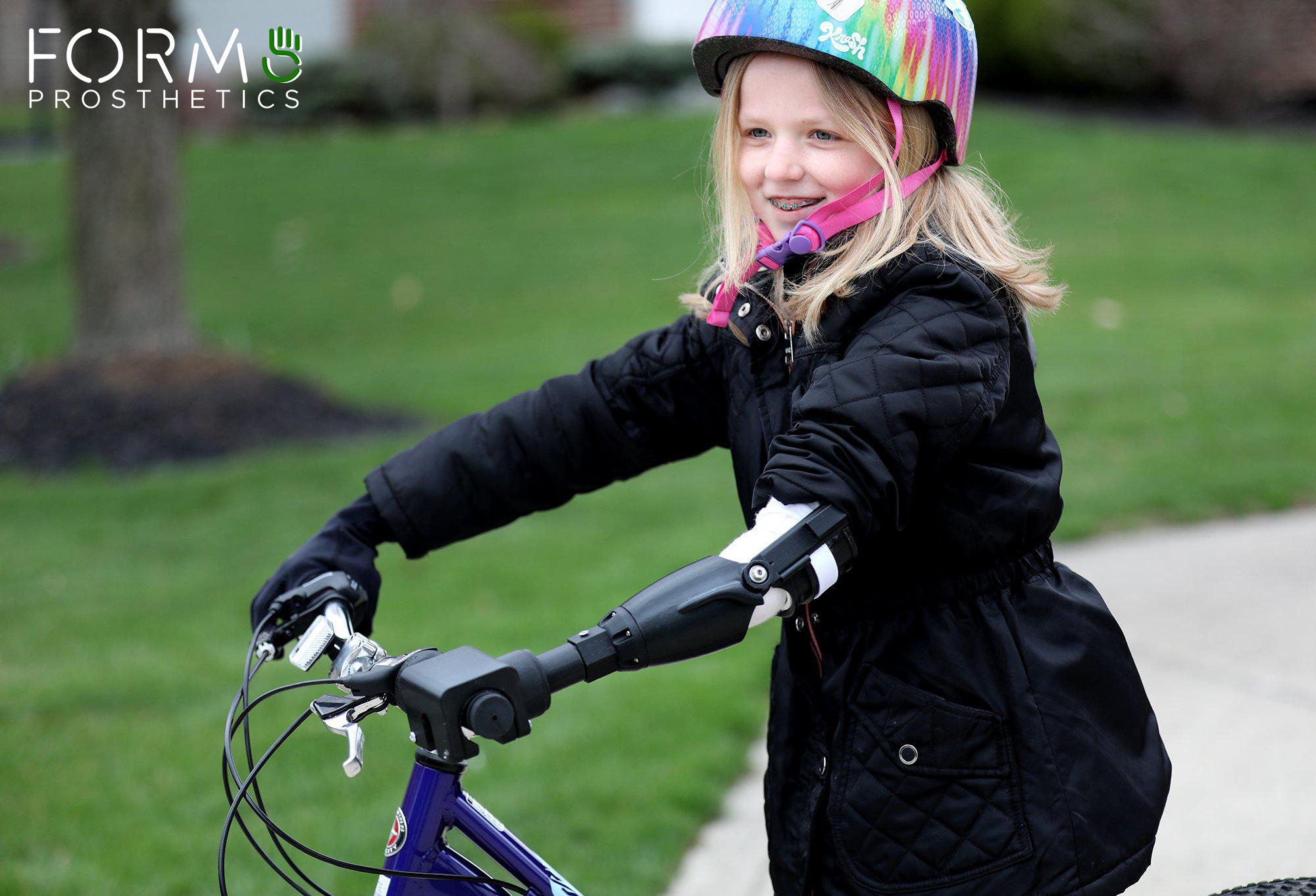 Interview Aaron Westbrook Here! 
Click on any question to expand and read more.
Westbrook's 
work with prosthetics
 has been shaped by the new possibilities of 3D printing, and in an interview with The Globe Post, he explained how.
Just for context, can you tell a bit about your background and what your company does?
Westbrook: Form5 Prosthetics is a social enterprise structured as a nonprofit organization. We started in 2017, and in our three years of existence, we have provided around 13 prosthetics to 10 individuals. The mission of the organization is to empower people to successfully interact with their world and realize the needs in our community and across Ohio.
Form5 is a 21st-century company, and so you use a lot of 3D printing. What does your 3D printing process allow you to do with prosthetics that you might not have been able to do 10, 20 years ago?
Westbrook: I can start diving into that with a bit of my own personal story. I was born without my right hand and went my entire life without any prosthesis or adapted equipment. It wasn't until I was in high school when I got curious about what the options were for me and others like me. At that time, I realized the world was much bigger than I.
I walked away from that experience thinking a few things: the materials, the manufacturing, and just the traditional process around prosthetics are very outdated. They're using wood and carbon-fiber, and some of the designs which these clinics provide are very dogmatic. They might say, "We have these five designs." Or they'll say, "We have this bionic arm, the latest and greatest device," but it's not price-accessible. That's the second thing. Aside from a lack of innovation, the prosthetics that are advanced and have all of these fancy bells and whistles are not accessible to the greater limb-different community.
And the last thing: when I had my initial consultation, it wasn't until 6 or 7 months in that I was able to see the actual device, the actual prosthesis. For something that's really a part of somebody, it's really important for them to be a part of making it.
And with 3D printing, we can come up with some really unique solutions and designs in a very quick time frame. Compared to 6 or 7 months, with the resources Form5 has now, we could create that initial prototype for somebody in under a week. And being able to include people in the process is something that's really empowering.
When it comes to 3D printing and prosthetics, where do we still have work to do? In terms of functionality, materials?
Westbrook: Looking at the trends with additive manufacturing, I'd say it's in the materials. So with Form5, for example, we've been collecting plastics from the community and from industrial manufacturers and recycling them into 3D printer filaments.
We're looking at ways we can be sustainable in our operations, but also develop a really strong durable material made from recycled plastics. Addressing two social issues, prosthetics and the environment, and marrying them in a unique way that will have an everlasting impact.
Is it cost-effective to use sustainable materials like recyclable plastics?
Westbrook: Absolutely. That was one of the things I found through my high school research and in starting Form5. There's a lot of waste that can be accumulated with 3D printing with companies that have large print farms. They accumulate a lot of printer waste. But there are also other styles of manufacturing that generate similar waste that could be recycled into material for future 3D printing.
We recycle a bunch of different plastics, and we've explored using some carbon fibers, but there's more to it.
We often print our prosthetics in much denser settings because we want them to be strong and durable and weather the wear and tear of an average prosthesis. Especially with young kids. But they still outgrow their prosthetics. So sustainability also means that you take prosthetics that are being discarded and reuse that material for future prosthetics. That's really cost-effective.
Traditional prosthetics cost tens of thousands of dollars. If we take the recycling aspect out of Form5, we're looking at 250 to 500 dollars to create a custom application prosthesis. But if we can use recyclable material, that cuts our manufacturing costs. We're not paying for filament for our printers, and it allows us to have an even more positive social impact.
And using recyclable materials also doesn't negatively impact how well each prosthetic can function?
Westbrook: No, it doesn't. And as Form5 continues to grow and launch a second, for-profit entity – which will focus more on the manufacturing side of the process – we'll be researching different materials for producing filaments. Ultimately the goal is to market the best and most sustainable material for medical device manufacturing. 
Can you elaborate on these "print farms?"
Westbrook: A print farm is just a building with 100, 200 printers A lot of large additive manufacturing companies are now using these print farms. That's my ultimate goal. You're starting to see it with automobiles, for example. Honda does a lot of printing on pre-production stuff, like the forms and jigs for putting car parts together.
The Globe Post: So we're approaching a stage where we can achieve mass production with 3D printing.
Westbrook: I would say we already have. With prosthetics, we're right on that precipice, and I think what will push us forward there, based on current trends, will be the development of a wide variety of materials. Materials will be another revolution in terms of what can be made with this technology and how much you can make with it. They can help us find a way to make prosthetics more accessible by making them more affordable.
And that connects back to sustainability, which is a no-brainer. I think everybody would agree they'd rather have plastics not in the landfill and recycled into a medical device that enhances people's lives and improves their capabilities.
But prosthetics are a very individualized product. A mass-produced arm made at a print farm probably wouldn't function quite as well as a custom-built arm, no?
Westbrook: Absolutely, but we can also use other styles of manufacturing on top of 3D printing – CT scans, scanning residual limbs, CAD designs – so that we can create a custom fit for the individual. We can make a device that looks exactly how they want it, and does what they need it to do.
And obviously, with more printers, we'd be able to increase our output, but I don't think we would change our style of working with the recipients and creating custom solutions. You could expand your repertoire of designs and commercialize them on a larger scale, but some of those parts would still have to be one-off and custom-built. Not everyone's limb difference is the same, and not everyone has the same style.
One person might want a bike prosthesis, and the socket of the device is fully attached and locks them into it. Other people want to be able to pull out of the device if they need to. Sure, there are components of the prosthetics where having more printers would enhance the manufacturing. But with this specific industry, it's so customized and personal that there are parts of it that wouldn't make sense to be mass-produced.
Do you know about support material?
3D Printing Support Material
Westbrook: There are some openings or hollow parts, and the printer needs something in between so it doesn't cave in on itself. If you had a cylinder, and you wanted to put a top on that cylinder, the printer needs something inside the cylinder to make the top. That's support material.
It's often the same material you're printing everything else in. Some printers have technology that can toggle between the two, meaning you'll have a material specifically for putting in support and taking it out. That's called Breakaway. And we could find some more common materials to recycle into something like that for the manufacturing of the final, durable materials. But like I said, where additive manufacturing is headed, there's going to be a wide variety of plastic material that people will be able to use and ultimately 3D print with less.
Is there a market for allowing people to 3D print prosthetics from home? Is that even a possibility?
Westbrook: Yes. And I would even say that that possibility has already started. With the research that Form5 and others around the country have been doing, a lot of people have started to look at this as something they could be doing themselves, which I think is fantastic.
As an organization that supports the creativity of the community, it's really cool to see people with limb differences coming up with their own solutions – seeing, for example, a family member's dad print a prosthetic hand for his son. Those are experiences that really, if anything, demonstrate that the way traditional prosthetic manufacturers have been doing it doesn't cut it anymore. 
Supposing that somebody had a 3D printer at home, would you be able to sell the individual parts of a prosthetic so that they could build it themselves?
Westbrook: Yes, but to an extent. We're in a time when technology is moving so fast that we don't always think about the best next steps. Everyday helper arms, or maybe some smaller-scale adaptive equipment could be printed from home. But there will probably still be a need for some of these custom-application, task-specific prosthetic fits. People at home may not have the knowledge or background to provide the proper prosthetics care for themselves or a family member.
How does the experience of a helper arm differ from a custom-built prosthetic?
Westbrook: You use different prosthetics for different things. So with prosthetic legs, people may have different blades just for running. Upper limb differences are where the lack of innovation is among traditional manufacturers, in the sense that they don't provide multiple devices. But a helper arm is more or less for everyday activities: grabbing, grasping, holding, picking things up. These other custom-application devices are more or less for riding a bike, working out – something really task-specific. Much of the time the prosthetic isn't even like a hand; it's an attachment that goes on the handlebar of a bike, for instance.
None of Form5's prosthetics are connected to nerve endings; they're all body-powered, done by residual limb movement. So I use my elbow to open and close the fingers on the prosthetic arm that I wear. I'm working on one prosthesis arm for working out – like doing push-ups – and one to attach to gym equipment. 
What is the role of 3D printing during the coronavirus pandemic?
Westbrook: I would say 3D printing has allowed for extreme mass production worldwide of PPE. 
At Form5, for example, our focus has been face shields. With the help of the committee and the medical professionals on our board, it took us four days to design one. We've been 3D printing face shields for about five months now. It's been crazy, but we've printed about 6,000 shields with the goal of printing 10,000 by October to donate to the community.
When Form5 first started making shields, there were people in the maker community, with printers at home, who started printing out our designs and sending them into us wanting to help fight the pandemic. It's been amazing to see people use their creativity, their passion – and their printers, of course – to come together and fight the coronavirus.
A lot of people probably don't realize how pervasive 3D printing has become, no? When you put on a mask or face shield, you might be putting on something that was made by a printer.
Your content goes here. Edit or remove this text inline or in the module Content settings. You can also style every aspect of this content in the module Design settings and even apply custom CSS to this text in the module Advanced settings.
Westbrook: I said this when I started 3D printing six or seven years ago: It's sparking another Industrial Revolution. It honestly is changing how everything is made. And that's really cool. It's cool to live in that time. 
We learn in history books about the Industrial Revolution. "Oh, they made engines and factories and warehouses! They went from making five widgets a day to 5,000 a day!" And it happened in a really short amount of time, especially considering the impact it made. And it's very similar to what's happening now, in this society, with this technology.
Source: https://theglobepost.com/2020/08/20/3d-printing-prosthetics/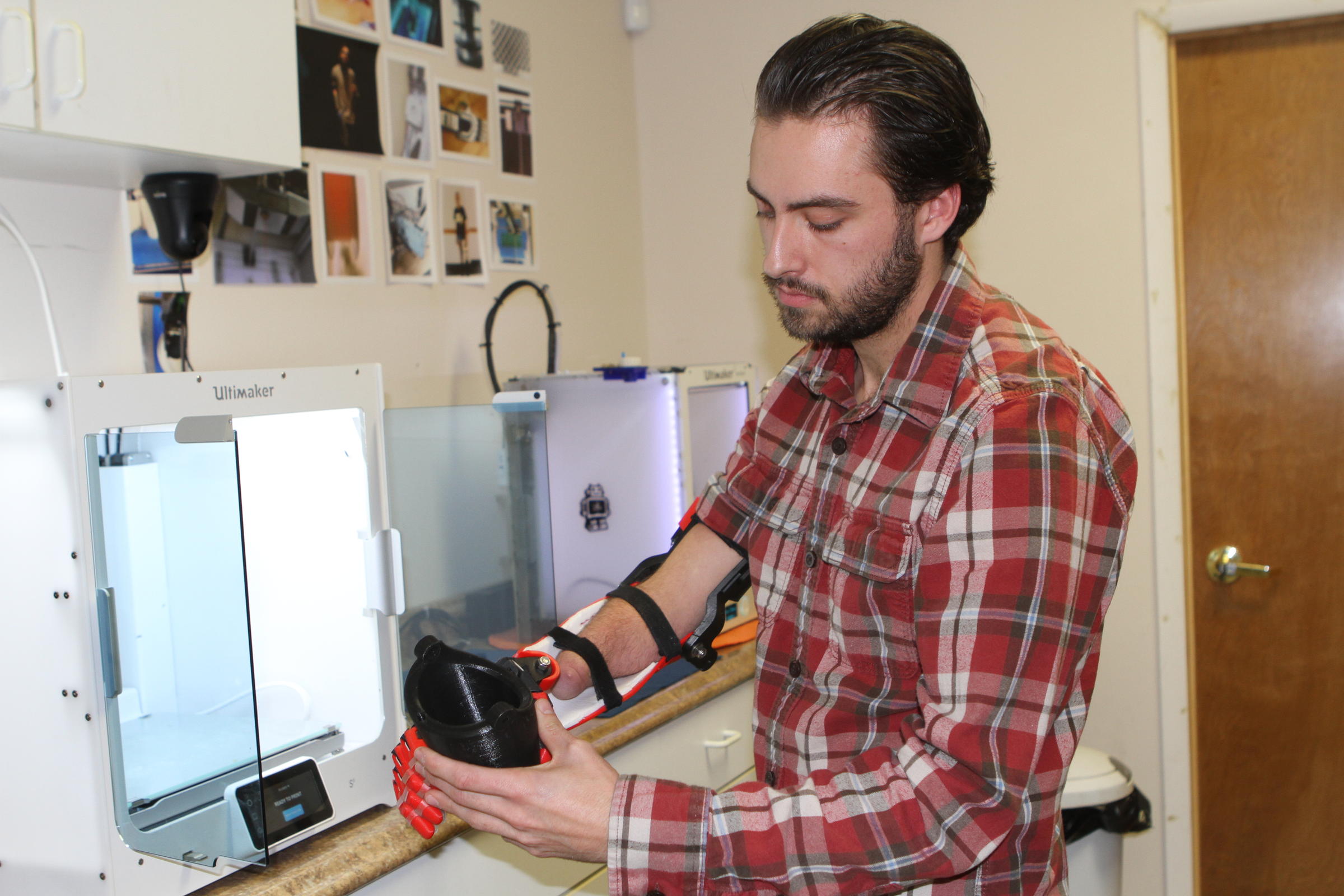 For more information about 3D Printing solutions: