Rapid prototyping improves the way you develop a product. Rapid prototyping can ease your entire engineering process in a big way with large-format 3D printing.
What is Rapid Prototyping?
Prototypes are physical parts or assemblies that come closer to final with each iteration. Starting with conceptual mockups and building toward a functional prototype, each successive prototype is a step toward a fully engineered final design. That's prototyping – rapid prototyping refers to the cycle of quickly iterating to reach a final design.
We say "cycle" because that's just what it is; a few steps are required to go from idea to delivery. At its simplest, it's a three-step process that looks like this: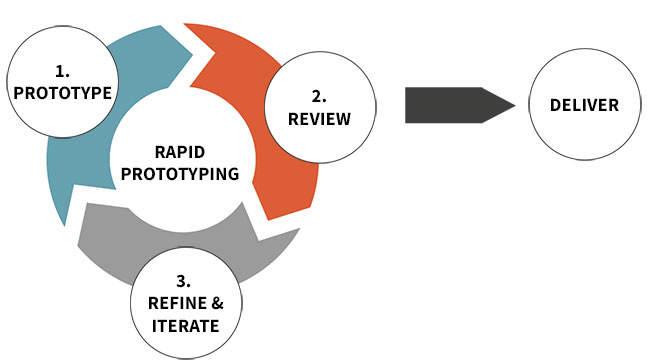 The review stage of each successive prototype gets the cycle one step closer to completion, with refinement in iteration required to move toward that acceptable conclusion.
Rapid prototyping employs a few technologies, from CAD design software to manufacturing process(es), to create a series of prototypes.
Traditionally, each physical prototype would require a new design to be outsourced to a manufacturer to be made with subtractive (e.g., milling, cutting) or molding/casting processes. That may require lengthy waits and costs, as tooling and logistics come into play every time. Speeding up the process, technologies like 3D printing remove the need for tooling and can take your idea straight from design file to the physical. This shortens wait times, as feedback can translate immediately to an updated design file that can in turn be 3D printed as quickly as just a few hours. When this is done in-house, several cycles of prototyping can even be accomplished in the same day – a far cry from the traditional weeks or even months between iterations.
Are 3D Printing and Rapid Prototyping the Same?
When the technology was first developed, 3D printing was so synonymous with rapid prototyping that the two terms were interchangeable. Whether referencing "3D printing," "rapid prototyping," or "RP," the conversation generally all referred to the same thing. Today, 3D printing has developed into end-use production capabilities as well and is more commonly synonymous with "additive manufacturing."
Still, rapid prototyping was the first and remains the largest application for 3D printing. Iterations from proof-of-concept through to functional prototype can all be 3D printed. Whether outsourced or in-house, using 3D printers speeds up the rapid prototyping significantly through removing traditional bottlenecks in tooling and/or shipping. Rapid prototyping can also increasingly be done using the same 3D printing technology as will be used for the final product.
3D Printing Services at NeoMetrix Technolgies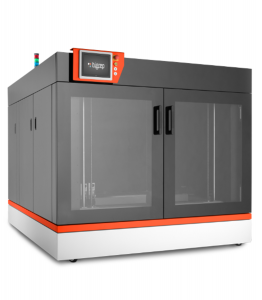 Benefits of Rapid Prototyping
At its broadest, rapid prototyping carries the significant benefits of speeding time-to-market, offers better opportunity to test and improve each iteration, is a cost-competitive process, and improves the effectiveness of communication throughout the design cycle.
Decrease Time to Market
The time it takes an idea to move from concept to deliverable should be as short as possible. Replacing months or years of traditional wait times in the iterative prototyping process with days or weeks is an easily apparent benefit of rapid prototyping. A 3D printer can precisely create your next iteration from a slightly tweaked design file much faster than could any traditional tooling-based prototyping process. Speeding the design cycle inherently improves time-to-market for a new product.
Test and Improve
Each 3D printed prototype will be one step better than the version before it, ideally. Getting hands-on with a life-sized functional prototype can allow you fuller understanding of that particular design's pros and cons, enabling fast approval or disapproval as it can be put through its paces in testing. Your engineering team can test performance and get a feel for the look and feel of each prototype, understanding, evaluating, and improving any manufacturability issues or usability risks while still in the pre-production stages.
Create Competitive and Cost-Efficient Models
Hand-in-hand with speeding time-to-market is the reduction of costs associated with lengthy design cycles. Getting a product to market faster will inherently reduce the hefty price of longer, more tooling-intensive traditional workflows. Competitive positioning requires that development and introduction be quick, especially in the consumer market. Large-format 3D printing also allows for several different prototypes to be made at the same time, allowing for faster decision making when the choice is between a few looks or feels.
Improve Effective Communication
The fast turnaround of rapid prototyping eases communication gaps by opening up the conversation. It's much easier if every engineer on your team has the same understanding of a process, and quickly getting a next physical prototype in hand offers a clear point of reference. As each prototype becomes closer to the feel and performance of the final design, small tweaks and large adjustments both become easier to understand for your entire team.
Original Source: https://bigrep.com/posts/rapid-prototyping-3d-printing/?utm_source=newsletter&utm_medium=email&utm_campaign=newsletter_na_202011&vgo_ee=hsA61OqNuS8WmxPZXcuFZAT5bb5bql%2FZnXGHJ5E0jCI%3D
For more details on BigRep 3D Printers: