The accurate measurement of individual components (including entire installations) forms the basis for the reliable inspection and repair of large fans. The quicker and easier the measurement phase is to complete, the lower are the overall downtime and costs for the operator.
Contactless analyses are ideal for minimizing stoppages and processing times without any deterioration in quality. This is why the service team of the fan manufacturer, TLT-Turbo GmbH, has been using a MetraSCAN 3D for third-party machine parts since June 2018. The portable unit now allows them to measure assemblies with a circumference of up to 17 m³ – with an accuracy of around 0.064 mm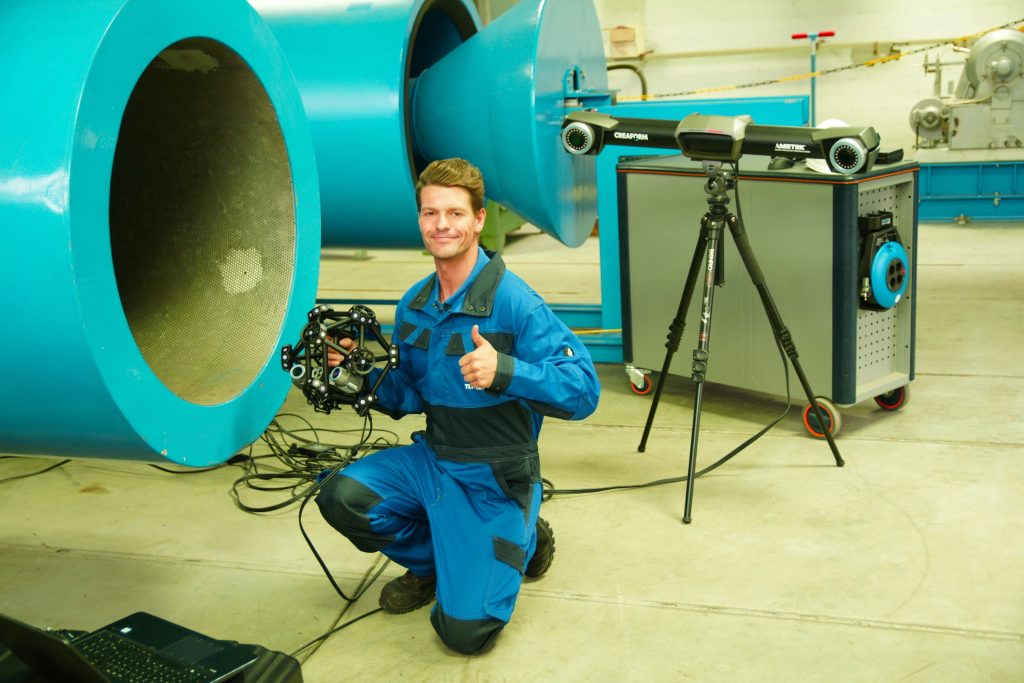 "We used to perform our analyses in a traditional way – using hand-held measuring devices or laser range finders – and more detailed results were generated in external test chambers," explains Leif Heidingsfelder, Product Specialist at TLT-Turbo GmbH. "This not only took a long time, but also incurred additional costs – partly due to loss of communication with the various service providers."
A new solution not only had to meet TLT-Turbo's stringent accuracy and reliability standards, but it also required extra functions for integration into existing processes. For example, a portable device inside an aircraft was preferable, enabling stationary use in TLT's service workshop in Bad Hersfeld as well as timely customer site visits. At the same time, the system should be vibration-resistant and deliver reliable results, regardless of the size of the component and/or installation.
"With this new, cutting-edge scanner, measured values are now available within a very short time and can be generated at any location," says a satisfied Heidingsfelder. Reliability remains unaffected by black, multi-colored or shiny surfaces. The device is compatible with all standard software solutions for reverse engineering, allowing CAD models to be created with no additional effort, based on the raw data collected. This, in turn, facilitates both continuous quality control during on-going production and the manufacture of spare parts for third-party fans, thereby guaranteeing consistent quality despite the process being accelerated. Therefore, it's possible for TLT-Turbo to reduce the overall downtime and costs for the customer. While at the same time, the service team is much less dependent on location than before, meaning that appropriate actions can be taken quickly, even in emergencies.
"Modern technology offers fascinating opportunities – nevertheless, the relevance of expertise and practical experience should not be underestimated," concludes Heidingsfelder. "A well-trained, mobile workforce continues to be essential for successful measurement."
source: https://www.creaform3d.com/blog/metrascan-3d-accelerates-industrial-fans-production
Learn More About Creaform