Printer Trade-In Promotion
Your Old Desktop Printer Can Save You A lot On Your Next Metal X Printer Purchase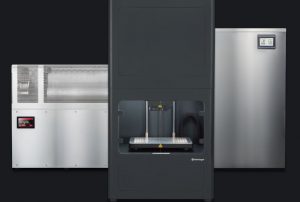 Those hobbyist grade 3D printers are great for learning the ropes, but if want to build real parts, and real tools, you've got to go industrial.  Trade-in your bot-type printer and save thousands on a
Markforged Industrial
grade printer.
Valid on Metal X, X3, X5 & X7 Printers
Offer valid through the end of March
Cannot be combined with other discounts
Trade-in values will vary depending upon system purchased, and system being traded.
The Metal X 3D Printing system is an end-to-end manufacturing solution, providing users everything you need to go from design to fully functional parts in less than a day. The Metal X is up to 10x less expensive than alternative metal additive manufacturing technologies — and up to a 100x less than traditional fabrication technologies like machining or casting. Markforged's cloud-based printer management software, built-in touchscreen interface and automatic material tracking make the Metal X system the simplest way to manufacture metal parts.
Based on our 4th generation composite 3D printing technology, the Metal X is a brand new kind of 3D printer. By printing metal powder bound in a plastic matrix, we've eliminated the safety risks associated with traditional metal 3D printing while enabling new features like closed-cell infill for reduced part weight and cost.
Atomic Diffusion Additive Manufacturing (ADAM) Technology
Design: CAD your part, upload the STL, and select from a wide range of metals. The Eiger software does the rest making printing the right part easy.
Print: Metal powder bound in plastic is printed a layer at a time into the shape of your part. Parts are scaled up to compensate for shrinkage during the sintering process.
Sinter: Printed parts go through a washing stage to remove some of the binder. They are then sintered in a furnace and the metal powder fuses into solid metal.
Part: Pure metal and up to 99.7% dense, the final parts are ready for use. They can be processed and treated just like any other metal parts.
Materials
Stainless Steel
Aluminum
Tool Steel
Inconel
Titanium
For more information click below!