Educational Tools and Resources for Engineering and Manufacturing Programs
Complete 3D Scanning Equipment Education Suite for Teachers and Research | Add Creaform ACADEMIA to your arsenal of 3D Equipment and prepare Engineering, Manufacturing, and Design students to work on real-world applications.
3D measurement system manufacturer
Creaform
has announced the addition of the ACADEMIA 20 3D scanner to its educational product portfolio.
Designed specifically for use within the classroom, the ACADEMIA 20 is optimized for scanning small parts, and makes 3D printing them as easy as possible for teachers and students
. When used alongside Creaform's existing software suite, the scanner provides educators with a hands-on training tool, this enables them to demo the technology's R&D, reverse engineering and inspection applications. "It is of the utmost importance that s
tudents be prepared for today's demanding engineering sectors, including aerospace, automotive and manufacturing industries
," said Daniel Brown, Product Management Director at Creaform. "Our ACADEMIA educational solution suite is a clear path to achieve that goal, especially as universities and colleges increasingly offer more programs specialized in additive manufacturing."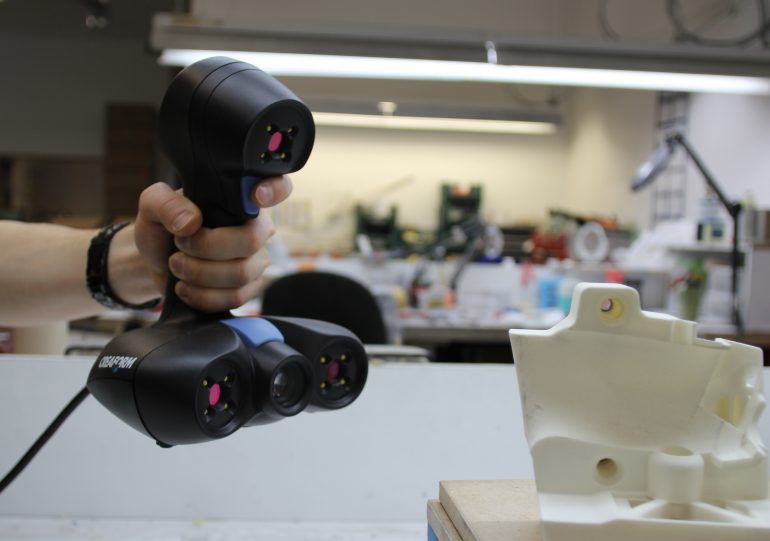 Creaform's Educational Equipment Suite On the education front, the company offers ACADEMIA, which includes a full suite of 3D applications, that give students all the tools they need to address their first engineering projects. Creaform's digital package also provides adopters with unlimited access to complementary teaching materials, covering scanning, reverse engineering and inspection, that are in-line with industry standards. Elsewhere within its education-oriented portfolio, the firm markets its accessible ACADEMIA 10 and ACADEMIA 50 3D scanners. The lightweight, portable devices are purpose-built for use by students and researchers, and with the launch of the ACADEMIA 20, Creaform is effectively now offering these users a slightly larger but more accurate alternative.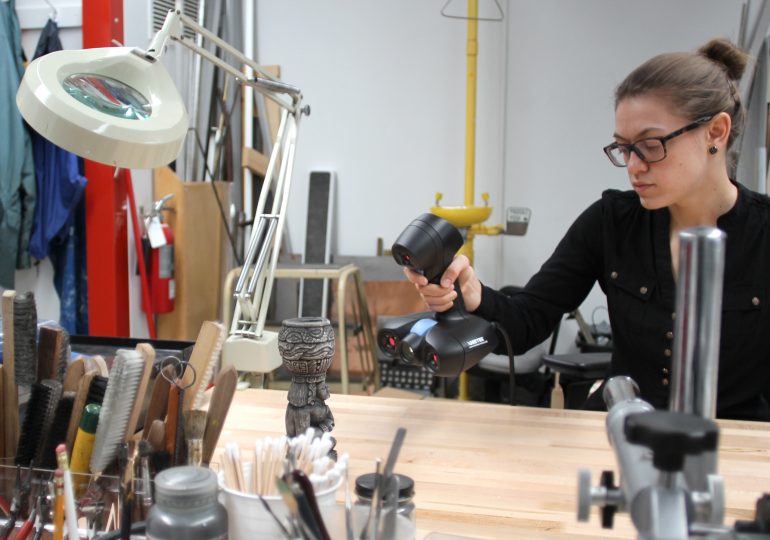 NEW

| Introducing the ACADEMIA 20
Creaform's latest 3D scanner has been built to provide users with precision, accuracy and ultimately ease-of-use. Within a scanning area of 143 x 108 mm, the ACADEMIA 20 is capable of capturing details up to 0.1 mm in size, putting it on a par with the ACADEMIA 50, and making it more accurate than the 0.25mm-capable ACADEMIA 10. In terms of recommended part size, the ACADEMIA 20 is able to scan objects anywhere from 0.05m up to 5m in size, potentially enabling teachers to demonstrate engineering tasks on a real-world scale. At 0.95 kg in weight, and with dimensions of 154 x 178 x 235 mm, the new scanner is also larger than its predecessors but generally remains light, portable, and small enough for academics to move from class-to-class. As an added benefit, Creaform is offering its new scanner in multiple bundles, allowing educators to customize their package to best meet the needs of their individual class, and teaching style. Customers can choose anything from one to fifty 'seats' of the ACADEMIA software suite, plus a one-to-five year care plan and a selection of free teaching kits.
Technical specifications
Below are the technical specifications for the ACADEMIA 20. The scanner is available to order now!
Contact us today to have one of our team member reach out with more details!
| | | | |
| --- | --- | --- | --- |
| | ACADEMIA 10 | ACADEMIA 50 | ACADEMIA 20 |
| Accuracy | Up to 0.250 mm | Up to 0.1 mm | Up to 0.1 mm |
| Volumetric accuracy | 0.500 mm/m | 0.300 mm/m | 0.300 mm/m |
| Measurement resolution | 0.500 mm | 0.250 mm | 0.100 mm |
| Mesh resolution | 0.500 mm | 0.500 mm | 0.100 mm |
| Measurement rate | 550,000 measurements/s | 550,000 measurements/s | 550,000 measurements/s |
| Light source | White light (LED) | White light (LED) | White light (LED) |
| Laser class | N/A | 24 bits | 24 bits |
| Scanning area | 380 x 380 mm | 380 x 380 mm | 143 x 108 mm |
| Stand-off distance | 400 mm | 400 mm | 380 mm |
| Depth of field | 250 mm | 250 mm | 100 mm |
| Part size range | 0.3 – 3 m | 0.3 – 3 m | 0.05 – 5 m |
Are you ready to take your teaching or research to a whole new level?
Discover Creaform ACADEMIA™, a brand-new solution suite for forward-thinking teachers and researchers looking to inspire, collaborate, and push the innovation envelope forward using the latest advancements in 3D measurement technologies.
With this new educational program, Creaform goes beyond delivering didactic tools and provides a complete and collaborative skill-nurturing academic solution. The suite let's you choose from our full line of 3D scanners and portable CMM, free application software, complimentary add-ons as well as useful tools tailored to get you started with industrial 3D measurement solutions.
Teaching Package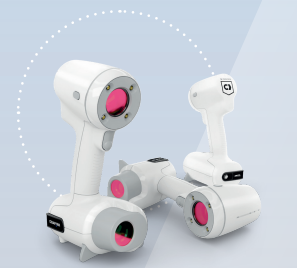 Package includes:
3 units of ACADEMIA professional-grade 3D scanners (other options available)
5-year worry-free ACADEMIA Customer Care Plan
Software suite with our reverse engineering and inspection software
Self-training documentation on ACADEMIA 3D scanners
Features & Benefits
Turnkey solution with all the necessary add-ons to enrich your syllabus
The industry's most affordable professional-grade 3D scanner dedicated to teaching applications
Software to use 3D scans in real-world engineering workflows
Portable, fast, and easy-to-use 3D measurement solutions: become an expert in no time!
Research Package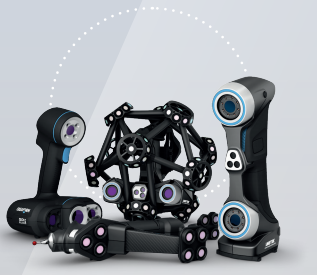 Package includes:
Metrology-grade portable 3D scanner(s) and portable CMM
5-year worry-free ACADEMIA Customer Care Plan
Software suite including our reverse engineering and inspection software
Features & Benefits:
Turnkey solution designed to carry out complex projects
Complete portfolio of metrology-grade 3D scanners and a portable CMM at a special pricing for researchers
Portable, fast, and easy-to-use 3D measurement solutions
Teaching Kits
Complimentary didactic material that is in line with industry requirements
Customizable teaching presentations
Video tutorials and self learning documentation
Pre-built lab exercises with sample datasets for real hands-on experience with 3D files
Software
Scanning is the first step. Powerful and fully integrated, our complementary 3D application software suite provides the tools you need to tackle any type of conventional or ahead-of-the-curve engineering workflows.
VXelements: 3D measurement software platform
VXmodel: Scan-to-CAD software module
VXinspect: Dimensional inspection software model
More Technical Specifications 
(Best viewed in full-screen mode)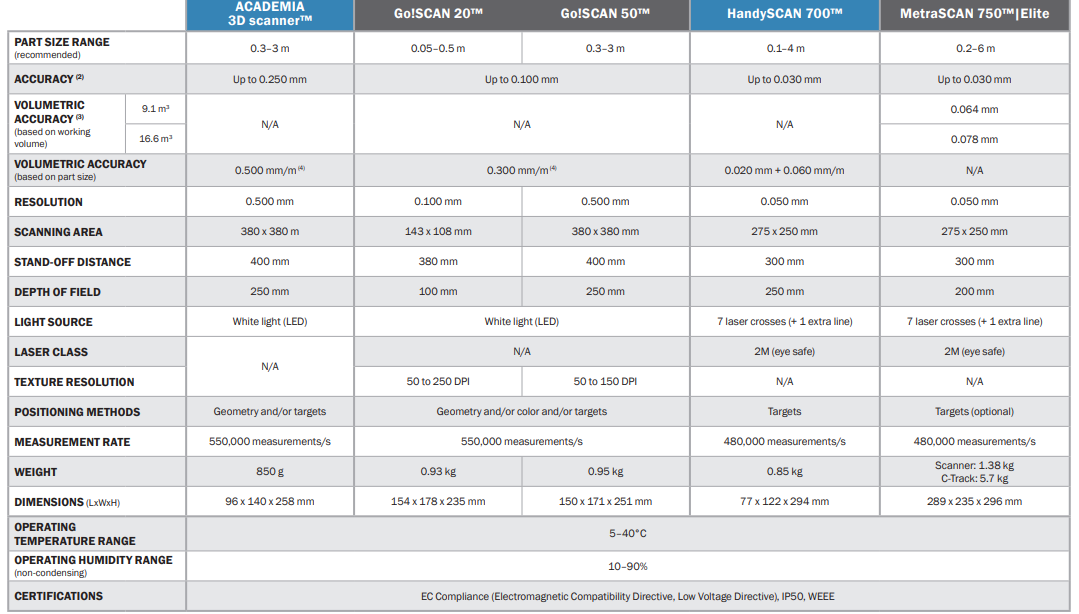 Original Article: https://3dprintingindustry.com/news/creaform-adds-academia-20-3d-scanner-to-education-portfolio-technical-specifications-and-pricing-187722/
Want More Info on 3D Scanners?