VXinspect
3D Inspection Software
VXinspect offers the ideal solution for quality control in shop floor conditions as an intuitive and powerful 3D inspection software.  The software features all the functionalities required by pre-production control or when setting up a high-efficiency measurement sequence to inspect multiples parts. With its intuitive interface, it is the best solution for all inspection workflow with no compromise on measurement
Recent Updates (via VXelements 6.2)
Completely reworked color scale, now fully customizable
New color map grid
Nominal and measured entities can now be exported in .IGES or .STEP
Probed point can now be exported in .TXT
Cones and cylinders dimension are described as XYZ instead of IJK
 Recent Bug Fixes (via VXelements 6.2)
Fix an issue for a sphere GD&T callout
Fix a crash when accepting changes early during the color map edition
Fix a bug where 2D deviation annotation on a cross sections would be 0 on part 2
Fix a crash when canceling the import of an Optical measurement
FEATURES AND BENEFITS
To meet customer needs for simplicity and a plug-and-play solution, VXinspect fully integrates with all of Creaform's technologies and centralizes information for optimal use.
CAD import
VXinspect, a dimensional inspection software for quality control, supports CAD import of IGES, STEP files, allowing direct measurements comparisons with CAD models to better understand the parts' manufacturing defects.
Multiple-Measurement mode
VXinspect is the first software to incorporate both single-point touch probe and non-contact measurements into a powerful and intuitive software interface.
Alignment
Before starting the dimensional inspection process, the position and orientation of the object in space is of the highest importance. It ensures more accurate results from data acquisition up to the final inspection report.
Geometric dimensioning and tolerancing (GD&T)
VXinspect's state of the art algorithms and calculation methods offer an accessible way to apply GD&T principles and practices to the inspection project, even for users without extensive experience with GD&T notions.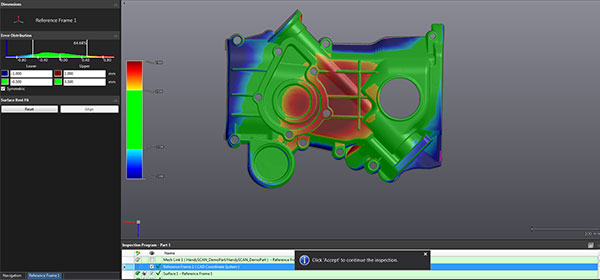 SIMPLIFING WORKFLOW WITH VXINSPECT
Pre-Production 
Each production start up comes with different process issues. In many cases, some prior adjustments have to be made to be fully in control of the manufacturing process. During this search for problems to solve, 3D measurements tool users need a quick way to compare measured geometry with designed one. VXinspect offers the simplest workflow for quick Part-to-CAD inspection.
In-Production
Once the manufacturing process is under control, first article inspection, or production part approval process need to be performed. VXinspect is ideal to simply build the inspection program for such operation. It can also be used to control critical dimensions at various stages of the manufacturing process. Users can repeat the same measurement sequence several times to follow evolution of specific parts, preventing future problems.
Learn More About VXinspect