HandySCAN Silver Series
Proven and Trusted Professional 3D Scanners at an Accessible Price
The HandySCAN 3D | SILVER Series delivers accurate and reliable 3D measurements regardless of the measurement setup quality and the user's experience level.
Featuring dynamic referencing, both the scanner and part can move freely during scanning, and an accurate and high quality scan can still be obtained.
Offering the best value for money, the HandySCAN 3D | SILVER Series represents a smart purchase because of its fair price and high-quality performance. Designed and manufactured in North America and with more than 5,000 users already, this proven and trusted technology demonstrates Creaform's prioritization of attentive service and reliability.
Using triangulation on optical reflectors to determine its relative position to the part, this handheld 3D scanner is a stand-alone device that does not require a tripod or any external tracking device to operate. Compact enough to fit into a small suitcase, it can be brought anywhere and used in any environmental conditions without its performance being affected.
With its user-friendly interface and ergonomic design, this 3D measurement solution is easy to use and has a short learning curve regardless of the user's experience or expertise level. Its versatility enables users to scan various objects no matter the part size, complexity, material, or color—all with the same device.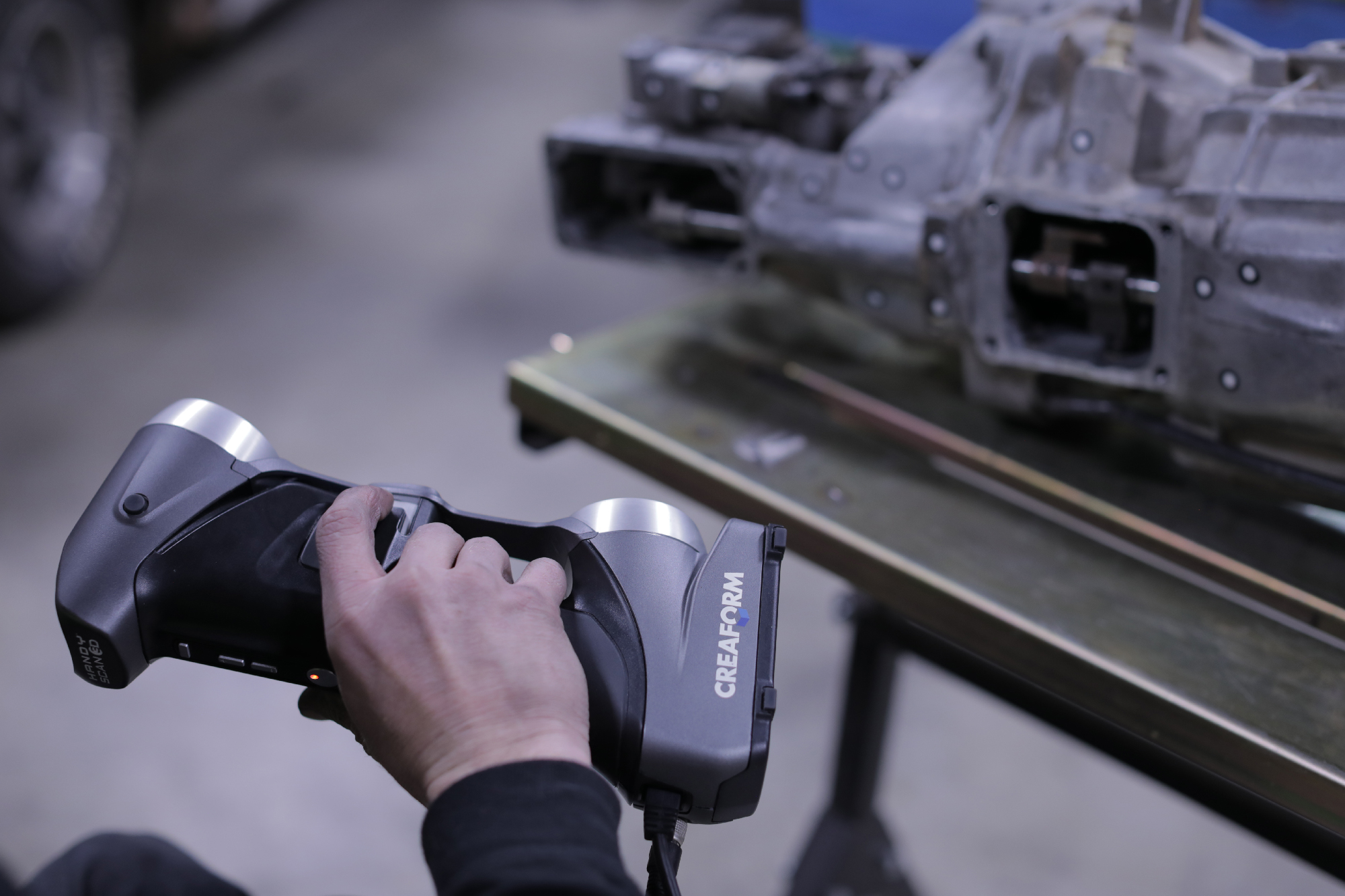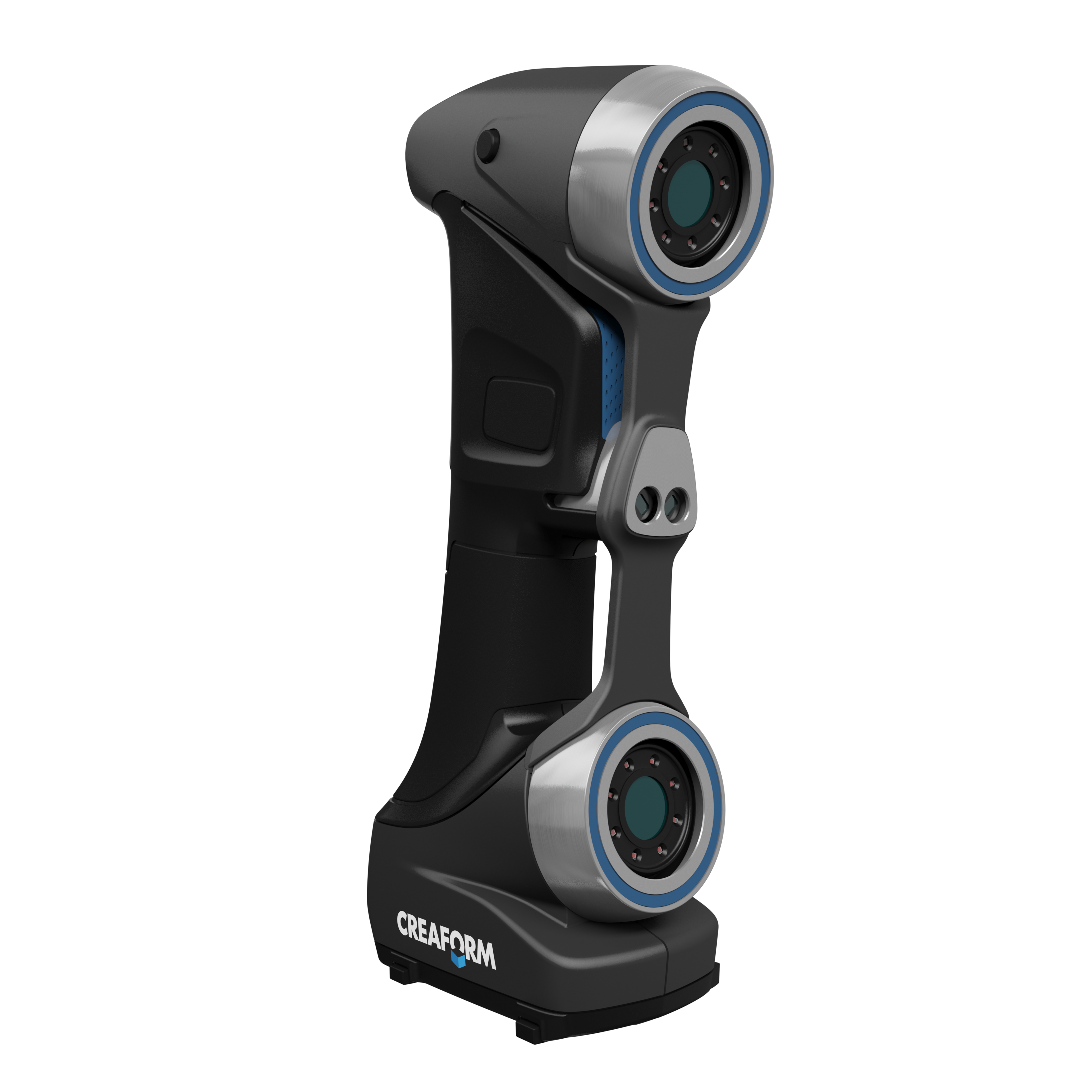 Accuracy:
Up to 0.040 mm (0.0016 in)
Volumetric Accuracy: 0.020 mm + 0.100 mm/m
(0.0008 in + 0.0012 in/ft)
Volumetric Accuracy with MaxSHot NEXT Elite: 0.020 mm + 0.015 mm/m
(0.0008 in + 0.00018 in/ft)
Mesurement Resolution: 0.100 mm (0.0039 in)
Mesh Resolution: 0.200 mm (0.0078 in)
Measurement Rate: 480,000 measurements/s
Light Source: 7 red laser crosses
Laser Class: 2M (eye safe)
Scanning Area: 275 x 250 mm (10.8 x 9.8 in)
Stand-off Distance: 300 mm (11.8 in)
Depth of Field: 250 mm (9.8 in)
Part Size Range: 0.1–4 m (0.3–13 ft)
Software: VXelements
Output Formats: .dae, .fbx, .ma, .obj, .ply, .stl, .txt, .wrl, .x3d, .x3dz, .zpr, .3mf
Compatible Software: 3D Systems (Geomagic® Solutions), InnovMetric Software (PolyWorks), Metrologic Group (Metrolog X4),
New River Kinematics (Spatial Analyzer), Verisurf, Dassault Systèmes (CATIA V5, SOLIDWORKS), PTC (Creo),
Siemens (NX, Solid Edge), Autodesk (Inventor, PowerINSPECT)
Weight: 0.85 kg (1.9 lb)
Dimensions: 77 x 122 x 294 mm (3.0 x 4.8 x 11.6 in)
Connection Standard: 1 X USB 3.0

Operating Temp Range: 5–40°C (41–104°F)
Operating Humity Range: 10–90%
Certifications: EC Compliance (Electromagnetic Compatibility Directive, Low Voltage Directive),
compatible with rechargeable batteries (when applicable), IP50, WEEE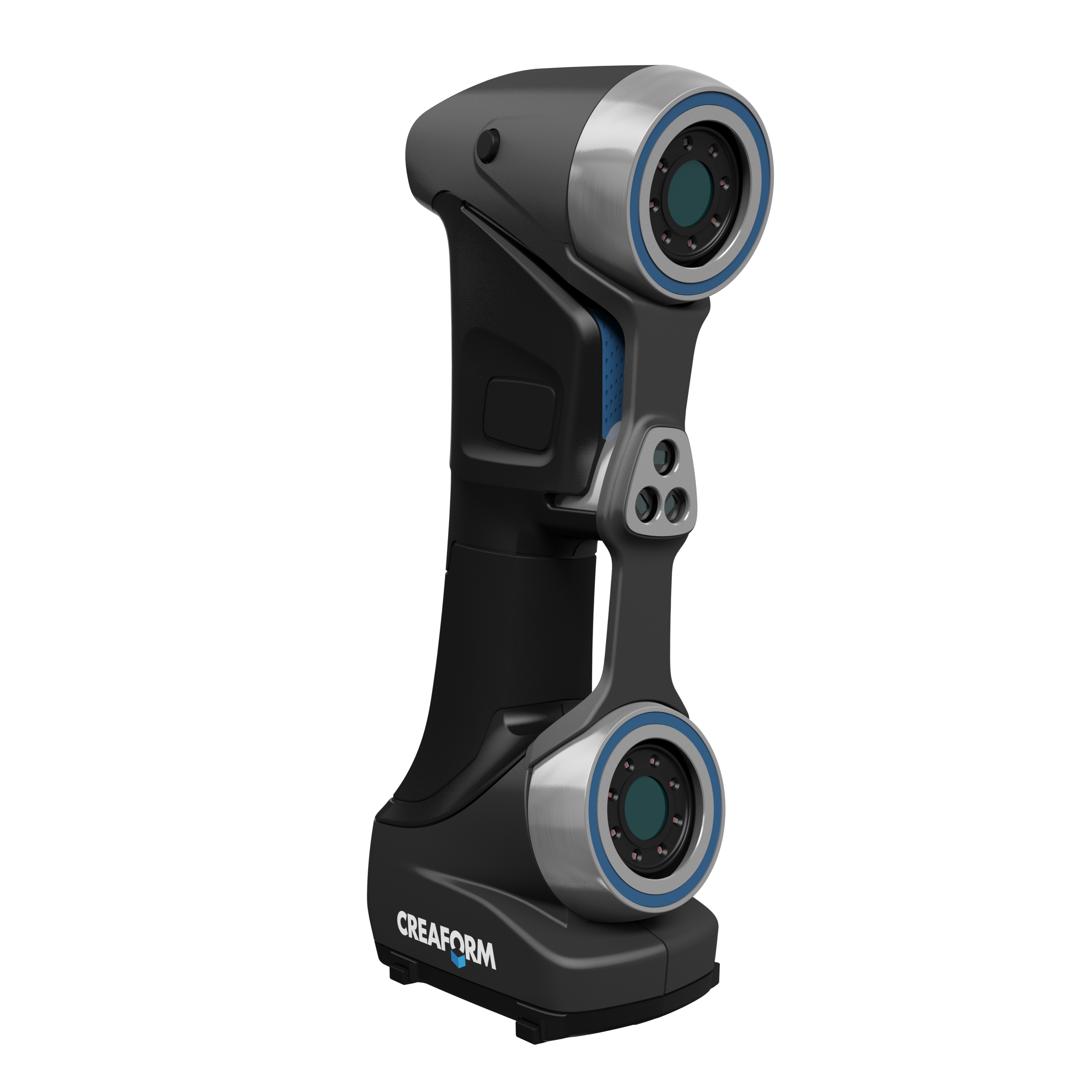 Accuracy:
Up to 0.030 mm (0.0012 in)
Volumetric Accuracy: 0.020 mm + 0.060 mm/m
(0.0008 in + 0.0007 in/ft)
Volumetric Accuracy with MaxSHot NEXT Elite: 0.020 mm + 0.015 mm/m
(0.0008 in + 0.00018 in/ft)
Mesurement Resolution: 0.050 mm (0.0019 in)
Mesh Resolution: 0.200 mm (0.0078 in)
Measurement Rate: 480,000 measurements/s
Light Source: 7 red laser crosses (+ 1 extra line)
Laser Class: 2M (eye safe)
Scanning Area: 275 x 250 mm (10.8 x 9.8 in)
Stand-off Distance: 300 mm (11.8 in)
Depth of Field: 250 mm (9.8 in)
Part Size Range: 0.1–4 m (0.3–13 ft)
Software: VXelements
Output Formats: .dae, .fbx, .ma, .obj, .ply, .stl, .txt, .wrl, .x3d, .x3dz, .zpr, .3mf
Compatible Software: 3D Systems (Geomagic® Solutions), InnovMetric Software (PolyWorks), Metrologic Group (Metrolog X4),
New River Kinematics (Spatial Analyzer), Verisurf, Dassault Systèmes (CATIA V5, SOLIDWORKS), PTC (Creo),
Siemens (NX, Solid Edge), Autodesk (Inventor, PowerINSPECT)
Weight: 0.85 kg (1.9 lb)
Dimensions: 77 x 122 x 294 mm (3.0 x 4.8 x 11.6 in)
Connection Standard: 1 X USB 3.0

Operating Temp Range: 5–40°C (41–104°F)
Operating Humity Range: 10–90%
Certifications: EC Compliance (Electromagnetic Compatibility Directive, Low Voltage Directive),
compatible with rechargeable batteries (when applicable), IP50, WEEE