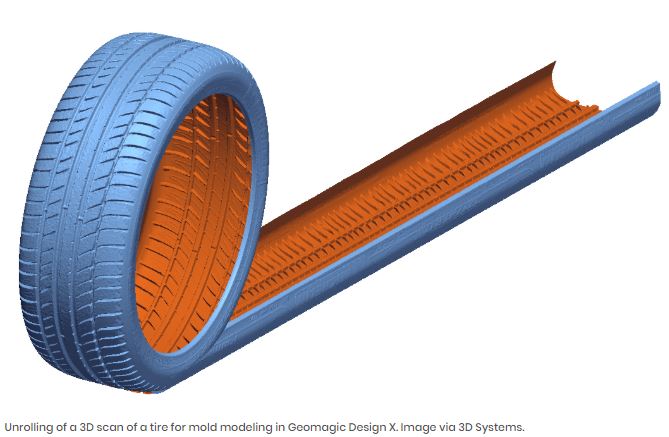 3D Systems has announced two new versions of its Geomagic Design X and Geomagic Wrap 3D scan processing software packages. The amped-up iterations feature a number of "first-to-market capabilities" and are designed to allow engineers to streamline workflows and achieve high-quality, high-precision products from 3D scans in a timely manner.
Radhika Krishnan, an Executive Vice President at 3D Systems, stated: "3D Systems has the broadest reverse engineering software portfolio in the industry, which includes a variety of best-in-class products. Our Geomagic software combines robust 3D scan processing with CAD design functionality to help manufacturers expedite the product development cycle."
Krishnan adds: "With the new features we are introducing today, designers and manufacturers who have incorporated our reverse engineering products into their end-to-end workflow will be able to achieve unmatched speed and accuracy. We are committed to continuing this caliber of innovation which is enabling our customers to improve productivity, lower Total Cost of Operation (TCO), and gain a competitive advantage."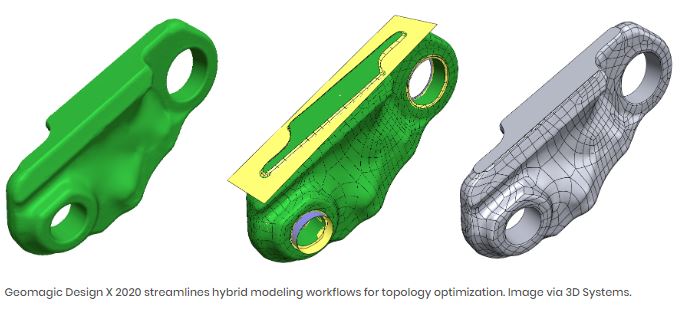 Geomagic Design X 2020
The new 2020 version of Geomagic Design X combines 3D scan processing with full CAD design functionality to provide a comprehensive reverse engineering toolkit. According to 3D Systems, modeling revolved 3D parts in CAD software tends to be quite difficult due to the 2D nature of the workspace. A great deal of trial and error is involved and, more often than not, precision must be sacrificed to produce a functional revolved part. The new 'Unroll/Reroll' function in Design X aims to combat this by utilizing a comprehensive suite of mesh processing tools. It allows users to unroll the 3D mesh, extract a 2D sketch, make the necessary modifications, and reroll the new sketch back into a 3D shape. Assuming everything works as intended, users can expect greater part precision and a "94% efficiency improvement"
The new software also comes with new 'Selective Surfacing' features which simplify the hybrid modeling of the CAD file from a 3D scanned mesh. They combine fast organic surfacing with high-precision feature modeling to accelerate productivity and provide greater downstream CAD re-usability. On top of this, the software's early feature and capability preview framework will allow customers to share feedback for ongoing refinements.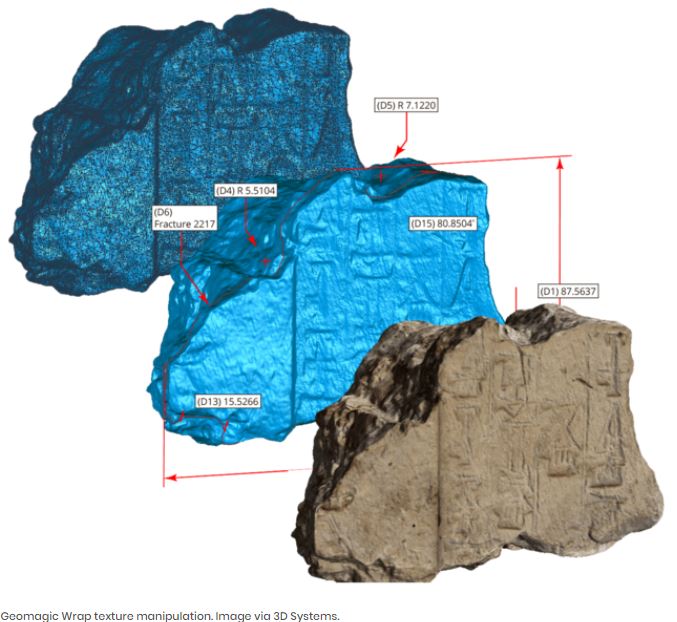 Geomagic Wrap 2021
The 2021 variant of Geomagic Wrap builds on the software's ability to transform 3D scan data and imported files into usable 3D models. According to 3D Systems, it is the only software package of its kind to include scripting automation. This feature, alongside the ability to customize workflow with the new Python-based scripting editor, increases efficiency and allows users to work in-line with their specific applications.
The new Wrap release also includes new texture map manipulation tools to enhance color and texture scans. When a color object is scanned, an additional piece of software is usually required to edit and re-touch the files prior to surface texture manipulation. The new texture map manipulation tools deal with complex geometries 'in-house' so the additional software is omitted altogether. To add to this, the software's new 'HD Mesh Construction' method allows users to construct 3D data from point clouds, filling in the gaps where there may be patches of missing scan data. Geomagic Wrap 2021 is planned for general release in late July of 2020.
source: https://3dprintingindustry.com/news/3d-systems-announces-two-new-versions-of-its-geomagic-reverse-engineering-software-171836/
Learn More About Geomagic