Endurance is the ability to withstand hardship and adversity while maintaining a prolonged stressful effort. This ability is particularly crucial in the high-performance sport of endurance racing.
Endurance racing is tough, and it stands out from other kinds of motorsports. It not only tests drivers' stamina and skills but also, the car's durability, efficiency, and reliability.  It's also proven that when a car can go the distance and perform, its driver will have the best experience possible.
Professional 3D Scanning Equipment & Services
Wear and Tear Impacting Performance
Aerodynamics is key in car racing, as it ultimately allows the vehicle to reach and maintain high speeds during challenging turns and straights. Even with an equal amount of thrust (or power), a more aerodynamic car will move more quickly than one that is hindered by its shape.
The bulk of the downforce lies on the car's lower surface. However, the bottom of the car also repeatedly touches the racetrack and, consequently, accumulates wear and changes shape. Therefore, testing for wear and tear on the car's underside is crucial to preserve downforce and maintain aerodynamics.
Given the complexity of the deformations being measured, a traditional tool like a measuring tape or a caliper would only provide very basic measurements. At this performance level, a team wishing to stay at the top has no choice but to opt for a higher technology that aligns with its state-of-the-art racing cars.
This is how Creaform technology joined the race.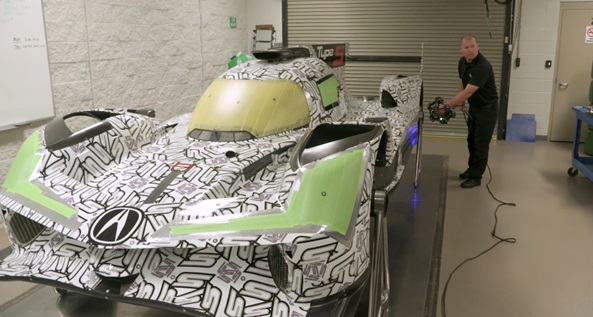 A Measurement Solution That Stands Out
With Creaform 3D scanning, WTR is able to take precise measurements of complex surfaces and incredible details. Using the MetraSCAN 3D, the engineers can now scan the car bottom and view a digitalized 3D model of the surface. This enables them to precisely identify which section needs better protection against wear and tear.
Thanks to scan data, they can now determine how much loss and wear the car's underside has experienced during an endurance race and its correlation to aerodynamic losses. Creaform 3D scanning technology has been a valuable acquisition for WTR in terms of optimizing the underbody aerodynamics of racing cars.


Fuel your design process!
Our team of experts are ready to help!
A partnership that results in tangible benefits
The precise and accurate measurements provided by Creaform scanning technology are now essential for building better tooling and car parts. Most importantly, everything can now be built in-house at WTR, avoiding the need to outsource these tasks elsewhere.
Endurance racing's sophisticated and complex automotive requirements make 3D scanning technology a vital tool for the design of today's racing vehicles. The difference it makes is clear just from looking at the results of the top endurance races and championships.
Our Goal: Provide Competitive Design & Manufacturing Solutions
Our mission here at NeoMetrix is to partner with companies/businesses and efficiently provide improved solutions and equipment to aid in many product development & quality control processes.
"The Creaform technology has been truly eye opening," says Travis Houge, Vice President and General Manager at WTR. "We have found so many unexpected ways to use the scanner and I'm excited to see what we can develop with this technology."
In racing, the key to reaching and staying at the top is utilizing technology in the quickest and most efficient way. For this particular reason, WTR is happy to have developed this partnership with Creaform and is looking forward to new applications to harness the power of 3D scanning. "Creaform, for us, is the future!"
A select few teams and drivers have been able to take pride in their performances and wins at these prestigious endurance races. It is on such a track record that renowned sports car champion Wayne Taylor founded his racing team.
Based in Indianapolis, Indiana, the motorsports capital of the world, Wayne Taylor Racing (WTR) has built a proven track record of success and ingenuity since its foundation in 2007, especially in the IMSA WeatherTech SportsCar Championship and the North America Lamborghini Super Trofeo series.
WTR strives to stay at the forefront of racing and continue its legacy of winning top endurance races and championships. As motorsport evolves and innovates, the team called on Creaform's expertise and technology to help them solve any problem that could arise for their endurance sports cars during a race.
Original Article: https://www.creaform3d.com/blog/how-3d-scanning-optimizes-the-underbody-aerodynamics-of-race-cars/

Ask us about 3D scanning services and equipment!