In this project, the Go!SCAN Spark was used to capture data from a human body in high-resolution and rich color. The process is quick and easy, while being very detailed and accurate with what the scanner captures.
To get the best final 3D model, we used a total of 3 scans to choose common points to align and then merge.
Watch the full process demonstrated in the video here.
Benefits of 3D Body Scanning
3D body scanners are revolutionizing the way we capture, measure and track evolutions of the human body, in various fields from medical to fitness or entertainment.
3D body scanners can capture a human body, or specific parts, to generate a very detailed 3D model at a very fast rate. It produces an accurate 3D model which can be viewed on a computer and then produces physically through a number of mediums. Depending on the final application, the 3D model can be scanned capturing colors and textures to perfectly match the original, or simply be a mesh, a sort of cloud of dots forming the geometric shape of the body.
When compared to traditional body imaging and measurements technologies, 3D body scanning offers many advantages:
Accurate: 3D body scanners are high precision tools and usually have a high resolution to produce highly detailed 3D models. They can detect things the human eye can't, making such 3D scanners very valuable in many circumstances. The quality of the result depends of course on the type of body scanner used.
Non-invasive: 3D body scanning is an entirely non invasive process. The 3D scanner never enters directly in contact with the subject. If using a handheld 3D scanner, the device is held at some distance by the operator and is moving around the subject. In the case of a 3D scanning booth, the subject simply stands in the middle of the booth to be captured in 3D from all angles by a number of sensors, rigged to the booth, all without direct physical contact.
Fast: scanning in 3D a person with a 3D scanning booth takes less than 10 seconds. When using a portable 3D scanner, the process can take several minuted and requires the subject to stand perfectly still.
3D Scanning a human body is used for a wide range of advanced applications and a trending process to aid design:
• 3D Printing Human figurines /Miniature
• Animation characters in CG application and gaming industry
• Body measurement in Textile industry
• Transformation checkup in fitness industry (Aesthetic body analysis )
• Custom made prosthetic making in healthcare industry
• Custom clothing in fashion industry
The Go!SCAN Spark features:
High level of details.
Accuracy of 0.050 mm (0.002 in)
Color acquisition
No set-up required
Worldwide support
Resolution of 0.1 mm (0.0039 in)
1,500,000 measurements/s
Part size range of 0.1-4 m (0.3-13 ft)
TRUsimplicity
Hybrid positioning: uses the parts' natural geometry and color.
Point-and-shoot: no need to prepare parts. Just go!
User-friendly: no experience required, up-and-running in minutes.
Scan in color: allows for seamless capture of high-quality geometry and colors simultaneously.
Real-time visualization: look at the computer screen to see what you are doing and what is left to be done.
TRUportability
Stand-alone device: the part is the reference, no external positioning system needed.
On-the-go scanning: fits into a carry-on case, so you can use it both in-house or on site.
Lightweight and small: weighs under 1 kg (2.2 lb.), can reach confined areas. Fits into a carry-on.
Speed
Fast: typical objects are scanned in 5 minutes or less
High measurement rate: capture large amount of 3D data for faster scanning
Automatic mesh output: ready-to-use files (geometry and color), right as you complete acquisition.
Quick workflow integration: usable scan files can be imported into RE/CAD/3D printing software without post-processing.
TRUaccuracy
Professional-grade measurements: accuracy of 0.050 mm (0.002 in) and resolution of 0.1 mm (0.0039 in).
Built-in intelligence: ensures that 3D data is high-quality and accurate.
Optional targets: possible to use targets to compensate for an object's lack of positioning information.
No rigid setup required: both the part and the scanner can be moved during scanning.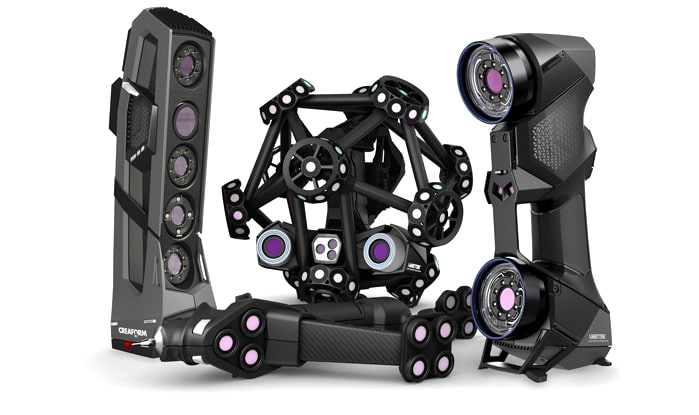 HandySCAN Black Elite™
The HandySCAN Black Elite offers increased accuracy and resolution. It is the most versatile 3D scanner on the market for inspection and demanding reverse engineering.
The HandSCAN Black Elite™ features:
Accuracy of 0.025 mm (0.0009 in)
Mesh Resolution of 0.1 mm (0.0039 in)
Light Source of 11 blue laser crosses plus 1 extra line
Scanning area of 310 x 350 mm (12.2 x 13.8 in)
Has a small weight of 0.94 kg (2.1 lb)
Measurement rate of 1,300,000 Measurements/s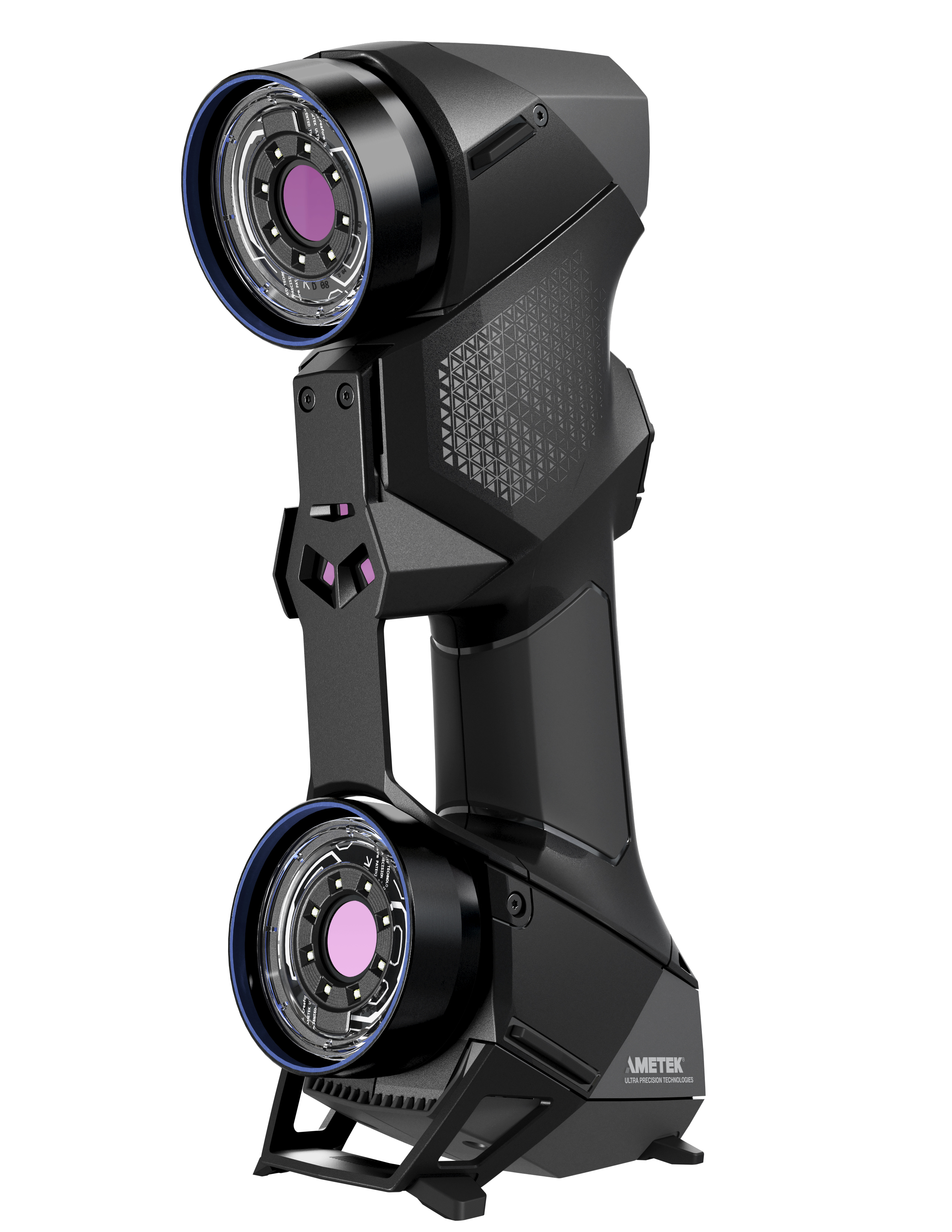 MetraSCAN Black
Highly versatile, the MetraSCAN 3D can be used to scan various part sizes and surface finishes in real time—all with the same device. With its extendable measurement volume, parts of any shape, complexity, and geometry can be measured easily without loss in accuracy or conventional leapfrog. When combined with the HandyPROBE, the measurement system acquires even more versatility: probing for geometrical entities and 3D scanning for complete surface inspection.
The MetraSCAN Black features:
Accuracy – 0.025 mm (0.0009 in)
Volumetric accuracy – 0.064 mm (0.0025 in)
Reliable acceptance test
Based on VDI/VDE 2634 part 3 standard
ISO 17025 accredited laboratory
Shop floor accuracy with dynamic referencing
Measurement accuracy insensitive to environmental instabilities
High resolution
Masters complex and highly detailed parts
Your Source for 3D Equipment & Professional Services!