According to recent studies, the 3d scanning market is growing rapidly and will continue to do so. Because this type of scanning works so well to build virtual models of nearly anything, it's a quick and accurate way of creating something that can be viewed and manipulated in the physical world. That means everything from weapons to toys can be created with a 3d scanner, and by doing that it's possible to make new products and test out new ideas in order to see if those things are actually going to be beneficial in the long run. There are specific markets that are more common when it comes to the use of a scanner, and some countries that are adapting scanning technology faster than others.
Who Uses 3d Scanning?
A lot of people and companies use 3d scanning technology. The medical field is one area where this type of scanning is commonly being used, because new advances in medical technology are highly important. These advances save lives in many cases, and they also help people live better lives through technological creations that can make it easier for them to get around and to enjoy their lives. The technology is not perfect, of course, but it is also relatively new. Despite that newness, billions of dollars have already been spent on it because it provides a high level of value to people who may not have any other options. By being able to create a 3d model and see how something might work, doctors and others can find new and innovative ways to help patients.
The medical field isn't the only place where 3d scanning is being used, though. Many industries that produce high-tech products are also aware that they can benefit from what 3d technology can give them. The ability to create a model of something that can be held in a person's hand, instead of just seeing it on paper or on a computer screen, is one of the best ways to get a true feel for the product. How heavy it is, whether it feels like the right size for the average hand, and how it actually looks can all play a big role in whether it's a good choice for a product. Those things can much more easily be determined when there are 3d models of the product to be examined.
What Can be Made With a 3D Scanner?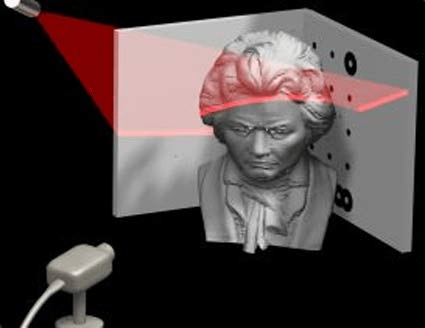 The technology that is used in a 3d scanner can make most anything. It can scan a mock-up of what is needed, and use that in conjunction with a 3d printer to create a scale model of the item in question. Using the 3d scanner means the freedom to create new and better things than companies would have seen in the past, and that can mean the opportunity to give people better lives and help them purchase what they need to make their lives more fulfilling in a number of different ways. By scanning something in, people get new opportunities. But the amount of growth seen in the 3d scanning industry is still impressive, even for an industry that is new and creative.
What Kinds of Companies Are Spending on This Technology?
Faro Technologies from the US, Topcon Corporation out of Japan, and Carl Zeiss from Germany are all big players in the 3d scanning market, along with several other companies from the US, Japan, and Sweden. These companies understand the value of 3d scanning and everything it can offer to companies and individuals who are interested in it. The way products are made will be changed forever by this technology, and that can mean that the money to fund this technology will continue to be offered. That's not surprising, but reaching $11 billion by 2020 is an impressive feat that the original 3d scanning companies may not have been able to predict.
What Countries Are the Biggest Markets?
The US, Canada, and Mexico are among the biggest markets, with a number of countries in Europe and Asia as a close second and third. Naturally, more developed countries are going to be the largest users of this kind of technology because they have the money to do so. The ability to prototype something rapidly and then push that prototype through the process so a product can be marketed is becoming increasingly significant to every manufacturing company. That's being seen regardless of what these companies make and who their end users are. With that in mind, every company in the manufacturing sector has the potential to benefit from 3d scanning technology, which can be coupled with 3d printing for even larger value.
How Does 3d Scanning Lower Risk?
One of the biggest reasons that the 3d scanning market is predicted to reach $11 billion by 2020 is risk mitigation. The more a company lowers the risk of making a new product by getting it right the first time, the more money that company can ultimately save. That's very important to the company's bottom line, the kind of profit it makes, and the price it charges to its customers. When a 3d scanner is employed, it's possible to make a prototype that can really be better understood by the company. That means issues can be caught before production and those problems will be corrected. What reaches the customer will be better, and it will get there faster. That's a winning combination.
The rise of 3d scanning has changed manufacturing forever, and will continue to change various companies and industries as they grow and adapt to new options. These changes will mean more value for those companies, but also a better experience for the consumer. Customers will receive products that are more accurately designed and better for them, so they can expect a higher quality item for a price they can accept. That will give them more value for their money, and help build brand and company loyalty, as well.