The US Army Research Laboratory (ARL) is looking into new environmentally friendly alternatives with 3D printing from recycled plastic waste. ARL research chemist Dr. Nikki Zander believes that the new method could enhance the safety of the troop and lower supply chain dependence. Additionally, it could strengthen the operational readiness of soldiers.
The new initiative to fabricate 3D items from recycled materials is being explored along with the US Marine Corps, reports Thomas Brading of Army.mil. The ARL notes that all plastics have different industrial strengths and this property makes some plastics too weak to fabricate.
In order to form a stronger composite material, those plastics will have to be strengthened with other materials. Solid-state shear pulverization procedure helps in producing more durable filaments for 3D printed parts. This process involves the milling of materials into a twin-screw extruder. The powder formed in the extruder is melted down into a 3D printing filament.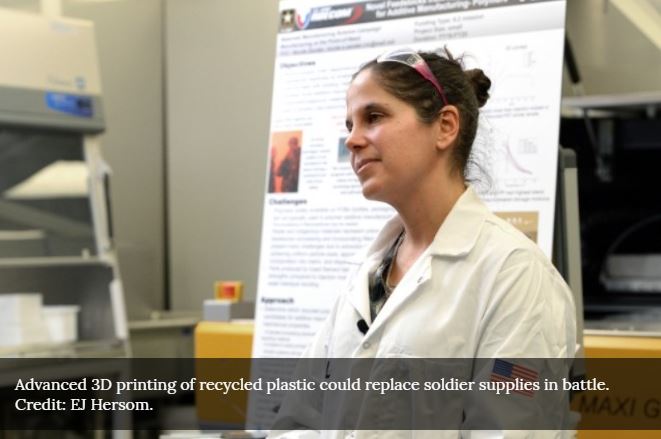 Containers used for the process are equipped with tools facilitating the fabrication of 3D items from recycled materials.
"We have the (20ft) container at Marine Corps Base Quantico. We've got all the extrusion equipment installed. We're hoping by the end of this calendar year we'll be able to do a demonstration of the capabilities there" says Zander.
Currently, plans to make the process more automated and user-friendly are underway. Active scanning of parts to build an imagery database for soldiers to pull from to quickly print parts is also in progress.
Zander added: "Three companies are working on making the next generation mobile lab. We hope within three years we'll have a prototype from one of those companies, and it will be more robust have more automation capabilities.
"We're trying to reduce supply chain dependence by using available materials. We're interested in looking at plastic packaging materials we could repurpose to use as a feedstock for additive manufacturing."
Plastic waste like empty water bottles, milk jugs, and yogurt containers can be used for this up-cycling process. This method helps in environmental sustainment as well as being highly cost-effective.
Replacement of small parts such as vehicle radio brackets requires less than ten plastic bottles and two hours for fabrication. This also makes soldiers self-reliant in any deserted area.
"This supports sustainment and the next-generation combat vehicle. That is because there is a lot of plastic parts that need to be replaced and when you're in a remote area, and it's very difficult to get those shipments in. If we're able to take the waste out of the area, and the burning out of the air and turn it into something useful, that's win-win."
source: https://www.army-technology.com/news/company-news/3d-printing-recycled-plastic/
Learn How You Can Save with 3D Printing