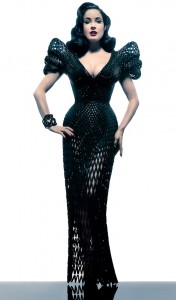 It was always on the cards for 3D printing to infiltrate and redefine the fashion world, and thanks to fashion designer Michael Schmidt it finally has. This fashion designer's creations, in the past, has been favored by some of the biggest names in the entertainment industry including Madonna, the Black Eyed Peas, and Cher. We can assume based on the celebrities wearing his designs that they must be of impeccable quality, unique, and far from cheap.
Michael Schmidt, like many others, looked to explore the technology of 3D printing to create something new and unique. That is exactly what happened. Inspired by the Fibanocci Sequence, he designed and used 3D printing to piece together a one-of-kind gown.
By incorporating the use of a 3D printer he was able to execute with the utmost precision a nylon dress, which was assembled and made with 17 different printed pieces. Afterwards, each section was dyed black and lacquered.
The mesh gown was studded and adorned using over 13,000 Swarovski crystals to create a dazzling flowing gown-like effect.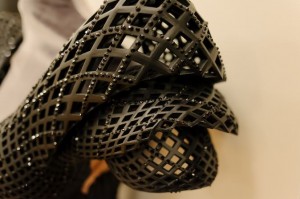 The dress was unveiled and worn by Dita Von Teese at a fashion event this past March, held at the Ace Hotel in New York. The gown was custom-made and designed to hug and compliment Dita's body perfectly.
This shows the boundless abilities 3D printing has, and an inspiration for the fashion world to design clothes and apparel customized to compliment the wearer's unique form.
The fashion industry is an industry always looking to make new ground and come up with fresh ideas, or new fashion fauxs. Michael Schmidt took a risk, tried something others haven't dared think about and he made it a reality.
3D printing reveals it has what it takes to make an industry first. The manufacturing of products and the creation of designs are forever altered.