The beauty of 3d printing is that it is so simple and the printers nowadays are at very reasonable prices. The printing process consists of plastic or metal powder materials being infused and melted together using heat and light. This technology is used in many different industries from aerospace, to engineering, architecture, archaeology, as well as, the avid hobbyists.
The reduction in prices by major manufacturers of these printers, and the fact that they are very easy to use, are defining factors as to why they are increasingly more popular. In the past, prototype printing requirements were usually outsourced by many companies because it just wasn't affordable to bring this technology in-house. As mentioned above, the reduction in prices has meant that more and more small businesses can now afford to do their own 3d printing in house and save money by not outsourcing.
There are new headlines every single day to back up the advancements of this technology. Inventors and designers are challenging themselves each day to create the next big thing by using three-dimensional printing. From custom made iPhone cases, running shoes, and even eco-friendly cars, the range of creative possibilities is endless. Users are only restricted by the boundaries of their imaginations.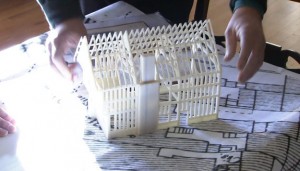 Its growth from the technology incubator to where it is today shows that 3d printing technology holds some weight and will continue to improve. It is making ground breaking advancements every day, and its being used more by the public and not just private industries.
With so many advantages and services and so many positive factors, this technology will be incorporated and used to its full potential within every place of business soon. The exciting thing is that this tech equipment is only in its early years, in terms of its current possibilities, leaving space for further advancements to help shape the future literally.