In the last few years, the technology of 3D printing has become more popular than it has ever been before. The future regarding this technology is bright due to the advancements being made each day. It is a shame that only a few people really know what 3D printing is capable of accomplishing.
Today's three-dimensional printers have evolved tremendously from the first models that came to the market over three decades ago. The equipment that is around now are highly sophisticated and can carry out remarkable tasks. And, what's great is that it is more affordable. Many fun and innovative features have pushed the 3D printer onto the world's stage. People are excited about trying it out.
As mentioned above, it was fairly unheard up until recent years, today advanced printers are capable of developing fully functioning body parts directly from computer generated images. We will take a look at 3D printing and ways it has made impressive progress and radicalizing the areas it is being used.
Medical & Scientific Research
One place, in which it is being used is at The University College London.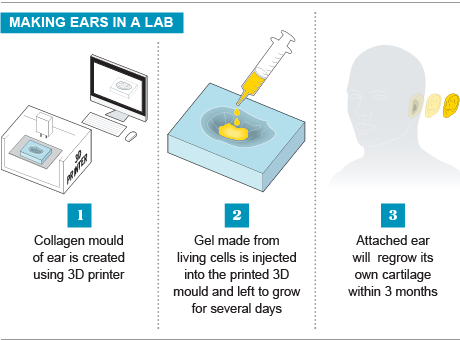 The Scientists at the university have been able to print ears, which will be fitted to young children who are missing an ear or their ears are severely disfigured or deformed. This is the first clinical trial of its kind. If it is a success, which it is tipped to be, this will reform and offer a higher level of services for our medical specialists to those in need.
The team of scientists at the University College London have already run trials on lab rats. The lab rat had a 3D printed ear implanted on its back in an effort for specialist to monitor the growth and progress of the manufactured ear. So far, tests run on the lab rats have been successful and hailed as one of the best medical advancements and breakthroughs; the results of this could quite easily change the world of organ transplants.
The next step for this medical advancement is to trial it in India in the region of Mumbai. There's a desperate need of these types of medical services in Mumbai, as there is a large population and the majority of that population are children. There are countless numbers of children needing surgery, and that includes facial reconstruction. It seems that 3D printing has unveiled the answer and produced a solution to help aid the various problems not only faced by the children in India, but the whole world throughout.
The healthcare industry is just one of a number of industries that has benefited well due to the introduction and use of this innovative technology. With ears, human cells, and tracheal implants, all of these were cast additive manufacturing was used in its creation. This shows that three-dimensional printing has the capacity to change the current health care services available to us, and change them for the better.
Earlier this week, there was news of surgeons at a hospital, in New York, using 3D printers in a pioneering heart surgery. It was used to help save the life of a tiny two-week-old newborn. The surgeons had found complications with the baby's heart and needed to act fast, or the baby's life would have been in grave danger.  The surgeons acted initially by taking an MRI scan of the heart. The results of the MRI scan clearly showed that the heart was riddled with holes and was not structurally sound. The surgeons then used the MRI scan data and additive manufacturing process to create an exact replica of the tiny heart. It allowed them to closely examine and agree on the correct procedures and strategy that should take place.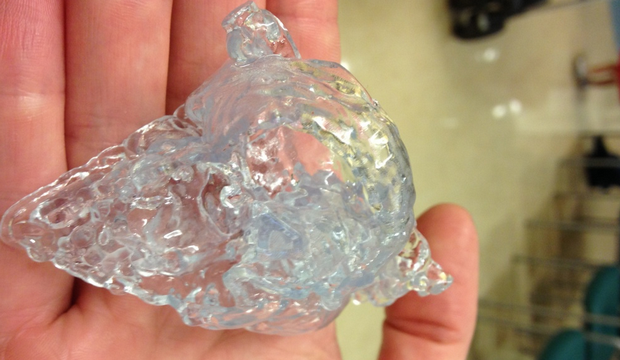 It would be fair to agree that any kind of heart surgery would be tedious and difficult, never mind the thought of performing it on a newborn infant. What this technology is able to offer, in this situation, was a highly detailed and accurate account of the baby's heart. These attributes have made the integration of the advanced technology into medicine, seamless.
In traditional heart operations, it is usually only when the chest has been opened that the surgeons and specialists can get a clear look at the true state of the patient's condition. It's then that they need to act fast and put together the best surgery strategy. Using the information collected from the MRI scan allows the specialists and surgeons the agree and know what surgery path to take. This saves critical time and will help save the lives of many patients still to undergo heart surgery.
The progression of these machines is moving many inventions from a place of fantasy and Science Fiction, and turning it into reality. What was once laughed at is now possible, and that includes printing human organs and human stem cells. With 3D printed cars, food, and clothes all being printed in solid form the future is on the verge of tipping into something of a technological bliss.
Custom & Personalized Products
What's unique about it is that the way it can be used for everyday problems. This is exactly what a company in New York called Sols Systems are doing. Sols Systems are offering services, which give their customers the chance to have 3D printed custom insoles made. This is actually quite a clever idea, even when you buy insoles for your new shoes they often do not fit or are incredibly uncomfortable, often the insole ends up slipping inside of the shoe or bunching at the toes. Sols Systems are offering to print the insoles to fit your feet and then place into your shoes. Sols Systems can create a perfect sized insole for your shoe, which will add comfort. It eases pain issues concerned with the feet and improves posture.
Now we all know that custom insoles are nothing new and that they've been made for years. What's unique about Sols Systems is that they allow the customer to scan their own foot through an app, which can be uploaded on their smartphone. The app will automatically send the collected data from the scan of your foot to the company. The scanned data is then evaluated, and from this information, a personalized insole is then created.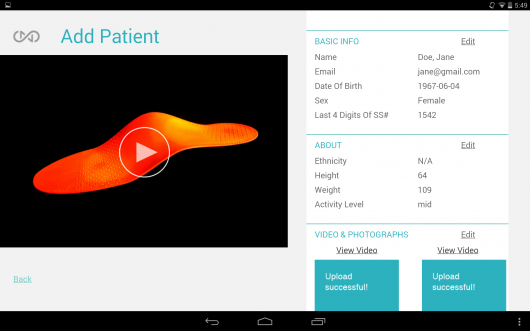 Sols Systems have taken 3D printed insoles to the next level by offering customers the opportunity to choose from a wide range of flexible nylon materials and personalize the color they want their insoles to be. All printed insoles are coated in a super antimicrobial formula that decreases the unpleasant attributes of foot odor.
Sols Systems are doing away with the traditional method of creating fiberglass models and are instead creating exact models from the data that has been collected in their database of customer's feet.  Yet again, another company is taking initiative and incorporating 3D printing technology in their business module. It's resulting in improved products and services that they offer to clients.
The Wide Range of 3D Printing
No longer are 3D printers too costly to afford. There are multiple models now easily obtainable from high street shops at very decent prices. It may not be common in the house at the moment, but the tide is turning as more people are engaging in what can be achieved by using this technology. For example, it can be used today in a number of different ways for a wide range of varied projects. They can be used to carry out commercial projects, they can also be used in manufacturing with exceptional results, and can be used for personal projects and the list goes on.
In reality, it has evolved into a technology powerhouse capable of carrying out some outstanding tasks with high quality results. It's the reliability that one gets from using a 3D printer that has only added to its popularity. It's when the large majority of the companies in the consumer product industry realize this method of manufacturing does not have a negative effect on their business, and more importantly on their finances, we will see this tech as game-changer.
The phrase "3D printing" has been a regular word on the lips of tech experts from around the globe. The technology has fully put the power of production into the consumer hand, what's exciting the most is that the future seems to hold no limits and is not set to a single blue print. The future looks bright where 3D printing is concerned and there is a real feel that what we have seen in the early years of this technology will be surpassed by what is still to come.
The positive impact that it has already had should be a sign of what's to come. With so many industries already affected for the better and the reality, that this technology has the power to save lives shows that 3D printing in its early years boasts of some healthy attributes, and we wait with anticipation to what the future will bring with this technology.
As it becomes more and more popular, society as a whole, will no longer be able to turn away and try to ignore it. Reality Check: It is not going anywhere, nor disappearing off the grid. This technology is inevitably going to become a part of mainstream devices here, and each country. It also must be used and pushed to its full potential, and it is then, we will see the bigger picture concerning its effects.
With what the technology is already achieving, the one thing we can expect in the future is for it to be far more advanced and exciting. The only limit that stands before the end user and the 3D printer is the imagination and materials that he or she has available to use. When Chuck Hull invented printing in layers and fusing to build a solid object all those years ago, one can't help but wonder if imagined that this technology would be so influential and sought after.
Take the time out, and investigate the ins and outs of the mechanics involved in additive manufacturing and discover the world of opportunity.