Wärtsilä – a leader in smart technologies and lifecycle solutions for the marine and energy markets – found themselves in a tough situation. They had been machining a lifting tool out of solid steel to move heavy engine parts in factories and on commercial ships to help in the building and servicing engines. Nevertheless, engineers using the lifting tool complained about the vast weight of each tool, others found that it was difficult to transport due to its size, and the cost and time to manufacture was greater than what the company was willing to spend. They needed an in-house, cost-effective solution that could scale across multiple sites, with limited downtime.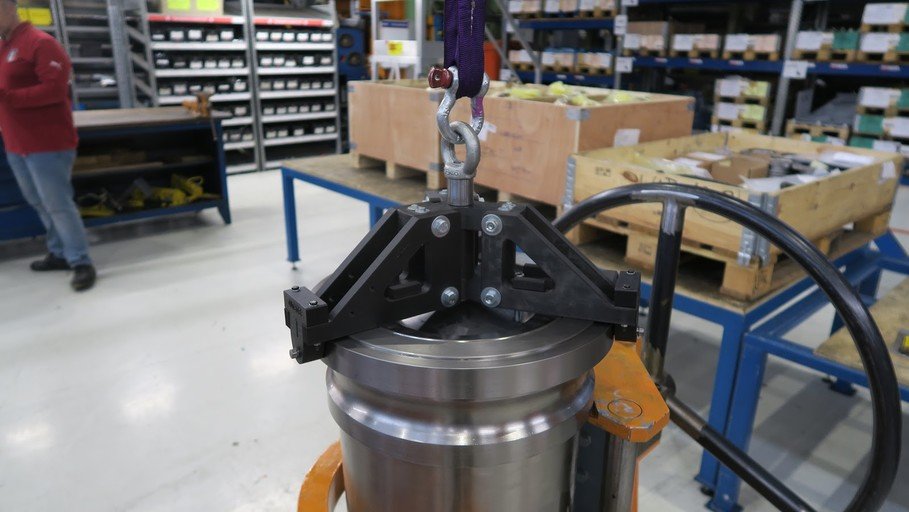 The team had already purchased a few of Markforged carbon fiber printers and had found uses for them building multiple other tools — from tool holders to measuring tools. However, they wanted access to a larger build plate using the same 3D printed filaments, so they turned to the Markforged Industrial Series X7 printer. Engineers at Wärtsilä worked alongside Markforged applications engineers to redesign their lifting tool with additive manufacturing in mind. They took the existing design, split it into several parts, and utilized the Markforged continuous carbon fiber material to reinforce the tool, providing added strength, yet make it lightweight.
Engineers at Wärtsilä surrounded the tool, which was set up to lift a piston as a test. What they didn't expect, however, was that the lifting tool would lift the 240kg engine piston on the first try.
"I think everybody was actually pretty shocked about the performance," said Juho Raukola, Innovation Expert (Additive Manufacturing) at Wärtsilä.
Since then, they have run multiple tests, and have found the tool can lift 960kg without deformation (in manufacturing situations, a safety factor of four needs to be recognized).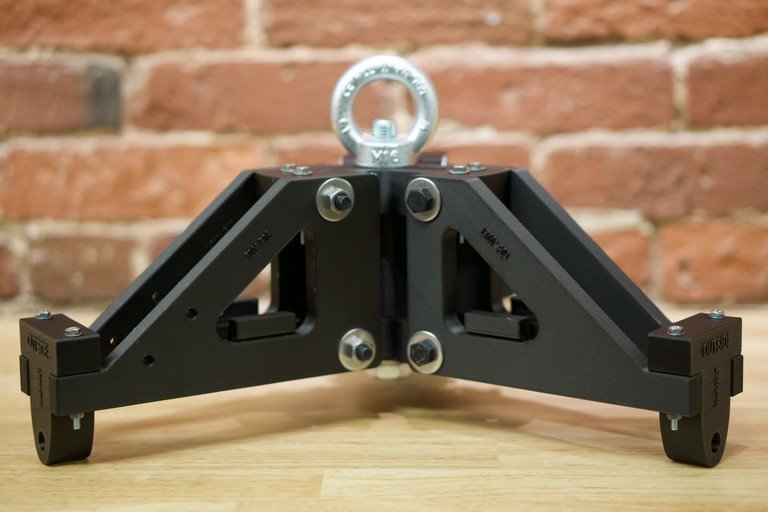 ‍Type Approval and CE-Certification
CE-Certification is a certificate a manufacturer affixes to their product after it is found to have met high safety, health, and environmental protection requirements. Bureau Veritas, an international certification agency headquartered in Paris, put Wärtsilä's lifting tool through all the tests and inspections before awarding it the Type Approval and CE-Certification, making Wärtsilä the creator of the world's first 3D printed CE-certified lifting tool.
Distributed Manufacturing
Wärtsilä has utilized additive manufacturing wherever they can, making everything from 3D printed metal grippers using their Metal X printer,  to various other tools across their factories in Italy and Finland. Their next step? Distributed manufacturing using Markforged 3D printers.
"The beauty of 3D printing is that each design can be printed anywhere at any time through distributed manufacturing," said Juho.
The team plans to have Markforged 3D printers in several of its facilities to 3D print the tools engineers need to keep things up and running in the energy and marine fields.
source: https://markforged.com/blog/wartsila-3d-printed-lifting-tool/
We Offer Affordable 3D Printing.