Recently, the Makerbot Digitizer was s announced and unveiled. The beauty of this is that it has allowed any one person the opportunity to purchase, given that they have a spare $1400 lying around. This new equipment enables users the ability to easily scan small sized objects and successfully print them out on any available 3d printer.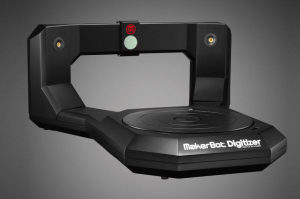 MakerBot has designed and optimized this piece of technology making it super easy to work and operate. When broken down, the Digitizer is basically just a camera with a turntable and a cool set of laser diodes. The scanned results are outstanding and of very high quality meaning, every fine detail of the object is captured.
This is a great opportunity and an excellent option for hobbyists to get started with this technology. It allows them to bring ideas and creations to life at very affordable prices. The one hindrance would be that it is really only for scanning smaller objects and trinkets. If you were looking to scan and print bigger items, then you would need to dig a little deeper in the pocket and be prepared to pay out a larger amount for a superior scanner with more applications available.
3d scanning is all the rage and everyone within the technological world is talking about it, displays of new headlines breaking each day and more advancements are being made.  It has the potential to play a major defining factor on how you will purchase things in the near future.
With the ability to create what you want when you want it. The consumers buying path could be radically changed and the traditional trip to the local mall or retail store at the weekends might be replaced with a pleasant walk to kill time while an at home 3d printer is printing the item you want.