Meet Tazo
Tazo the dog had a difficult spring in 2015. He doesn't have the use of his two back legs. Tazo's previous family dropped him off at the Animal Haven shelter in NYC because they couldn't provide proper care for the paralyzed dog.
Turbo Roo Designs to the Rescue
Turbo Roo Designs hear of Tazo's situations. A company that designs dog enabling prosthetics, they knew exactly how to help Tazo live a fuller life. Turbo Roo previously created many front-wheel carts for the company's namesake chihuahua, TurboRoo. This was their first time making a back axle design.
The prototype they designed was a metal frame consisting of a few concentric bars and a lot of hardware. It was not the best solution so Tubo Roo turned to 3D printing and spoke to Justin Finesilver.
The World's First 3D Printed Back Wheel Dog Prosthetic 
"I was excited for the opportunity to design and create the world's first 3D printed back wheel dog prosthetic cart. We were excited to bring this new idea to a deserving dog like Tazo." said Finesilver.
The parts were designed in SolidWorks using measurements from Turbo Roo. Justin picked the MarkForged because of the properties of the material of the Nylon were appropriate.
"It was a perfect solution, strong enough and light enough. We used the MarkForged because they were doing this 100% virtually. Tazo the dog was in NYC and we are in Denver."
Everything was printed using 10% nylon infill without composite reinforcement. Then the nylon parts were spray painted and assembled. The cart is an upgrade in terms of weight, functionality, and style.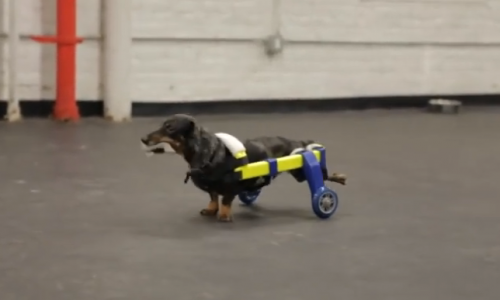 Tazo's rough spring turned into a resplendent summer. He was adopted during the buzz around the story. 
source: https://markforged.com/blog/the-story-of-tazos-3d-printed-prosthetic-dog-cart/
Start 3D Printing Today with NeoMetrix