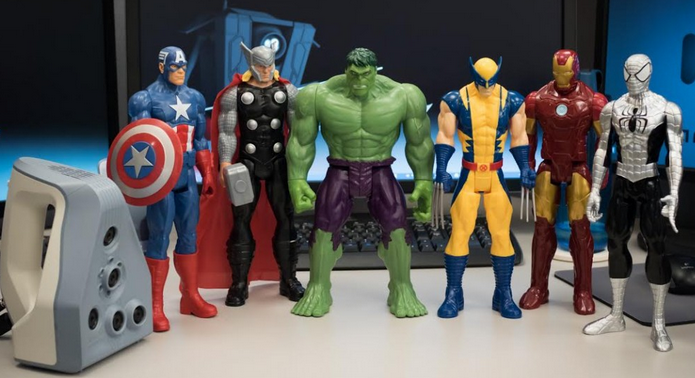 Image Credit
The chance of meeting a real life superhero is something that most kids and some adults dream about. The thought of being saved or rescued by your favorite comic book character or film character is often played out in our minds, but is nothing more than a dream that will never become a reality. Yet, for one lucky seven-year old, this dream was soon to become a reality as he would come face to face with his own superhero: Iron Man's Robert Downey Jr.
Young, Alex Pring was born with a partially formed right arm. It has been a challenge for the seven year old, as you can imagine, growing up with the use of just one hand and arm. His parents had tried to explore every avenue in terms of trying to find a solution to young Alex's challenges, but could find no reasonable solution for Alex with conventional medical treatments and services.  For an individual to purchase a normal prosthetic, it would easily cost them in the ten's of thousands of dollars. Keep in mind, that if you are a child in need of a prosthetic, that your body is still growing. With this happening, the fitted prosthetic would quickly become too small and out of proportion. This outsized prosthetic would need to be replaced with a suitably sized upgrade. This would cost incredible amounts of money.
In the past, buying a prosthetic would have been simply unaffordable and many families would have been priced out due to the high fees needed to purchase them. In reality, there has been a multitude of people who have had to move on in life without the prosthetic that they were desperately in need of.  But there is good news on the horizon and a technology that offers an alternative method of creating prosthetics which is far cheaper than traditional prices. 3D printing technology is taking its place at the front of the world's stage.
A company, Enabling The Future, who has a company tag line of being "A global network of passionate volunteers using 3D printing to give the world a helping hand" are doing exactly what they say. They are giving millions of people and children help in life by creating them custom-made affordable prosthetic hands and arms.  Using 3D printers and by taking advantage of the progression that the technology has made, engineers can now provide a solution to a problem that has had no answer until now.
This is exactly what Enabling The Future has done for young Alex Pring. What made this case extra special was that Iron Man (Robert Downey Jr) presented the prosthetic arm, in person, to Alex. This prosthetic had been custom-made and designed as an exact copy of Iron Man's arm.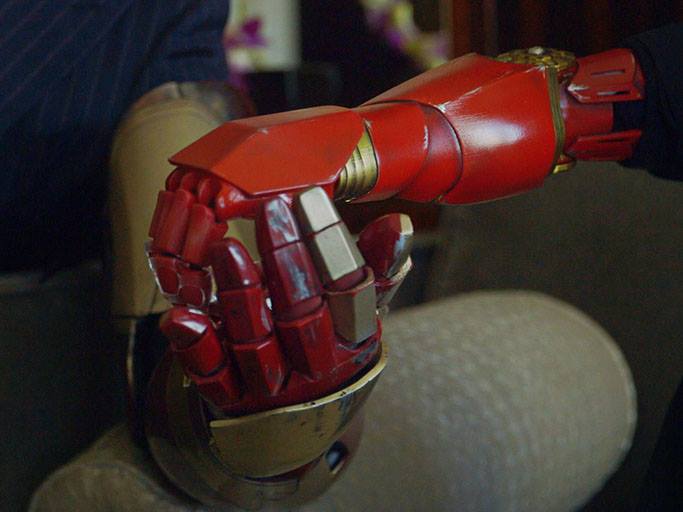 Image Credit
Enabling The Future leads projects that aim to provide custom-made prosthetics that are both affordable and help change the lives of those who are in need of them. In the case of Alex Pring, the cost of buying a traditional prosthetic would have cost his parents around$40,000. That would have been for one of the cheaper prosthetic options that are available.
Film buffs, who remember the film, Happy Gilmore, you will remember the traditional prosthetic that Chubbs Peterson had fitted. Check it out below.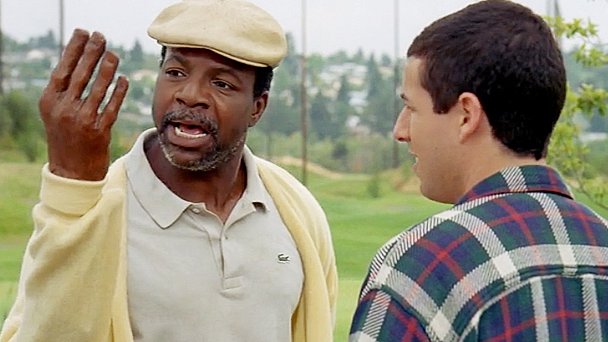 The real difference, apart from price, concerning traditional and 3D printed prosthetics, is that prosthetics created using 3D printers are created with functionality in mind. Creating a prosthetic with a 3D printer allows the wearer to actually use that prosthetic in his/her daily duties. For example, in the case of young Alex, he will now be able to learn to use both hands which can help with school, writing, brushing his teeth, getting ready and catching a ball.
The advantages of using 3D printers to create prosthetics are life changing and have a lasting impact for the better.  The great thing about 3D printing technology is that it is a global technology and is available to all who want to take the time and learn how to use it to their advantage.  It is a technology that is still in its infancy and still has much to give in terms of services and product quality. We may not need to dream about being saved from difficult situations by a fictional superhero, not when there is a real life superhero around in 3D printing.
Another organization that has turned to 3D printers to make affordable prosthetic resources available to amputees in developing countries is the Christian Blind Mission. This is an organization that focuses and helps people with disabilities in third world countries. The thing with developing countries is that there is very little available in regards to medical services and treatments. Nearly all people born with deformities or who have been injured in civil wars will have to live and struggle on through the years of their life.  That's why organizations like Christian Blind Mission have embraced 3D printing and started using them in developing countries to make high quality prosthetics available to those in need. They have also started training and educating the locals on how to use 3D printers to help their society evolve and progress.
Just a short time ago, a team from the Christian Blind Mission returned from a trip to Uganda, where they had educated and successfully trained five orthopedic technicians who could use the 3D printers with complete ease and confidence. What this does is it allows the trained individuals in these developing countries the opportunity for growth and to be able to provide a service and a range of prosthetics that were once not available. 3D printers have what it takes to change the world and can provide an improved range of services for those who need it the most.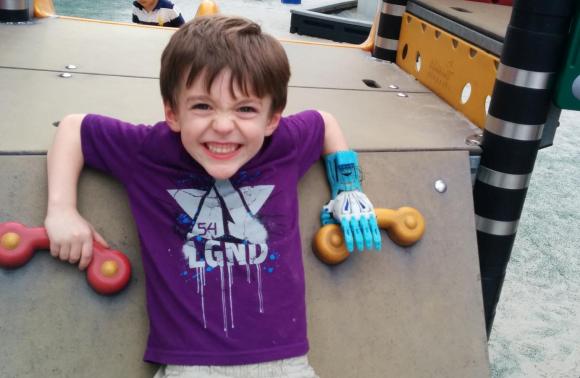 Today, in the world of manufacturing, 3D printers are making a real difference. Products are created faster and with cheaper materials yet not lacking in product quality.  The aerospace and automotive industries are just but a few of the industries that have benefited greatly since the introduction of 3D printers.
Another area that has seen an improvement since the introduction of 3D printers into their services is that of healthcare. It is the purpose of healthcare services to provide lifesaving services and treatments to help make sure the care of sick or injured people is at a consistent high level and standard. This has now been improved by the introduction of 3D printers and their use in the operating room.
Surgeons can now carry out skull, hip, knee, and face transplants among many more services by using 3D printers. Although the use of 3D printers, in surgery, has not yet been fully embraced, the results that we have seen and the benefits that the patients have reaped have never been matched by traditional or conventional methods of treatment that have been available. It is the ability of the 3D printer to radicalize and improve every single industry that it is used in. 3D printers have come a long way since their creation well over 35 years ago. They have advanced to levels that were unimaginable. The technology is no longer exclusive to engineers and large-scale manufacturing companies, but is available to us now.
Due to the popularity of 3D printing technology and the positive media coverage it has been getting, it has projected this technology right to the forefront of what's happening in the technological world. It has also meant that more people have gained a real interest in what is actually capable of using a 3D printer. 3D printers can now be bought on the street at a very reasonable price and most come fully equipped so all that is needed for them to work is to be plugged into the wall and switched on.
There is still a large audience that 3D printing has yet to gain the attention of, but as this technology becomes more popular by the day and it becomes an integral part of our daily lives, whether it is at work, play or hobbies, 3D printers will be just as, if not more popular, than the laptop, smartphone or PC that you have in your home.  What 3D printers have the ability to do is show us a glimpse of what future technology will look like and what it will be able to achieve. With what is achievable at the moment with 3D printers, you can be sure of one thing, that the future will be one that is exciting with services and projects that were once though unachievable, being completed with ease every single day at the touch of a button.