Over the last few months we heard and are getting information about the promising aspects that 3d printing is and will be doing in the medical field. Today, we are going to look at news regarding three students from the Chemical Engineering University of Connecticut. The students in question have successfully been able to develop and create two different prototypes that resemble an artificial kidney.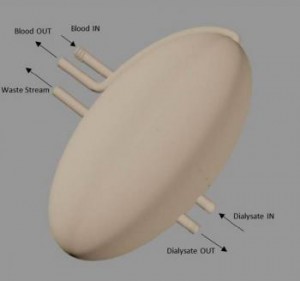 In previous blogs, we have shared about pioneering medical projects that include the creation of vitro tumor models and the repairing of a crash victim's face. There was recent news from Japan that had claimed that there had been the creation of 3d printed kidneys, but we were later to find out that the created kidneys weren't designed to be fully functional. They were, in fact, created to exact human specifications, but replicas of real kidneys. This was so surgeons could test cancer treatments and monitor the treatment's effectiveness.
Unfortunately, today, we are not advanced as we would wish to be and the only real effective treatment for renal disease is either dialysis or waiting on the donor list. Everyone knows and the patients waiting on the donor list know too well that the demands for suitable donors far outweigh the supply that is available. Dialysis is effective, but again, it's only a temporary measure. What is needed is a donor or a brand new kidney.
The National Kidney Foundation released data that showed that there are around 100,000 people in the United States that are awaiting transplants for various needs. Around 14,000 transplants took place last year.
These two 3d printed prototypes have offered a glimmer of light and hope to those in the population that are suffering from renal disease and are in need of a donor. Further testing of the prototypes and 3d bio printing technology could hold the key to fully functional prime conditioned kidneys being created in the very near future.