MINNEAPOLIS & REHOVOT, ISRAEL, February 15, 2016 – Stratasys, Ltd. (Nasdaq:SSYS), the 3D printing and additive manufacturing solutions company, today announced that it has collaborated with esteemed fashion designers, threeASFOUR, and New York-based designer, Travis Fitch, to create two unique forward-thinking 3D printed dresses, only possible with Stratasys 3D printing technology. The 'Pangolin' and 'Harmonograph' dresses have been unveiled at threeASFOUR's Fall/Winter Runway Show, held at Milk Studios, New York, on Monday 15th, 2016 at 7pm EST, as part of New York Fashion Week.
Both dresses, which form part of threeASFOUR's highly anticipated 'Biomimicry' collection, were produced with Stratasys' Objet500 Connex3 3D Printer, featuring the world's only multi-color, multi-material 3D printing technology. The 3D printed dresses are also the first demonstration of a special Nano Enhanced Elastomeric Technology material* from Stratasys, which has extreme flexibility and durability, and represents a big step forward for 3D printed fashion design. The material will also be ideal for additional applications and industries, such as automotive, consumer goods, consumer electronics and medical devices.
Known for their experimentation with complex designs and cutting-edge materials, threeASFOUR designers, Gabi Asfour, Angela Donhauser, and Adi Gil, have continued to reflect the natural geometries of their surroundings in these latest works. Both 3D printed dresses explore the way in which biological forms and natural morphologies can be replicated in a fashion context with 3D printing. "Having the capability to vary color and rigidity in a single piece using Stratasys' Connex3 3D printing technology inspired us to explore flexibility, depth and transformation as inherent design objectives," comments Adi Gil, threeASFOUR. "As artists and designers, it is our prerogative – and our nature – to explore the bounds of new technological opportunities, and to push the limits of the way in which forms are created. As the most advanced 3D printed dresses that we have created to date, we are extremely excited to showcase these pieces and demonstrate the unique possibilities unfolding at the intersection of fashion, design and technology."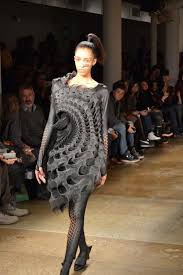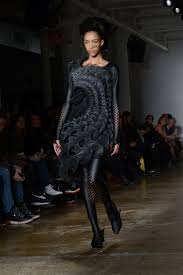 The Harmonograph dress circles around the body in three spirals, following the geometry of the Fibonacci sequence and optically portraying the effect of a harmonograph. Combining geometry, biology and logarithms, Gil explains that the designs were entirely dependent on the new possibilities that Stratasys multi-color, multi-material 3D printing is able to provide – most notably, the ability to mix both rigid and rubber materials to any degree of flexibility, in any color, within a single print. "Not only were the 3D printing capabilities of the Objet500 Connex3 essential in the production of the dress, but the entire design from its initial conception was intended to maximize the potentials inherent to this technology. The interwoven nature of the geometry could not be produced in a traditional manner, and it was critical to us that the design should evoke a language unique to 3D printing."
The second 3D printed fashion piece from Stratasys and threeASFOUR unveiled during New York Fashion Week, the Pangolin dress, is derived from a signature threeASFOUR design comprised of 14 pattern pieces. In this new 3D printed version, an overall skin is created by mixing a variety of interlocking weaves, biomimicking natural animal textures.
The Objet500 Connex3
3D Printer's precision and ability to vary material properties such as rigidity and color gradation, provided the designers with the geometric control to create nuanced, deliberately placed transformations in the membrane's porosity and flexibility. This also allowed threeASFOUR to produce alternating states of transparency and privacy, while accommodating the movement demands of the human body.
The collaboration with threeASFOUR is the latest in a series of high-profile fashion and design collaborations for Stratasys, which have included Prof. Neri Oxman, Iris van Herpen, Francis Bitonti, Julia Koerner, Eyal Gever, Nick Ervinck, Zaha Hadid Architects and more. "We are always looking to revolutionize manufacturing methods, pioneer new design options, and inspire designers and students to create avant-garde expressions of fashion," comments Naomi Kaempfer, Creative Director, Art Fashion Design, Stratasys. "Collaborative projects with talented and visionary designers, such as threeASFOUR, are the ideal way to showcase to aspiring designers, students and creatives the types of organic and complex mathematical structures that can become a physical reality with 3D printing. Our mission is to change the way people think about design and to redefine its possibilities."
For more than 25 years, Stratasys Ltd. (NASDAQ:SSYS) has been a defining force and dominant player in 3D printing and additive manufacturing – shaping the way things are made. Headquartered in Minneapolis, Minnesota and Rehovot, Israel, the company empowers customers across a broad range of vertical markets by enabling new paradigms for design and manufacturing. The company's solutions provide customers with unmatched design freedom and manufacturing flexibility – reducing time-to-market and lowering development costs, while improving designs and communications. Stratasys subsidiaries include MakerBot and Solidscape, and the Stratasys ecosystem includes 3D printers for prototyping and production; a wide range of 3D printing materials; parts on-demand via Stratasys Direct Manufacturing; strategic consulting and professional services; and the Thingiverse and GrabCAD communities with over 5 million 3D printable files for free designs. With 3,000 employees and 800 granted or pending additive manufacturing patents, Stratasys has received more than 30 technology and leadership awards. Visit us online at: www.stratasys.com or http://blog.stratasys.com/.