Traditional prosthetics are expensive, especially for those made to fit children because they are still in the growing and developing stages. That means the fitted prosthetic would need to be changed yearly. In the past, there simply wasn't an affordable solution for those who were in need of a prosthetic.
Today, we live in changed times, and there is a newer technology which is now highly efficient and affordable. Advanced printer systems are now being used to create affordable custom-made and designed prosthetics. One of the first examples of this was the creation of Robohand.
The Robohand prosthetic was successfully created using a 3D printer and 3D printing technology. The people who have developed Robohand are now wanting to create a 3D printable leg. The creation and development of this prosthetic leg is set to revolutionize the prosthetic manufacturing world. At the moment the prosthetic prototypes are in trial. If the prototypes make the grade and pass the trial period it will offer an affordable solution to help many people, children, and more importantly give them the opportunity and ability to walk again.
The first RoboLeg prototype photos have been released, and the development of this prototype has created a buzz and has gained a positive response. The image below shows the sleek finished design and we can all agree that it looks amazing. There is still some work and amendments to be made to it before its fully safe and suitable for humans to use.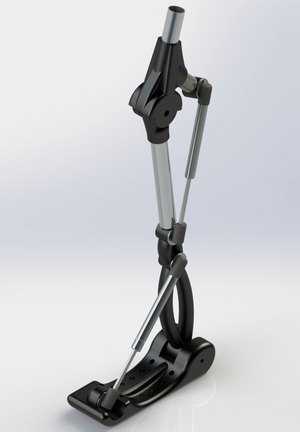 This is a real example of how advanced 3D printing technology has become, and another example of one of the many ways in which it can be used. In theory, once the prototype has hit the market all parts will be downloadable via the internet and can be created using a 3D printer.
The price of RoboLeg has not been set yet, but just like Robohand you can expect to be paying a fraction of the cost compared to traditional prosthetic costs.