What the Industry Needs
In casting and forging, raw parts are usually machined in some critical areas to obtain the final part. To make sure that the raw casting holds enough material to be machined, it is possible to carry out dimensional inspections. A 3D scan allows operators to align the raw part on the machine and orient it so as to guarantee enough material for the operation.
Such inspection will also generate intermediary inspection results for the part to be machined, and will save time and money by avoiding machining of non-compliant castings or forgings.
A 3D scanning solution proves to be a quick, precise and efficient tool to perform a complete dimensional inspection.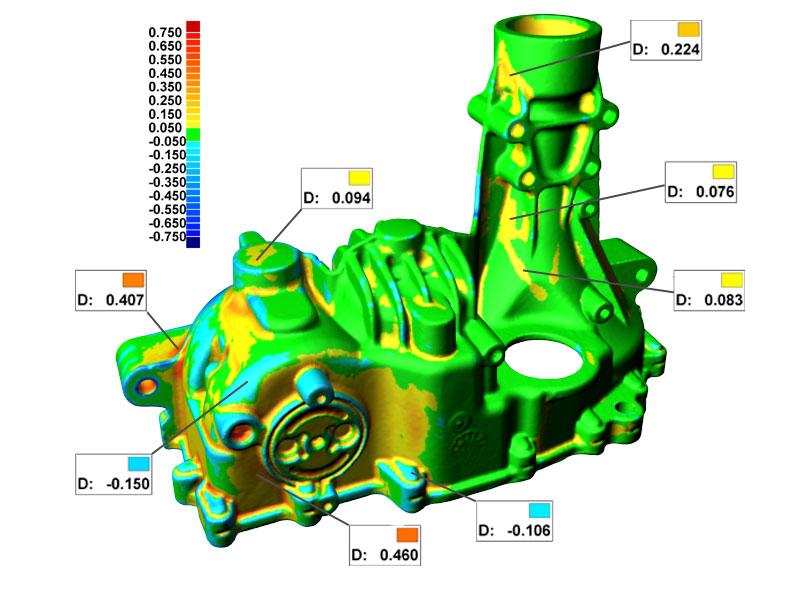 Advantages of the HandySCAN 3D Solution
Inspections for casting and forging require the acquisition of dimensions on parts of various shapes and complexity, potentially performed in any kind of environment. Due to its impressive portability and versatility, the HandySCAN 3D can perform the acquisition of any part directly at the foundry, but also at the customer's premises, on the production floor or at the supplier's location.
Quality inspectors or operators themselves usually need to evaluate the physical part using its corresponding digital model. Because of that, acquisition data must be accurate and the 3D model must include all the information needed for a complete inspection. The HandySCAN 3D will provide complete and accurate mesh models.
The HandySCAN 3D solution helps save a considerable amount of time when compared to traditional measurement methods. Plus, it provides high precision inspection data that can be documented and reproduced much more easily than that of visual inspections and manual inspection jigs.
Want to Learn More About 3D Scanning?