Normal
0
false
false
false
EN-GB
X-NONE
X-NONE
/* Style Definitions */
table.MsoNormalTable
{mso-style-name:"Table Normal";
mso-tstyle-rowband-size:0;
mso-tstyle-colband-size:0;
mso-style-noshow:yes;
mso-style-priority:99;
mso-style-parent:"";
mso-padding-alt:0cm 5.4pt 0cm 5.4pt;
mso-para-margin-top:0cm;
mso-para-margin-right:0cm;
mso-para-margin-bottom:10.0pt;
mso-para-margin-left:0cm;
line-height:115%;
mso-pagination:widow-orphan;
font-size:11.0pt;
font-family:"Calibri","sans-serif";
mso-ascii-font-family:Calibri;
mso-ascii-theme-font:minor-latin;
mso-hansi-font-family:Calibri;
mso-hansi-theme-font:minor-latin;
mso-fareast-language:EN-US;}
The United Kingdom has had a long relationship working with Israel and the two countries are flourishing and progressing forward. The relationship between these countries has not always been in unity; however, together they have worked on their differences making a positive move towards future relations.
The University of Nottingham and the Hadassah-Hebrew University Medical Center in Israel partnered together in a fight against Parkinson's disease. The two institutes will be working together to further explore Parkinson's and its effects. They also will be exploring new preventative treatments and looking to discover a cure.
As a benchmark of the countries good relations, and positive scientific research partnership (now and in the future) the British Prime Minister David Cameron met with the Israeli President Shimon Peres. The Prime Minister, David Cameron, presented Israeli President Peres with a very special and unique diplomatic gift that was a 3D printed sculpture.
Daniel Hilldrup, a UK artist, designed and created this unique diplomatic gift. The sculpture shown below was made using a Stratasys objet-connex-3d-printer.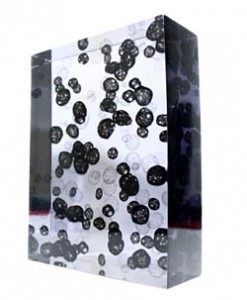 As you can see, the sculpture is a solid object that has small black nano-particles throughout, which are easy to spot due to being suspended and housed in clear plastic. The black nano-particles were created using 12 different grades of black shaded material; all of the shades were needed to be used to create uniqueness in character of each particle. Take a closer look: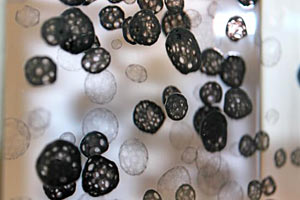 The sophistication of the materials used in the creation and completion of this 3D sculpture are a hallmark of quality. It shows the diversity in which additive manufacturing and 3D printers can be used and highlights the quality results it achieves.
For example, using the Objet 3D printer allows the user to make and manufacture ideas that would not have been possible, or even visualized, using traditional ways of manufacturing.
This solid sculpture printed overnight to perfection, with no characteristic or fine detail lost during its creation, from design to development.  A gift of uniqueness created in only around 12 hours, and yet it will ever be a symbol of two countries finally united as allies. Both focused on collaboration to advance scientific research.
Article & Image Resource:
British Prime Minister Cameron Presents Stratasys 3D Printed Sculpture to Israeli President Peres