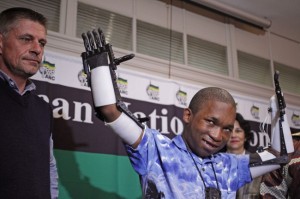 A British born software engineer teamed up with a carpenter from South Africa to help change the life of a young Haitian orphaned boy. The engineer and carpenter were moved with compassion after seeing that the boy had been born without fingers. And so, they turned to 3D scanning and 3D printing to help design a customized prosthetic that could improve the boy's standard of living.
The young boy, Stevenson Joseph, was unfortunately abandoned at the age of three. He was picked up by the Little Children of Jesus Orphanage in Haiti. Shortly, after admittance into hospital an earthquake shattered his country and killed over 100,000 people.
As mentioned above, Stevenson was born without fingers and was disabled from birth. As there is currently a lack in high standard of healthcare services available in Haiti, many of those disabled often do not receive the necessary care for their specific situation.
Stevenson's situation was bleak and looked as though nothing was ever going to change it. That was the case, until he met a man named John Marshall (a software engineer).
John, and his wife Lisa, traveled to Haiti for the charity Food for the Poor as part of a Christian missions trip. Seeing Stevenson's handicap moved John Marshall and ignited his compassion. He determined to help find a solution to improve this young boy's life.
John Marshall had read an article about a carpenter from South Africa who had previously chopped his fingers off in an industrial accident. The unique thing about this carpenter's story was that he had successfully designed and printed a prosthetic hand to replace his injured damaged one. They called the prosthetic, "Robohand".
John Marshall knew there was an opportunity and hope for Stevenson because of the South African's story, and how he addressed/found a solution to his injury.
Time was of the essence and Stevenson needed help fast, John Marshall contacted the South African carpenter, Richard Van As. These two men worked together using a 3D printer and 3D print technology to re-create a similar Robohand for Stevenson. The prosthetic was sent to Haiti and was surgically fitted to Stevenson by a team of medics this last month.
Stevenson's life has been changed forever, the prosthesis (artificial limb) has allowed him to take part in activities that were once unthinkable. He is now able to accomplish simple things like catching and throwing a ball and is starting to learn how to write.  Everyday tasks are now a reality thanks to 3D printing engineering.