Yesterday's blog post covered the unveiling of the first 3D printed titanium bike at "The London Bike Show". It is remarkable all the new things people are trying and the endless possibilities the three-dimensional print technology has unleashed.  The best thing about using a 3D printer is that it brings ideas and creations to life that was never possible through older traditional methods of manufacturing.
With so many new creations and products being developed, has the 3D printing industry seen a genuine spike in popularity for its products and its services? That would be a resounding "Yes".
It is so versatile and can be used in a variety of different ways just as mentioned earlier in the post recreational products such as bicycles, fighter Jet parts, to the tiniest components.
Three-dimensional printing is proving its genuine worth in the manufacturing industry, the automotive industry, the medical industry, and just about every other business sector. Each working to improve the quality of products, services, the speed of design stages, but in what way has it affected us the most?
One person who has benefited incredibly from 3D printing is a man named Stephen Power. Stephen was involved in an unfortunate and very serious road accident. He sustained extensive head damage that included a broken nose, broken jaw, both cheekbones, and a fractured skull. He was lucky to be alive. Stephan is able to recall only a few minutes before the crash, and then next waking up a couple of months later in hospital.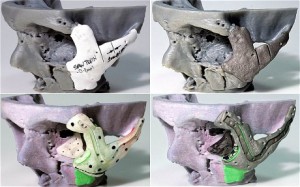 Photo Source: 3D mold of Stephen's face
Stephen Power had his face successfully reconstructed using a series of 3-D printed parts. He is among a small group of people in the world to have printed parts used in every single stage of the facial rebuilding process.
Three-dimensional printing is truly revolutionary and it's saving lives, just ask Stephen Power. It's incredible how medical professionals have taken this type of printing and putting it to use in ways that are impacting and improving the way for rebuilding lives.
Article Resource:
Man makes surgical history after having his shattered face rebuilt using 3D printed parts