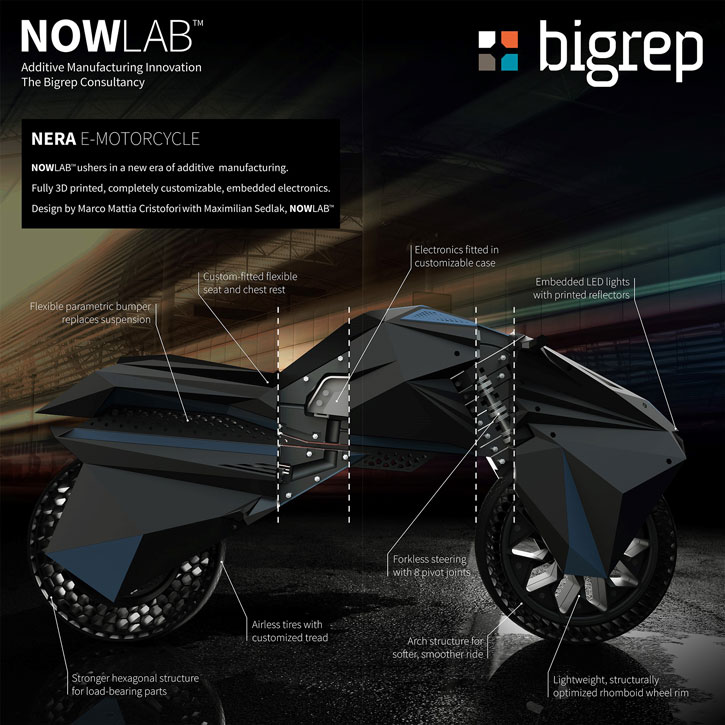 BigRep unveiled the NERA E-Motorcycle on Novermber 13, 2018 at Formnext and it went viral.
Now here is the complexity of the process. Marco Mattia Cristofori was in the design lead. The NERA e-Bike from the ground up, disrupting traditional design, engineering and production in every aspect. The result is a 100-percent, customizable, functional prototype, designed and produced with more time and cost effiency than previously thought of. 
In building NERA, designers and engineers didn't simply adapt existing motorcycle design; instead a bike designed was envisioned for large format FFF technology, setting a benchmark that will allow creative design.
The first part of the process on building this bike were the aesthetics. The team that worked on this bike started working on everything in this manner. From the basic mechanical functionality to the unique design. 3D printing changes the perception of design language and allows total freedom in terms of design: bionic, organic, edgy – any designs are only one thought from reality.
The FFF based Design provided limited design possitibilities since it doesn't work with any other production technology.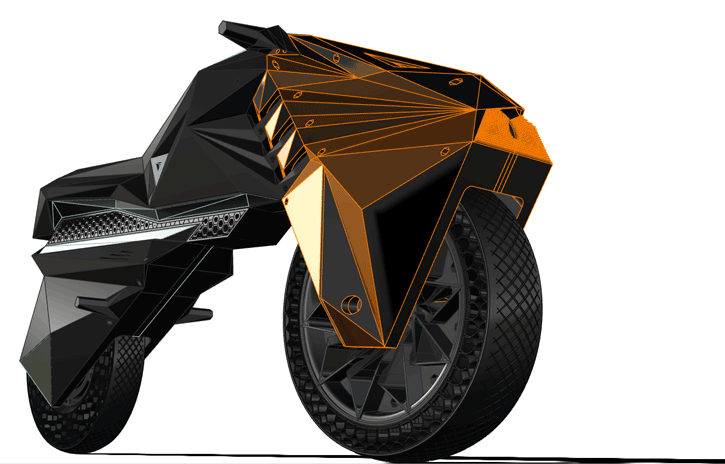 The design process began with arranging the functionally relevant core parts, then the designing of the outer shell was done. The team decided to pursue a low polygon/stealth design language, which allowed the team to avoid top layers that can be of a weakness when performing FFF printing. 
The electronics embedded were not printed. The battery,motor, cable and control systems were obtained through other methods. The electronics were adjusted individually and were integrated as a modular system that allows individual settings. 
NERA was printed with the BigRep Pro Flex, BigRep ProHT, BigRep PLA, and BigRep PETG materials. ProHT was used for rigid parts, PLA was used for color details and PETG for the light reflectors. Tires, bumper, seat and handles are printed with the flexble material and fulfill functions that usually require complex mechanical constructions such as hydraulic, shock absorbing suspension systems. The strong properties of the materials allowed the engineers to replace the traditional mechanical components. For example, a horizontal embedded Pro Flex suspension with honeycomb structure, replaces a traditional hydraulic system integrated in metal fork steering systems for motorcycles.  Instead of a fork sterring , the motorcycle has eight pivot points, clamping vertically instead of assembling the fort to rotate the wheel.  Finally the design team used 12 percent infill almost everywhere. This was determined by testing several small portions and then determining that 12 percent is the perfect fit for structural stability.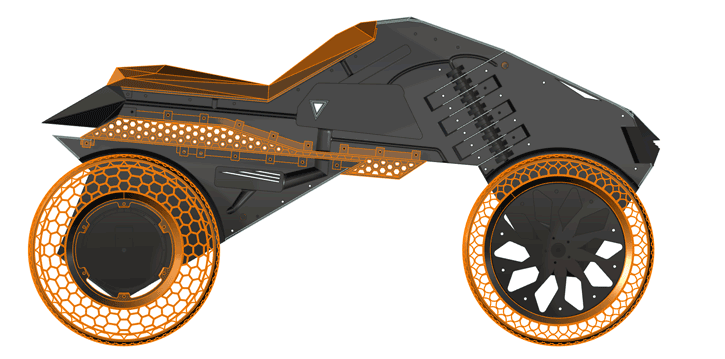 IN TOTAL, THE DESIGN FEATURES INCLUDE 15 FULLY PRINTED PARTS:
Fully-functional, full-scale 3D printed prototype

All parts printed with BigRep printers (except electronics), including body, rims, tires, steering, seat, headlight and shocks

Flexible parametric bumper replaces suspension as a shock absorber

Custom-fitted seat and chest rest printed with flexible thermoplastic

Airless tires with customized tread printed with flexible thermoplastic

Front tire has an arch structure for a softer, smoother ride

Back tire has a stronger hexagonal structure for load-bearing parts
More than just an exercise in what can be achieved with 3D printing – and specifically FFF printing with BigRep technology – the NERA shows that the low cost and fast results of additive manufacturing allow designers to immediately test prototypes and rapidly produce iterations of experimental engineering. The NERA also illustrates the massive benefits that 3D printing offers to produce functional parts, particularly for unique- to small-series production, by reducing lead times and costs, optimizing supply chains and limiting dependency on supplier networks.
Location:
55 Skyline Dr., Suite 2700
Lake Mary, FL 32746
Want to Learn More About 3D Printing?