Neometrix Technologies field of expertise lies in the area of 3d scanning, Neometrix has been in business for over twenty years and has provided contract work for aerospace, automotive, engineering, and design. The systems here at Neometrix are capable of scanning and capturing data from a wide range of disciplines including, aircraft components, full size vehicles, humans, turbine blades right down to the smallest of components, just to name a few.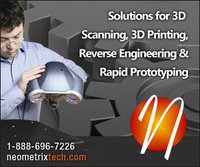 Our team of experienced qualified engineers will help and assist you with the toughest of challenges and make sure that the job at hand is carried out to perfection. Neometrix Technologies, Inc. doesn't just provide the help you need; we also offer a wide range of complete systems to our clients that would rather take the technology in-house. The demands for our services can be divided into two basic requirements of Reverse Engineering and Inspection.
There is a high demand for reverse engineering and this demand comes from clients that need to use the existing components from older designs and incorporate them into new models, which might not have the CAD data available.
Neometrix Technologies 3D Scanning have been helping companies update their old machinery by using the process of reverse engineering old outdated parts. If you have a need for the professional services that Neometrix can offer, contact us today.
Being professional and providing high quality services with outstanding results is what Neometrix does on a daily basis. Whatever your 3d scanning needs are, no matter how big, or how small, we ensure that your project is carried out professionally.
You can browse the fantastic range of products and 3d scanning and 3d printing services that are available by visiting www.3dscanningservices.net, if its quality services with quality products you are looking for then contact Neometrix Technologies today.