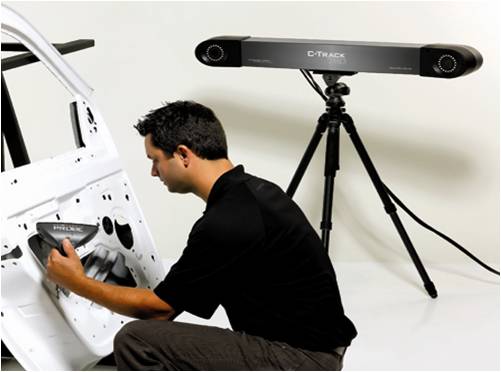 NeoMetrix Technologies, Inc, a leader in 3D scanning and reverse engineering has signed a distribution agreement with Creaform, Inc. to distribute the HandyProbe portable CMM system in the Southeastern U.S. 
Lake Mary, FL– (June 29, 2010) The HandyProbe is a hand-held probing tool is used in conjunction with the C-Track optical tracking system.  The C-Track constantly monitors the position and orientation of the hand-held probe as well as targets placed on the part, enabling the measurement of parts up to 3 meters in length from a single position.  The positioning of reference targets on the part also enables the C-Track to be repositioned multiple times throughout the measurement session with no degradation in accuracy.
According to Dan Perreault, President of Neometrix:  "We see the HandyProbe as the next generation of portable CMM's, providing solutions for a wide range of measuring applications for a very reasonable investment.  After an extensive evaluation, we've decided this is the right product for our market."
The HandyProbe interfaces with common reverse engineering and inspection software packages such as Polyworks, Geomagic, Power Inspect and Metrolog.
Glen Mitchell, Regional Sales Manager for Creaform said "We are excited about the opportunity to work with NeoMetrix, we firmly believe their expertise in the portable metrology industry will help to promote Creaform products in the Southeast".
About NeoMetrix
NeoMetrix Technologies, Inc. (www.3dscanningservices.net)  is a leading provider of solutions for rapid product development throughout the southeastern United States, focusing on 3D laser scanning, reverse engineering and rapid prototyping. 
In addition to representing Creaform, NeoMetrix is also a top reseller for Objet Geometries, Konica-Minolta Sensing America, and Rapidform Software.
NeoMetrix also offers engineering consulting and technical services that focus on assisting clients with improving product quality and reducing design cycles.
About Creaform
Creaform is a technological company that offers innovative solutions covering the entire range of 3D applications: 3D scanning, reverse engineering, quality control, design and engineering, and FEA. Our products, our services and our advanced training program are intended for companies from the automotive, aerospace, consumer products, education, heritage preservation & architecture, manufacturing, medical care and multimedia industries, among others.
Creaform has developed and sells the Handyscan 3D(TM) line of scanners. These state-of-the-art self-positioning handheld 3D laser scanners are known for the high accuracy of the 3D scanning data they generate, their true portability, and their ease of use. Creaform also manufactures and sells the HandyPROBE(TM), the 100% portable, wireless CMM, a probing system designed for inspection applications. Creaform is an international company, with offices in Québec City, in Montréal, in the United States, in France, in China and in Japan.