In any successful technology there has to be factors that actually make it successful and stand out from the other technologies available. In the case of 3d printing, it is a technology with unlimited capabilities. The creator or inventor using this printing technology is only limited by his/her own imagination. This could be a frightening prospect as printed firearms have already been designed, printed, and able to fire rounds.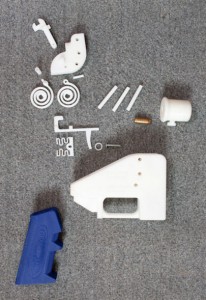 Could 3d printing pose potential security issues? Can you comprehend the implications of this technology falling into the wrong hands?  This is an area where the Department of Homeland Security needs to take a close look at this technology's potential threats.  As the technology advances, so does the limitless opportunities it possesses. Up until recently, guns have been made with metal materials easily detected by metal detectors, but now the question remains as to what measures will be put into place by security to detect firearms made from fiberglass or plastic not easily detected?
That is one negative side of 3d printing, however, there are thousands of positives influencing many industries and even saving lives. It has helped the artistic creators and inventors out here bring their designs and ideas to life to be sold in the marketplace. It has the ability to print off highly detailed and accurate components, like a prosthetic or cast for broken bones.  In addition to the fact that it completes projects in a fraction of the time of older dated methods.
The evidence from recent trends has shown that three-dimensional printers and their use have increased and the machines themselves have become more popular. Perhaps the recent drop in asking price for these machines has catapulted it popularity even more. No longer is 3d printing limited to only scientists or engineers, but now the average person can learn how to operate these machines in a matter of hours after buying them.