With the bat population in Kentucky having declined over 80% in the less than 5 years, a team of students at Whitefield Academy, KY are developing a solution to save these bats.
Bats are essential to agriculture in Kentucky.
A robotics team made up of five Whitefield Academy middle school students, known as Team Blackout, developed an initiative to help stop the rapid decline in their state of Kentucky's bat population through exploring options they had for their entry into the year's FIRST LEGO League robotics competition. The competitions theme was centered around teams, which range from students nationwide ages 9-14, coming up with a solution for the consequences animals face due to human interaction. One of Team Blackout's coaches, Kevin Toole, explained just exactly how this idea came to life at on a Boy Scout trip,
"While stopping at the Gadie Center to get water they [two Team Blackout members] noticed a bat presentation conducted by Kentucky's US Fish and Wildlife," Toole told 3DPrint.com. "It was there they learned about the declining bat population worldwide and how bats are very beneficial for the environment and humans. During the presentation they also built a wooden bat house from wood, caulk, screws, and screen material. On our way back to the trail they both mentioned they should focus on bats for their project. They discussed different options and Aidan mentioned '…I have a 3D printer at home, why don't we design a bat house that can be printed on a 3D printer?…' And that's how it got started."
The teams decision to utilize 3D printing rather than more original methods of building bat houses, proved to be very fruitful. While traditional ways of constructing them requires a lot of carpentry and manual labor in order to produce the final product, 3D printing was able to simplify the process dramatically. After seeking out the help of the professionals at 3 Space, a 3D printing company based in Louisville, the students were able to create a unique housing for the bats.
Team Blackout's Bat Bunker
The 3D printed bat house, dubbed the Bat Bunker, consists of three separately printed parts. With a unique interior design suited towards making a more genuine environment for the bats, the final product is seemingly flawless. This interior texture makes it easy for the bats to hold on to, since the sleep upside down (of course). The team even incorporated the ability to actually combine multiple Bat Bunkers together in order to hold more bats.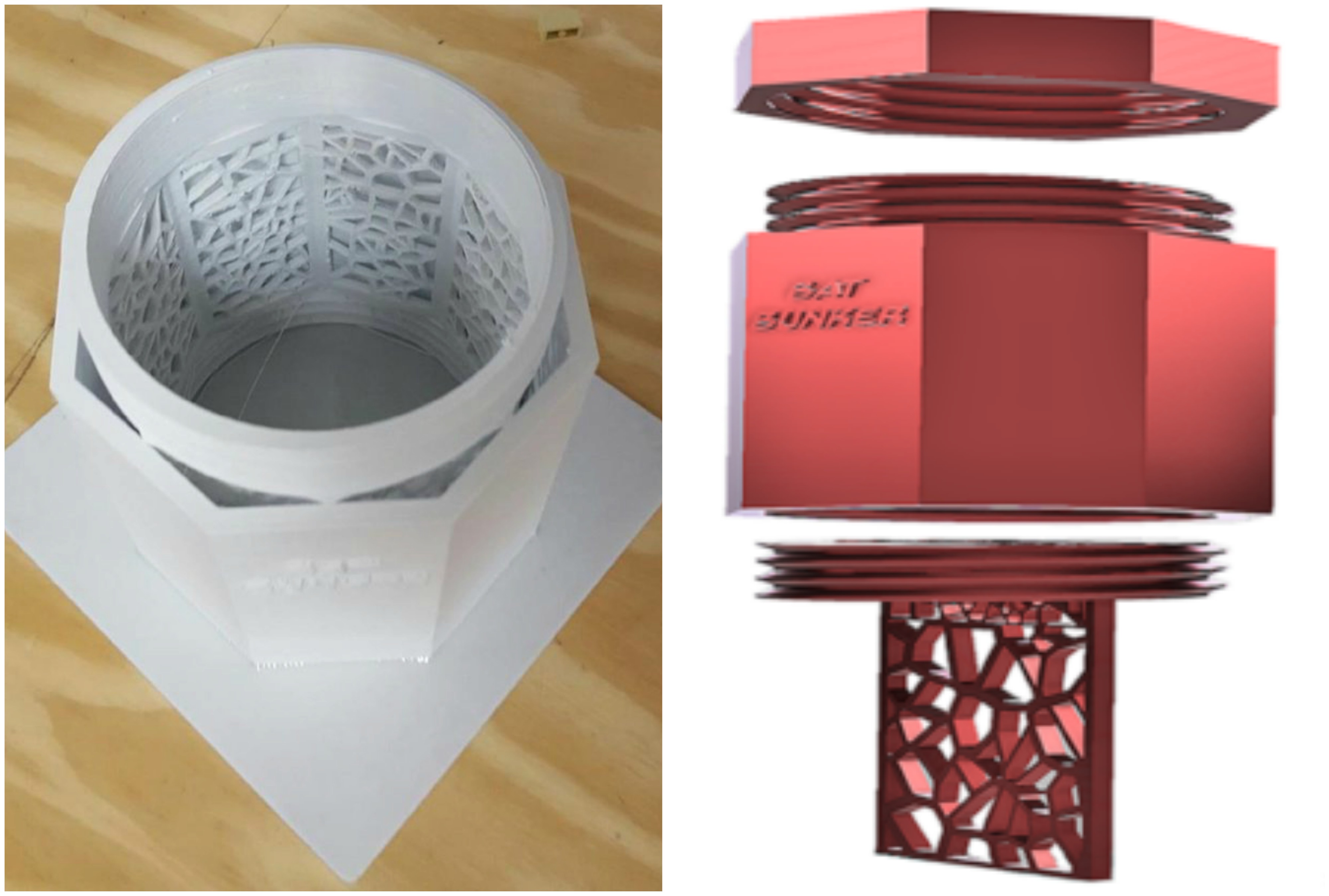 The Bat Bunker is designed to seem like a natural bat environment.
By employing the abilities of 3D printing, these middle school students come up with an aiding product in the movement to slow the recent decline of the bat population in their home state of Kentucky. With their creative and innovative product, the Bat Bunker, Team Black took first place in the FIRST LEGO League robotics competition, going up against almost 50 other teams in the Louisville area. They will now take their bat houses to the Kentucky state competition. They have also made their design available for download at Thingiverse and GrabCad.
3D printing has the capability of making an incredibly positive impact on the world as we know it. These students from Whitefield Academy exemplify how beneficial the technology can be when applied to the right things. The potential is seemingly limitless for the 3D printing industry, and its usage will only continue to rise in the future.
Want to Learn More About 3D Printing?
Original Source: https://3dprint.com/162756/students-3d-printed-bat-house/