The technology of 3D printing is well covered in the media and has been heard of by most people around today. It would be safe to say, many of the people who have heard of 3D printing, still won't fully understand what it's about or the technology's capabilities. That's why 3D printing enthusiast TJ McCue who has written various articles for the 3D printing industry has decided to take a 3DRV on tour.
TJ McCue has decided to take a 3DRV on a road trip across the USA for a period of 7 months. He wants multiple people from different states to experience and witness 3D printing technology in action. He's spreading the news and giving the information people need in order to understand what this technology is all about. The road trip will also be used by TJ for him to evaluate the impact that 3D printing has had on manufacturing and its effect on how we design and produce things.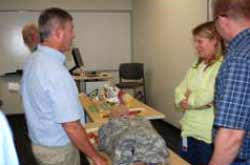 Medical Innovations on display that had been created using 3d printing
One of the locations in the USA that was visited by the 3DRV was Eden Prairie, MN; for anyone who is not familiar with this technology, this is the headquarters of  Stratasys sales in North America. It was at the Stratasys headquarters TJ addressed a large crowd about his journey, his adventures, and what he has found out about 3D printing, the "what" and "how" of our society's knowledge and thoughts about it.
During his address of the crowd, TJ McCue showed in the demonstration room of Stratasys the capabilities of various 3D printers that are around today. It stirred up numerous conversations between 3d printing experts and enthusiasts, leaving others feeling intrigued and amazed.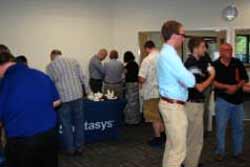 The demo room filled to capacity
The road trip has already covered more than 3,000 miles since it set off from San Francisco in May this year. The road trip, so far, has been hailed a success in showing how 3D printing is radically changing the manufacturing of products and services and the way it is improving the process. People are able to have their questions answered by an expert in the field, TJ McCue, public awareness is being raised and more fans are staring to follow this cutting edge technology.