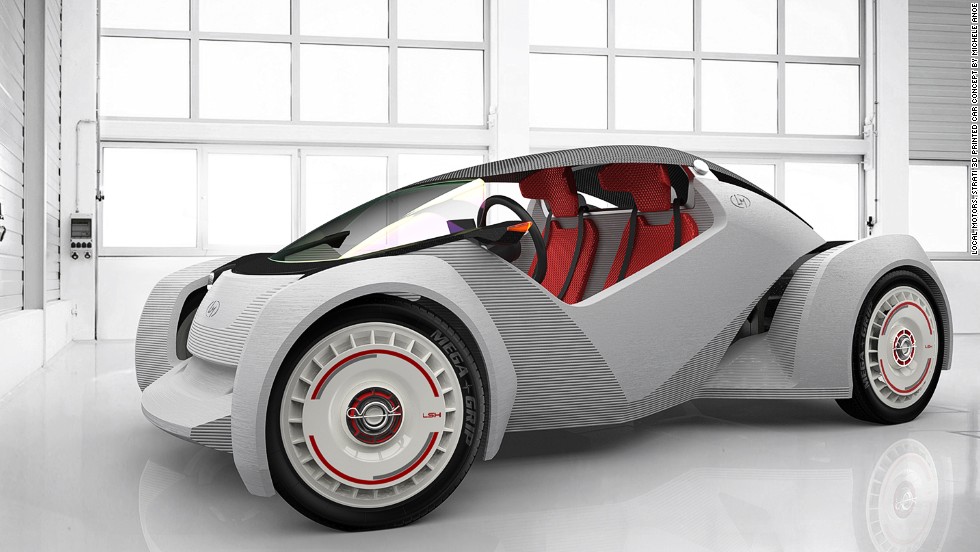 There has already been a wide range of products created with the newer advanced 3D printing technology some creations have been ingenious and others downright wacky. Today, we are going to look at another 3D printed car called the Strati.
The Strati only has enough room to seat two people, it runs off electricity, has a retractable roof, and the full body of the Strati is printed in one single piece. The car was  developed  and designed by Italian designer, Michele Anoe.
The Strati 3D printed car has a removable roof that folds away into a back compartment letting you keep cool in the hotter weather. The Strati is super-efficient, in addition to being eco-friendly, the manufacturer's Local Motors, share a video of its first test drive; it's a taste of things to come.
The Strati took less than 40 hours to print and around four days to assemble fully. This has been a major triumph in the car manufacturing industry and is showing the way into a future where using a 3D printer and digital manufacturing will be playing a major part in the automotive industry.
This example of the Strati shows the influence and potential that 3D printing possesses; it has the ability to create exactly what the user wants at a fraction of the time and costs. It is quickly rising in favor against traditional methods of manufacturing.
With the creation of the Strati using 3D printed materials and running on electricity, this car has already shown its eco-friendly prowess in keeping up with the times we are in and the trends that are around.
The advantages of a 3D printed car are simple, cleaner for the environment, cheaper to run on electricity rather than gasoline or diesel. The Strati is lighter in weight, more efficient, and looks like the future for car manufacturing worldwide.