From skilled tradesmen to aerospace engineers and DIY enthusiasts alike, they all have one thing in common. They love their tools. One of the most common tools used in the world is the traditional measuring tape. Without the measuring tape, everyday building tasks and DIY jobs would not be able to be carried out correctly.
As this is a 3d printing blog you are probably wondering what a measuring tape has in common with 3d printing?  Actually, quite a lot as this measuring tape is the world's first prototype of a 3d printed measuring tape, consisting of over 110 fully functional interconnecting pieces.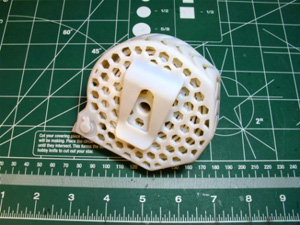 Brian Daniels is the man who has created this prototype measuring tape. He has a career in mechanical engineering and uses measuring tape as part of his daily work duties. The prototype he has created can easily stretch to more than four feet. The creation was made possible by using an Objet Eden 3D Printer.
The tape measure has all the traits of a traditional manufactured tape measure. It has a lock for the tape, crank, and belt clip. As mentioned above, the tape measure is made up of more than 110 pieces and components, all of which were created and assembled from the 3d printer that was used.
Daniels' mind was set alight when he realized the high accuracy levels of PolyJet technology and the incredible possibilities that using a 3d printer could bring. He had created things as a child, designing and building, hence his career choice. Exploring 3d printing has allowed him to delve deeper into his mind and create things that were once considered impossible or too expensive to carry out.
Brian Daniels was inspired to create this tool due to reading a blog which contained a 3D printed wrench video. All it takes is inspiration, a glimmer of light, a light bulb moment and the confidence to explore 3d printing and you too could radically change the way things are now done.
For more 3d creations and ways that this technology is changing, read more on our archived blogs.