Boston-based 3D printer manufacturer, Markforged, has released three new models designed to produce carbon fiber reinforced objects. The 3D printing systems – the X3, X5 & X7 – enable users with the ability to produce parts that can replace and are stonger than steel objects. The printing systems each include auto-leveling and scanning systems which guarantees that printed objects will be of the utmost accuracy.
Furthermore, these systems use Markforged's signature thermoplastic fiber filament, while the X5 can add strands of continuous fiberglass and the X7 can add strands of fiberglass, kevlar and nylon. Markforged has confirmed that objects produced on these machines are "19x stronger and 10x stiffer than traditional plastics." Because of this, users are able to print usable parts and tools using one machine. This allows for the production of objects to be made on-demand, rather than going through lengthy and costly traditional manufacturing methods.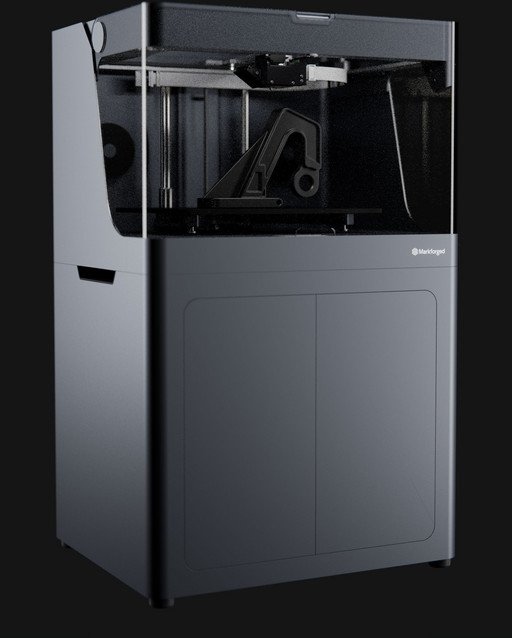 One of the benefits of these machines is the ability to upgrade to the higher machine if a user outgrows their system. Markforged's CEO, Greg Mark, explained "Customers can now, with ease, print same-day parts that optimize strength and affordability for their specific needs."
Aside from these 3D printing systems, Markforged has also recently released the "Metal X" 3D printing system which turns out parts that are usuable in complex machines.
Laser Precision
With a built-in laser micrometer, the printer automatically scans the print bed with 1um accuracy to generate a contour map of its surface. By calibrating its measurements with extrusion readings to perfectly set nozzle height and active topography adjustment, the printer ensures your prints come out exactly how you want them.
Usability
Cloud-connected software and a 4.3" touchscreen comes standard with every printer, washer and furnace. Regular over-the-air updates mean that your Markforged products keep getting better. Material usage tracking and out-of-material detection help monitor your printers and reduce waste. Just a few of the ways Markforged is working to reduce the distance from design to part.
Software
With automatic version control, real-time fleet management and cloud-based collaboration, Eiger is the world's most advanced 3D printing software. Designed from the ground up to make manufacturing simpler, Eiger enables you to print plastic, metal and composite parts straight from your browser.
Technical Specifications
Build Volume: 330 mm x 270 mm x 200 mm (12.99 in. x 10.63 in. x 7.87 in.)
Footprint: 584 mm x 483 mm x 914 mm
Z Layer Resolution: 50 μm
Machine Weight: 68 kg (150 lbs)
Plastic Composite Filament available in X3, X5 & X7
Continuous Composite Filament available in X5 & X7 only
Onyx Material
Onyx is a chopped carbon fiber filled nylon. It provides stiff and dimensionally stable engineering grade parts, with twice the strength of other 3D printed plastics. Onyx parts have a high quality surface finish and high heat tolerance. Onyx parts can be reinforced with other continuous fibers, such as fiberglass, carbon or kevlar for additional strength and stiffness.