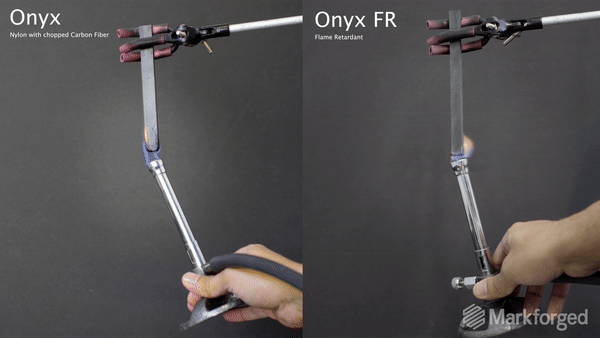 Markforged began by manufacturing metal and carbon fiber 3D printers, has announced the launch of Onyx FR (shown above). This new material is rated V-o, this flame retardant material is designed for industries that concentrate in the aerospace, automotive and defense field. Traditional 3D-printed plastics will burn if they catch fire, but fortunately, this new material is self extinguishing, so it will actually stop itself from burning.
Onyx FR features strength that can not be matched, high definition superior print quality, and perfect quality surface finish. All of this is performed while resisting fire.
Onyx FR is a good material that can lower price of production while increasing production itself. With Onyx FR, you are able to embed the same continuous composite fibers used in standard Onyx. This process is unique to Markforged, allowing for parts 22x stronger than standard 3D printed plastics. This new material unlocks the ability to produce non-flammable parts with the strength of 6061 aluminum, printed on a thermoplastic printer.
Onyx FR proudly enters Markforged's portfolio of industrial metal and composite materials. This material has also being integrated into the cloud-based software platform Eiger. Eiger is designed to let users design and print remotely. This new material opens up more applications for 3D printing across aerospace, automotive, and defense industries since this allow the material meet higher fire safety standards. Jon Reilly, the VP of product at Markforged states that parts printed from Onyx FR are as strong as aircraft-grade aluminum but they are also at half the weight.
If you want to learn more about the Markforged's Onyx FR or any other material or 3D printer from Markforged do not hesitate to contact us by clicking below.
Want to Learn More About 3D Printing?
Original Source: https://www.compositesworld.com/news/markforged-launches-first-fr-continuous-fiber-reinforced-plastic-for-3d-printing