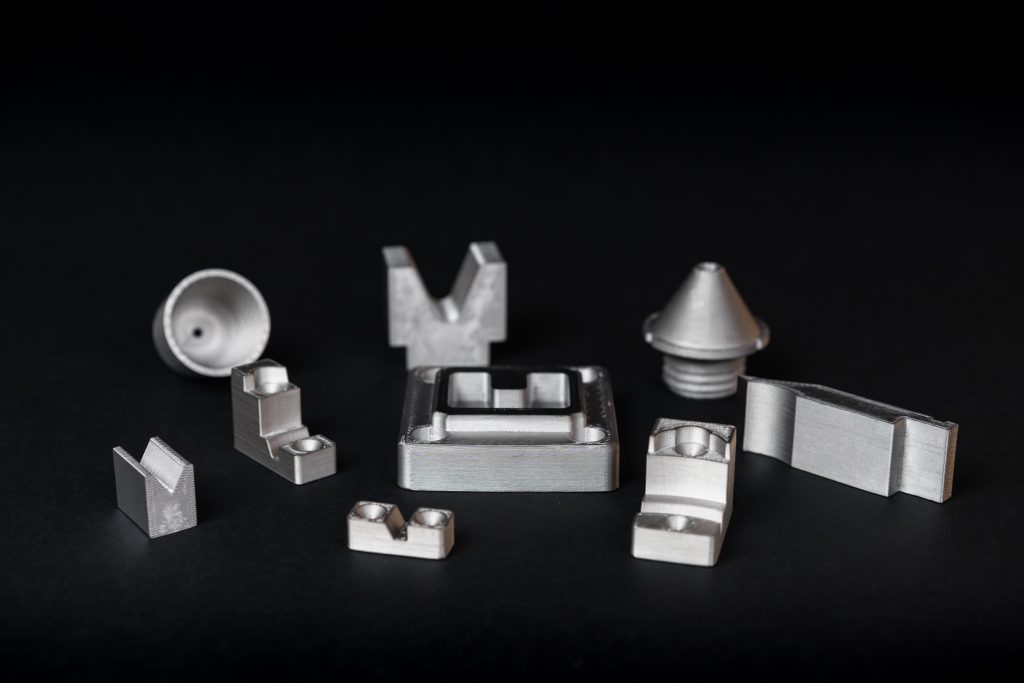 In the world of manufacturing, H13 tool steel is used world wide. 3D printed H13 Tool Steel is abrasion-resistant at both low and high temperatures. This makes it a great material for parts such as injection molds and extrusion dies. It's a great choice for much more, such as metal forming tools, dies, and punches for coining and forming operations, or for any application where you require high temperature resistance or a hard wear surface. 
H13 is heat treatable up to about 50 HRC. While it's not the hardest tool steel available, it can resist heat checking and thermal fatigue. It's often used in cases where hot plastic or metal is being molded and the mold needs to keep its shape while remaining liquid-resistant.

The process of printing with H13 Tool Steel is essentially the same as printing with 17-4PH Stainless Steel. You print the part, wash it, and sinter it. The one key difference is heat treatment. With 17-4PH Stainless Steel, you could take the sintered part and optimize for strength or ductility with a one-step precipitation hardening heat treatment. For H13 Tool Steel, however, we highly recommend using the standard multi-step tool steel heat treatment to fully unlock its hardness and durability. The steps are as follows:
Heat the part to 1010-1030C in a furnace, leave for 30 minute to two hours.
Air quench the part.
Immediately after air cooling, temper at 600C for at least two hours.
•  The tempering temperature can be adjusted for hardness levels ranging from 38-50 HRC and should be higher than the maximum working temperature.
•  Double tempering is not required, but is recommended especially where heat checking is a problem. 
Use your part!
According to Randy Grant, co-founder and co-owner of Grant Engineering
"Much like the robots and automation we've already introduced into our workflow, we see 3D printing – especially the Metal X – as a way keep us hyper-competitive on cost and turnaround time while still delivering the precision and quality we're known for, being able to 3D print H13, should enable a lot of innovation with injection molding. We can't wait."
Markforged began shipping its compact Metal X system in April 2018. Seven months later, the company celebrated the completion of 100 successful shipments of the machine.
Want to Learn More About 3D Printing?
Original Source: https://3dprintingindustry.com/news/markforged-introduces-h13-tool-steel-for-metal-x-3d-printer-145393/