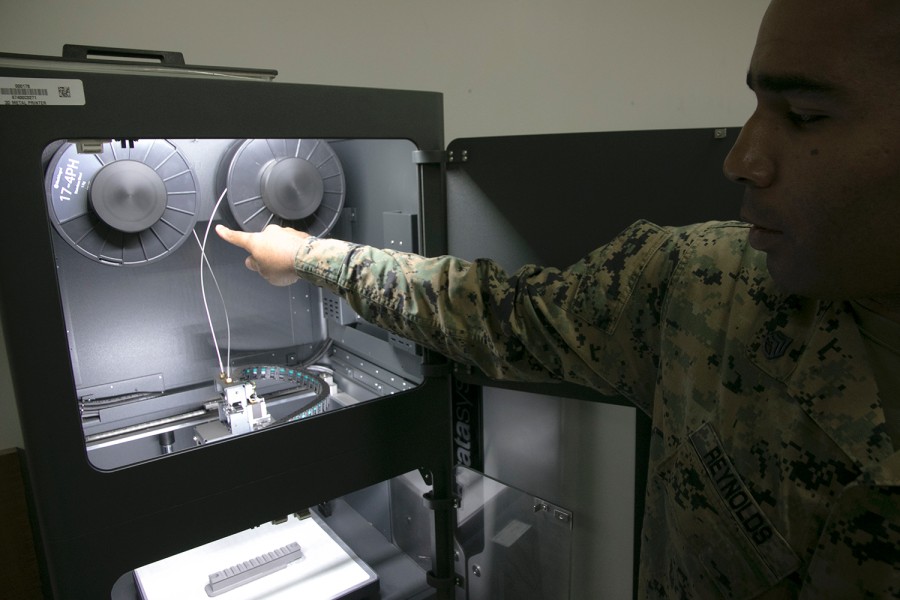 Members of the III Marine Expeditionary Force now have a cutting-edge metal 3D printer that will pay dividends in cost and efficiency when it comes to manufacturing vehicle or weapon parts in the Indo-Pacific region.
The Markforged Metal X 3D printer arrived at the 3rd Maintenance Battalion shop at Camp Kinser piece by piece and finally became operational in December, Marine officials said. Using spools of powdered stainless steel, tool steel, and nickel alloy, it can simultaneously produce multiple metal parts that would be otherwise difficult to machine or cast.
III MEF is the first expeditionary force to receive one of these machines, said 3rd Marine Logistics Group spokeswoman 1st Lt. Tori Sharpe.
The printer is expected to free up Marines who would otherwise spend hours carving parts out of blocks of metal, save money on waste and avoid the downtime associated with ordering parts from the United States.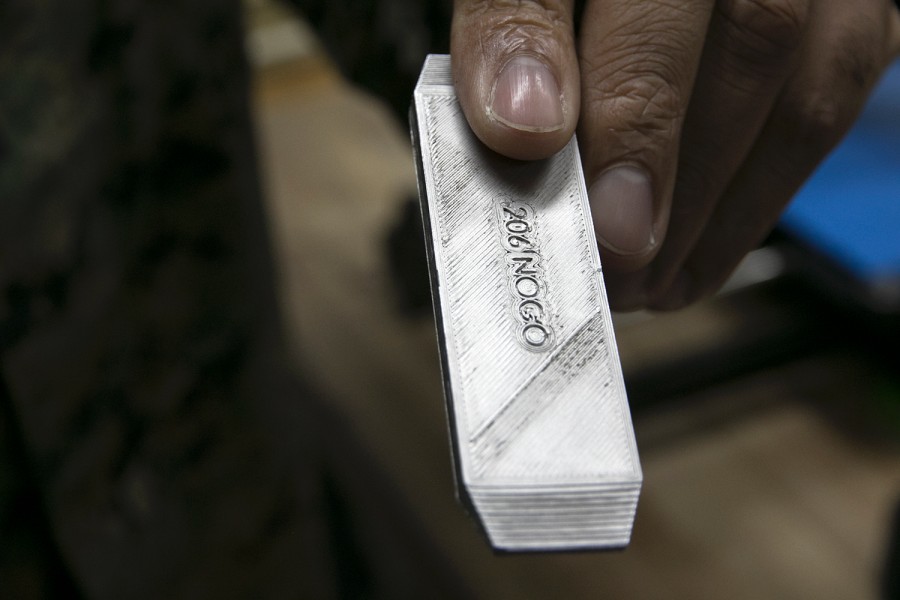 Plastic 3D printers "are great for prototyping, but where they fall short is, it's very few [finished] components that they're able to produce," said shop foreman Staff Sgt. Quincy Reynolds, 36, of Baltimore, Md.
Reynolds said plastic 3D printers have been in the fleet for only four or five years.
Whereas with our new metal 3D printer, that opens up a whole new world for us," he said. "This piece of equipment is able to save time with the multiple prints and then you're able to have a completed [piece] … that does not need any machining."
Reynolds' shop has 12 Marines who spend their days repairing components for vehicles and weapon systems for all III MEF units, he said. This can mean milling parts out of blocks of metal, which can be both wasteful and time-consuming.
This process, known as subtractive manufacturing, often requires multiple tool changes and the dedicated attention of at least one Marine working on a single piece for eight to 12 hours at a time. One miscalculation and the entire process must start over.
The Metal X 3D printer can print multiple pieces at the same time, Reynolds said. Once a Marine makes sure the print's base layers are correct at the outset, it can be left alone to finish the job, freeing up that Marine. There is also little to no waste.
Marines can now take on as many as four projects at a time, Reynolds said.
With the Metal X, Marines can design their own parts for printing in a computer-aided design program called SolidWorks or download approved blueprints from the Marine Corps system, Reynolds said.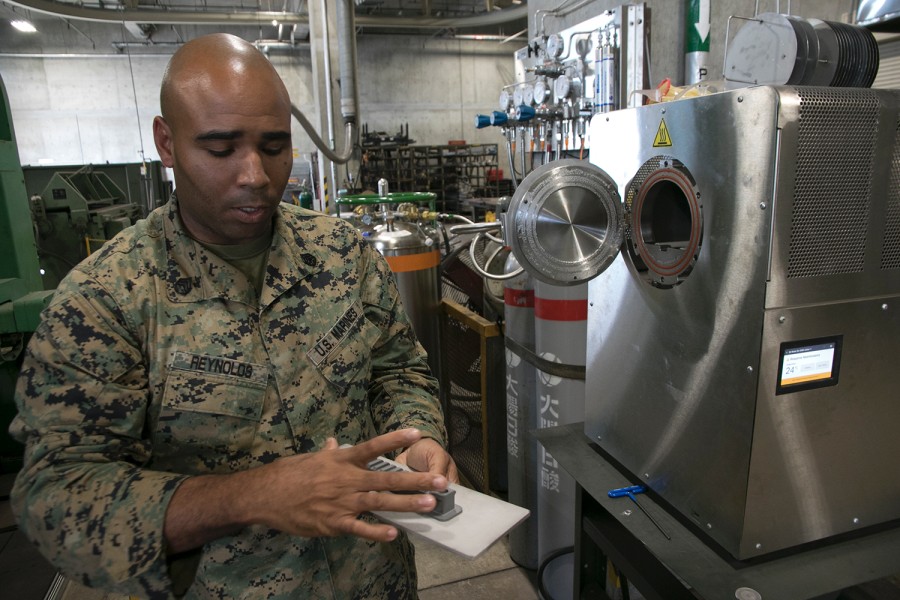 The printer comes in three separate stations, Reynolds said. The first is the printer itself, which prints metal objects as large as 13 inches square and bound in plastic on a build plate. The next stage is a wash-and-dry station, which soaks the printed piece in liquid argon to remove the plastic support filament.
The final station is a 290-cubic-inch, coil-heated furnace, Reynolds said. The pieces cook for as long as 27 hours at up to 2,700 degrees F and are infused with gases that solidify the metal. Some finished products can even be welded.
The only drawback to the Metal X is the furnace size, Reynolds said, which is about half of the printer capacity. He said plans are already in the works to upgrade to a larger furnace.
The battalion's goal is to be able to print or manufacture any metal part that III MEF needs, Reynolds said. Thus far, they have made gauges for .50-caliber machine guns, sockets for wrenches and a piece to test weapon optics at the armory.
They hope to expand their portfolio in the days to come.
"We're asking units, 'Hey, just give us a problem. Let us figure out the solution for you,'" he said. "Right now, the sky is the limit honestly with this printer. If you can think of it, we can literally do it."
source:https://www.stripes.com/news/pacific/cutting-edge-okinawa-marines-say-new-metal-3d-printer-opens-up-a-whole-new-world-1.616511
Learn More about Markforged