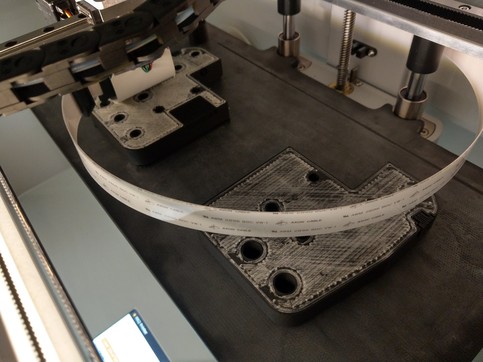 Lean Machine is a metal fabrication shop in Saskatoon, Canada. The company started in 2006 as a machine shop, but now offers steel and aluminum fabrication as well as a multitude of other manufacturing services and solutions.
Engineers at Lean Machine had to turn down jobs because the tooling required for the job was frequently more expensive to produce than the end product. They needed a printer capable of producing strong mechanical composite parts for jigs, fixtures, work holding, and other applications. The team researched extensively to find a printer that would work best for their needs and decided on the Mark Two for its accuracy, cost-effectiveness, and continuous carbon fiber material.
"It's perfect. We were blown away by the accuracy and we were blown away by the mechanical performance of the parts," said Josh Grasby, R&D manufacturing engineer at Lean Machine.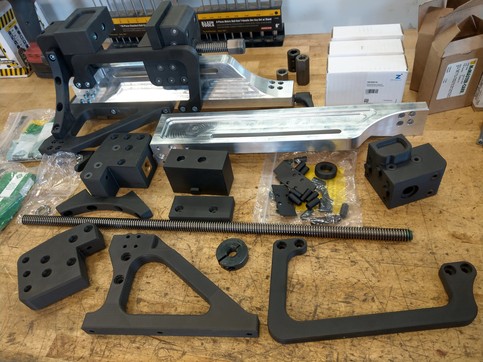 Since they purchased the Mark Two, Lean Machine engineers have embraced designing for additive manufacturing (or DfAM) instead of designing parts in traditional ways. From bending tools to soft jaws, the team can quickly solve problems without putting a load on their machining department. 
Engineers encountered the challenge of cutting cantilevered workpieces, which meant that they had to remove less material per pass to achieve the company's standards of cut quality. Engineers designed composite vises from scratch to fit as close as possible to the 5-axis gantry spindle so that they could machine the end of the workpiece efficiently. The part took only a few days to design, print, and test, and was designed with off-the-shelf components such as roller thrust bearings and special handbrakes. Each vise incorporated over two dozen 3D printed composite parts, with some parts reinforced with fiberglass or continuous carbon fiber for extra strength.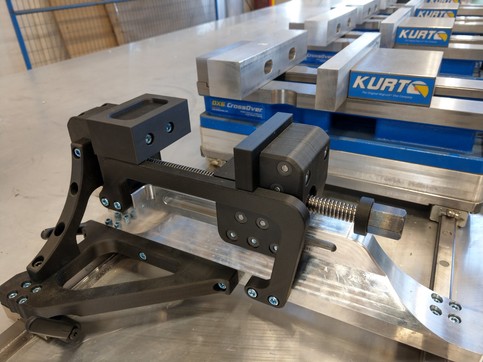 After just four months with their Mark Two, Lean Machine has discovered numerous unexpected benefits. One such benefit is the ability to put a threaded rod through a part and put fasteners on the rod, as well as adjust the geometry of the part at a later stage for crowning. "We discovered that by accident," Josh said excitedly, "and we've had so many accidental discoveries that are just blowing our minds." Josh and the team are now thinking about how to make parts in a different way. Instead of always going down the subtractive manufacturing route, they are considering additive manufacturing first.
"We've actually been able to take jobs that we couldn't before."said Josh.
source: https://markforged.com/blog/canadian-manufacturer-3d-prints-composite-vises/
Find Out What Can 3D Printing Do For You.