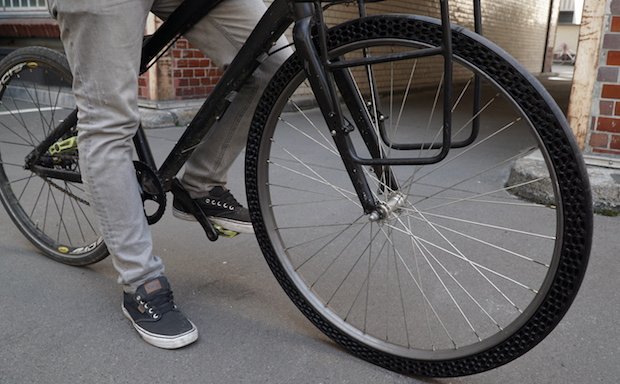 In 2018, Large-format 3D printer manufacturer BigRep was able to replace air as a necessity in bicycle tires by customizing the pattern of the tire hence letting the tire have a layered honeycomb design. 
The bicycle tire was printed using their TPU filament Pro FLEX. This was a successful prototype to demonstrate the ease and speed as well as the flexibility in which spare parts can be 3D printed. BigRep took it up a notch by testing the tire on the streets of Berlin. Another reason as to why this was tested on public right away was because of BigRep's focus on industrial-grade solutions for the transportation and mobility industry. 
Marco Mattia Cristofori, BigRep Product Design stated the follow:
"Based on the same principle, the design can be altered to fit the requirements of specific kinds of biking, such as mountain biking and road racing, or for different weather and speed conditions."
This shows that there is potential for 3D printing to create certain geometries that could not be manufactured with traditional production methods. The tire was printed using a scale pf 1:1 on the BigRep ONE 3D printer. This printer has a build volume of one cubic meter and there is no need for gluing work or an other post-processing. If you would like to see other BigRep 3D printer models and see how they can satisfy your rapid prototyping needs click here.
With FFF 3Dprinting there is always a challenge to print with thermoplastic elastomers but with Pro FLEX, it is now possible to print larger flexible parts with a strong print bed adhesion hence not having the user worry about the print detaching itself from the bed. 
BigRep's CEO Stephan Beyer says that technology will not only affect bicycles but it can also expand further 
"We have expanded our technical portfolio with a high-impact, high-temperature-resistant material in Pro FLEX, which has higher interlayer-bonding than we have ever seen before, and robust chemical resistance for a range of technical applications. There is a clear use case for flexible parts that can be customised and printed on a needs basis, across med-tech, aerospace, automotive and other industries."
If you have any more questions please contact us by clicking below and let one of our engineers help you on deciding what is best for your 3D printing needs!
Want to Learn More About 3D Printing?
Original Source: https://www.tctmagazine.com/3d-printing-news/bigrep-airless-3d-printed-tyre/