A new technology surfaced and could finally bring Masterpiece Art from artists like Van Gogh, Pablo Picasso and Leonardo Da Vinci into everyone's living room. Of course, one would have to spare $30 million dollars to bring the original home. With this new ground-breaking technology from Fujifilm they are working out a process where a 3d printed replica can be purchased at affordable pricing. The comparison between the two (original/replica) is frighteningly accurate.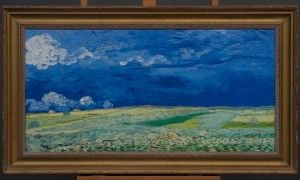 Reliefography is the named process by Fujifilm. The process successfully combines the older traditional photography methods with the cutting-edge 3D Scanning and 3D printing technology now available. Scanning technology is used to capture the finest of details within the original masterpiece, including changes in colour and in the thickness of the paint. By taking a scanned photograph of the authentic art it creates a digital copy of the image with precision.
They are re-creating these masterpieces to exact form taking data from both the front of the image and the back. They will be reproduced to match the textures, colour, size, and brightness of the Van Gogh original.
The ability of printing three-dimensional objects the technology captures the tiniest of brush strokes that reproduces an exact-true-to-life copy similar in texture. The copy mirrors the original piece of art. By combining these two technologies, what was once impossible is now possible. Imagine the opportunity to hang a Van Gogh and it not be printed on paper, but look and feel authentic.
Only the Van Gogh Museum, based in Amsterdam, has the "exclusive rights" to use this technology. Reliefography is still in early stages of development. The reason Van Gogh was selected for this particular process is attributed to the impressionist's technique. The artist's technique is difficult to replicate in ordinary print. Soon many could have one of the world's masterpieces hanging eloquently by the dining table or placed over the mantle.