Scaling additive manufacturing to large-format sizes requires more than just building a big 3D printer. Industrial applications require parts that can be trusted and repeatable results, so all aspects of the printing process must be taken into consideration and redesigned to ensure both part integrity and that printer hardware can handle extruding large amounts of – often abrasive – filament with extreme uptimes.
BigRep has already created the largest serial-produced additive manufacturing systems in the world, constantly expanding its offerings for the growing demands of industrial users. Now, BigRep is introducing BLADE – a specialized large-format slicing program – to support today's additive innovations in industrial additive manufacturing at every level.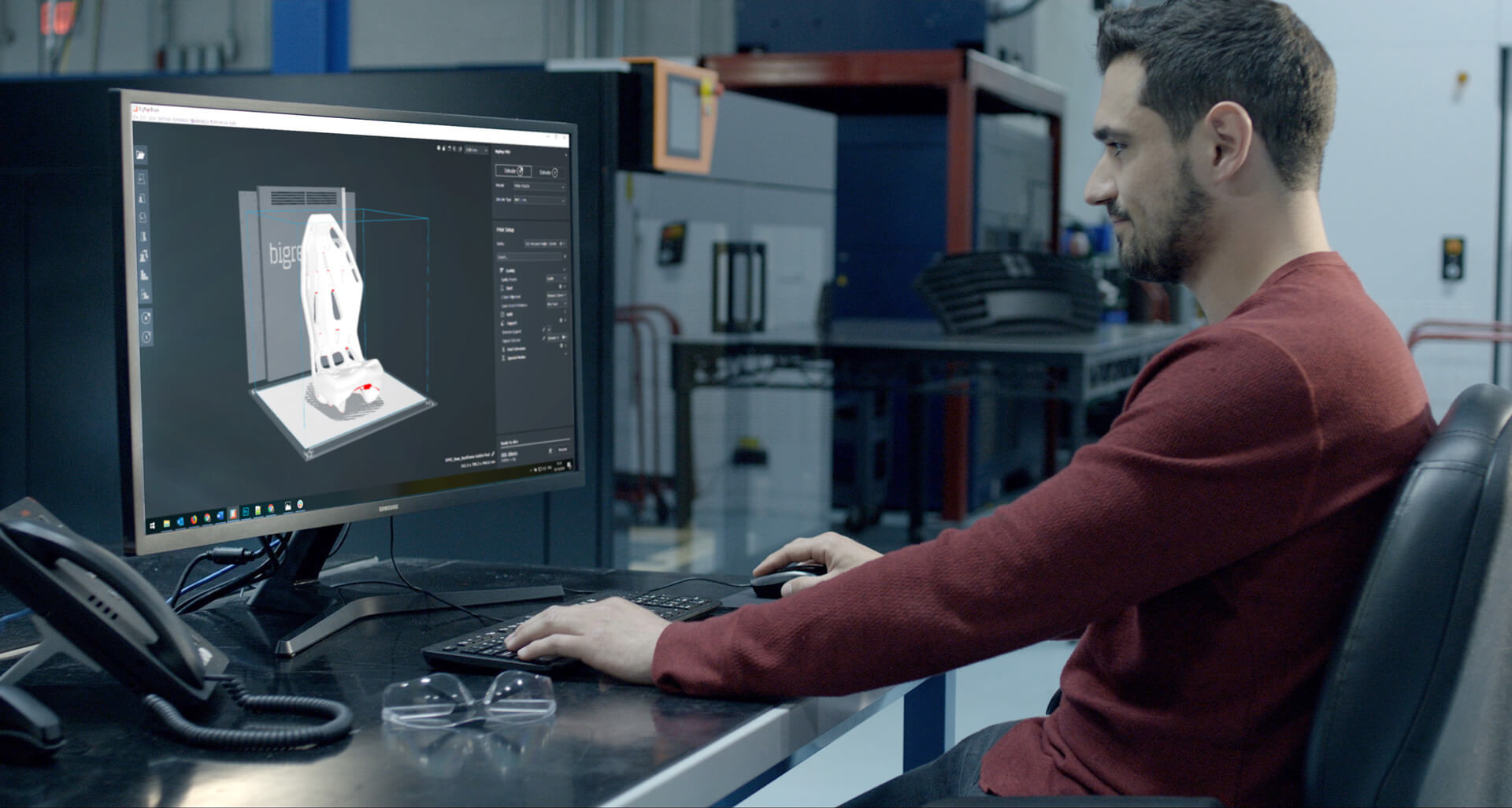 Designed for Large-Format
BigRep has reinvented large-format additive systems, building 3D printers with the hardware necessary to achieve quality parts printed on a large scale. But until now, the slicing software available for additive manufacturing hasn't been ideal for large-format applications. To solve this problem BigRep has created BLADE, free slicing software for large-format, built on the exceptional and familiar Cura, that caters to the needs of industrial users.
Frequently Updated Material Presets
By optimizing for large-format parts and integrating presets for all BigRep-compatible materials, BLADE streamlines the industrial printing process to save users' time and ensure successful, quality prints. BigRep's catalog of specialized engineering-grade material is always growing, and BLADE continuously stays up to date with material properties to ensure the best possible results for 3D printed parts.
Accurate Print Time and Material Use Predictions
Because of its detailed material presets, BLADE's estimation engine can provide superior predictions for both print times and material usage, ensuring that users can maximize printer uptime and accurately anticipate raw material needs.
Adjustable User Interface Modes
BLADE's user-friendly interface makes for a simplified printing experience. Depending on the complexity of a part, or simply user experience, the use of complex slicer features will naturally change. That's why BLADE's UI features both a basic mode, to familiarize new users with the slicer or streamline simple projects, and expert mode, to enable precision controls by easily giving power-users access to the software's more detailed processes.
Automated Batch Production Planning
Large-format is made for scalable production, including the ability to quickly manufacture small batches of parts for a variety of uses. We believe the importance of quickly and easily organizing batches can't be understated, so BLADE includes an automated batch production planning to duplicate and place parts throughout the print bed.
With BLADE, BigRep now provides a holistic solution for industrial 3D printing. Offering design software, materials, and advanced additive systems to ensure businesses' production capabilities are performing with peak efficiency at every level with a controlled ecosystem. Built on industry-standard software with key features and optimizations, BLADE will change the way users create by introducing a rapid, hassle-free start to printing.
source: https://bigrep.com/posts/introducing-blade/