For those of you out there who love supercars the name Koenigsegg should ring a bell.  Koenigsegg is a Swedish company who manufactures supercars, and they have just unveiled and released the Koenigsegg Agera One:1 which was designed using 3D laser scanning and 3D printed custom parts. This unveiling set new precedence in the supercar manufacturing industry and will take some time to beat.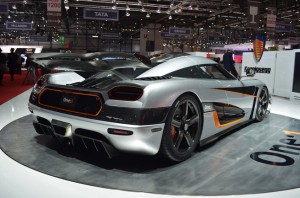 For those of you who are not familiar with 3D printing (additive manufacturing) it's the complex process of printing a solid object created from a digital design. When the digital file is sent to the printer a number of successive layers are placed on top of each other until the object is completed; this is a quick and simple explanation, so you can get the gist of it.
What was unique in this case, was that handheld laser scanners and 3D printers were used to make the parts for the megacar Agera One:1. Three-dimensional printing gave Koenigsegg the freedom to exclusively create custom parts unique to this megacar's design.
These cars don't sell cheap, and the sales volumes are low, as you can imagine. This alone justifies the need to save on production costs and the use of 3D printing metal parts. This print process makes it unique and sets it far above the head and shoulders of its competitors.
The company founder, Christian Erland Harald von Koenigsegg, who is also the creator of the world's fastest car, took the time out to talk about the advantages of using 3d printing technology to create this immense and exotic 3D print car. Watch his explanation below.
We have been hearing a lot about 3D printing and 3D scanning and its introduction into the mainstream technology. It gives the user the ability to think outside the box, be unique, be consistent, and this is something that companies, like Koenigsegg, take pride in.