One lucky boy from Louisville, Kentucky has been given a new lease on life. Surgeons asked  engineers to use 3D printing to create a replica of the defective heart to help find an answer and better prepare for the surgery necessary to save the this infant.
The 14 month old, Roland Lian Cung Bawi, was in serious trouble. He was born with multiple defects in his heart that caused many concerns. The surgeon overseeing Roland 's care said the boy's heart was so small it was nearly impossible to see clearly, even with today's advanced scanning technology the many defects posed a threat to this infant's life.
It's standard procedure in such intricate cases, exploratory work happens during the heart surgery and what is found is normally dealt with at the time. Because of the small size of Roland's heart, the quick thinking surgeon, had an idea. He believed it would be easier to work with a 3D printed model before undertaking the surgical procedure.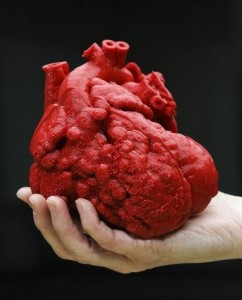 The surgeon from the Kosair Children's Hospital in Louisville, KY sought help from an engineering school (University of Louisville) and they used one of the MakerBot 3D printers they had on site. After receiving the CT scan image data previously taken of the infant's heart the engineers scaled it to double the size via the 3D computer model and printed a replica.
The surgeons studied the larger heart model and were then able to see in exact detail the issues and where the incision during surgery must be made.
On further examination, the surgeons discovered little Roland's heart had a hole in it and a deformed Aorta and pulmonary artery. During heart surgery, the heart needs to be stopped to be operated on. This means time is critical, by studying the 3D printed model the surgeons were able to reduce the operation time because they knew exactly what needed to be done before the operation even took place.
This is the first time 3D printers have been used in pediatric heart surgery in Kentucky, although it has been used within the medical community across the globe for several different surgical procedures.
With the consistent levels of success 3D printing is having in surgical operations, we can expect more and more medical experts turning to this technology to help them through out their daily duties.